Mahima: Construction update
A volunteer shares about the finishing touches being put together for the Mahima hall at the Isha Institute in USA.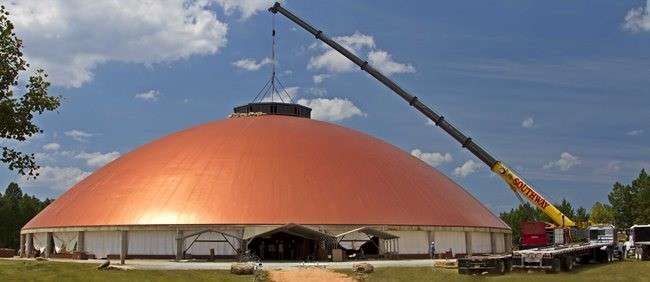 It's been a busy month here at iii with lots of changes coming to the campus in preparation for Sadhguru's arrival in October. The biggest project going on right now is the Phase 2 construction going on in Mahima. We're finally getting walls! The cupola has also recently been installed on the very top of Mahima and looks like the crown for the dome that rightfully deserves one. In these pictures you can see how much is going on in Mahima right now; the way the campus is changing and improving all the time reminds us that this really can become the spiritual destination in the west.
Just a couple more weeks until Isha Fest here at iii, we're planning a major extravaganza with an olympic theme. We'll have all kinds of fun games all ages can participate in and enjoy. We already have well over a hundred RSVP's so this will be even more lively than the Isha Fest last year! Stay tuned for highlights! Shortly after that Sadhguru will be in the states so these next few months will be jam packed full of excitement.
- Isha Resident
Get weekly updates on the latest blogs via newsletters right in your mailbox.