Kutch Work Embroidery of Gujarat: A Tutorial & A History Lesson
Leading up to the Hands of Grace handicraft exposition, we look at Kutch work embroidery from Gujarat, and its past, present and future. Adventurous readers can also try out the video tutorial!
Kutch work embroidery is one of many varied handicraft forms that will be a part of Hands of Grace, a handicraft exposition at the Isha Yoga Center, from February 19 – 27, 2014. In this article, we look at the past, present and future of this handicraft. Adventurous readers can also try out the video tutorial!
Kutch work embroidery (also known as Kachchhi embroidery) is one of the most easily identifiable styles of embroidery from Gujarat and a well patronised handicraft textile in India. Deriving its name from its places of origin, the Kutch and Saurashtra regions of Gujarat, Kutch embroidery is characterised by the use of vibrant colors, mirrors and beads and intricate and extensive needlework that embellishes the entire fabric on which it is based.
Usually done on cotton or silk fabric, Kutch work embroidery involves the use of silk or woollen thread in fine stitches to create elaborate patterns, and draws its inspiration from romantic, architectural and human motifs, as well as Persian and Mughal arts. The colors used are mainly green, indigo, deep red, black, yellow and ivory. The embroidery is also distinctive in its use of mirrors and beads, placed strategically in between patterns. A popular and recognised example of Kutch embroidery is the ghagra choli (a traditional skirt and blouse ensemble) of Gujarat, especially worn during the Navratri season.
A History Woven With Myths
Get weekly updates on the latest blogs via newsletters right in your mailbox.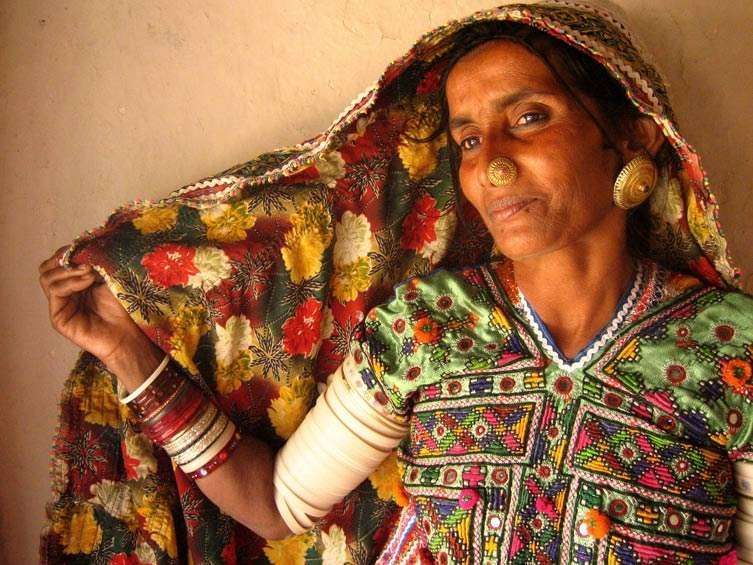 History traces the origin of Kutch work embroidery back to mochis, the community of shoemakers, who used to work on royal textiles and decorative objects. It is also believed that this unique style of embroidery was brought about by Kathi cattle breeders, a group of wanderers associated with Karna of the Mahabharat, who eventually settled down to produce the characteristic fine needlework displaying a plethora of patterns, moods and themes.
Over the years, various clans around the region have appropriated the essential features of Kutch embroidery to create distinctive styles of their own, such as Rabari, Ahir, Mochi and Mutwa.
Running With The Times
As with other art forms, Kutch embroidery has had to evolve with modern times. While the embroidery was essentially seen on garments, it today encompasses a wide variety of artefacts including bags, jackets and mobile pouches amongst others. Indicating their popularity, Nandibhai calls these new products, "running items" and also says that these involve less work compared to traditional kurtis or blouses while paying well.
An exquisite form of embroidery, Kutch work, in many ways, reflects the vibrancy of India through its colors, embellishments and motifs. Also, as Nandibhai says, "What can be made by the human hand, cannot be made by machines. No machine can make this," making it a truly special form.

Editor's Note: Hands of Grace will feature over 60 stalls showcasing thousands of exquisite items including furniture, interior décor, garments, organic bodycare products, stone and metal crafts, accessories and gift items, offering the gamut of India's arts and crafts tradition. Hands of Grace also features workshops on Gond painting, Sanjhi Paper Art, Madhubani Painting, hand-block printing, clay modeling/pottery and traditional flower garland-making will also be conducted.
References: Interview with artisan, Utsavpedia – Colorful and Innovative: Kutch Embroidery Work of Gujarat, Handmade in India – An Encyclopedia on Crafts of India.
Image courtesy: Ludiya veil by Meanest Indian
Indian coverlets, embellishment by cobalt123