Karnataka Government contributes 2 crore saplings for Cauvery Calling
On Sept 8th, which marked day 7 of intense Cauvery Calling action, the Chief Minister of Karnataka announced that the Forest Department would dedicate 2 crore saplings for the movement.
More than 6000 people attended the Cauvery Calling event at Palace Grounds in Bangalore. The opening entertainment by Vasu Dixit, Sounds of Isha, and Isha Samskriti buzzed the crowd, which was followed by Sadhguru, Shri. B.S. Yediyurappa, Kiran Mazumdar-Shaw, Shri C. T. Ravi and Rajmata Shrimati Pramoda Devi taking center stage. Speaking to the enthused crowd, the Chief Minister of Karnataka Shri. B.S. Yediyurappa declared, "This is a movement to awaken the 6.5 crore people of the state to this noble mission, Cauvery Calling."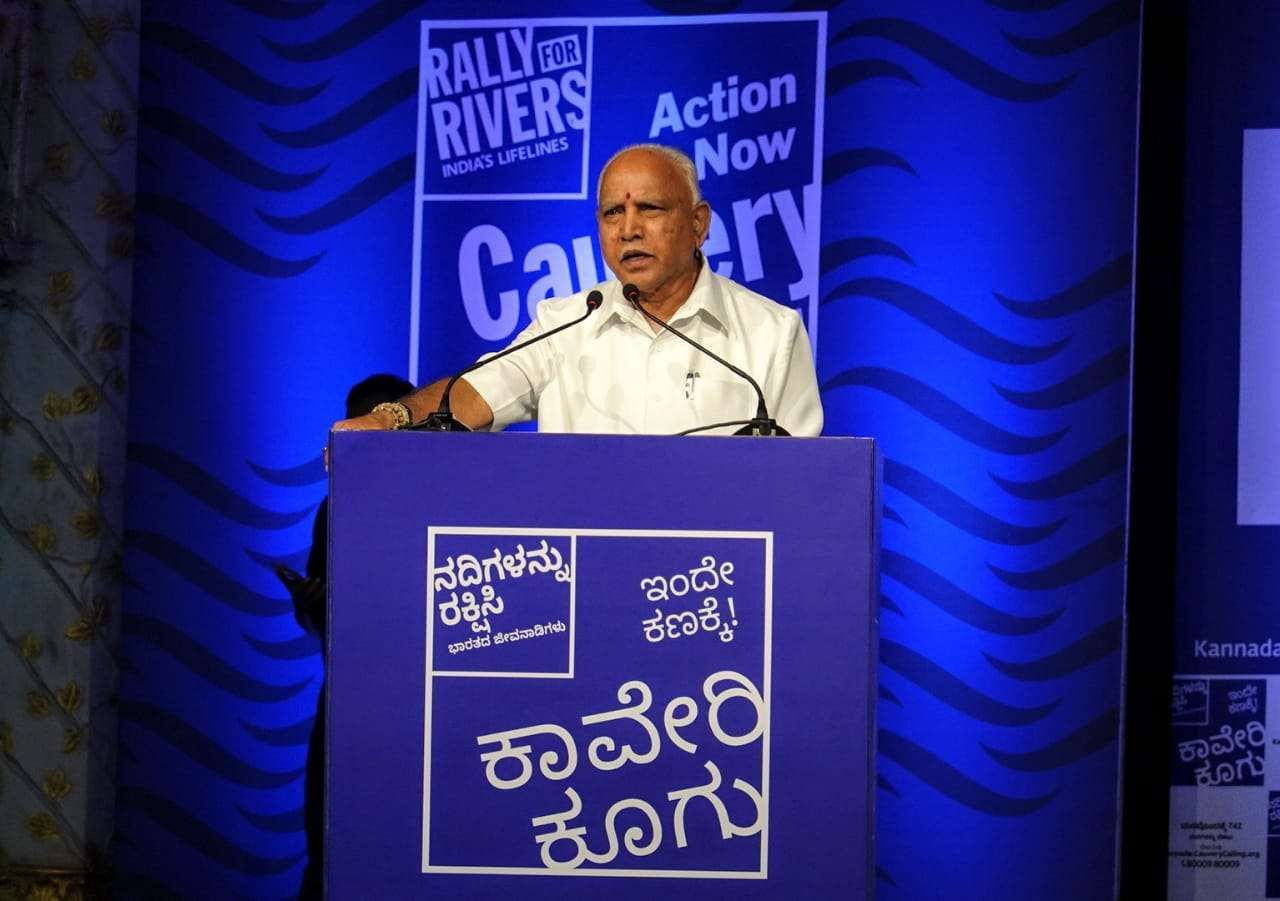 Shri. B.S. Yediyurappa explained: "The Forest Department is already preparing 2 crore saplings for distribution. They can be used for this movement. I have already instructed the Forest Department to ready crores of saplings to fulfil Sadhguru's wishes and stop the destruction of forests and increase green cover so that Mother Cauvery flows again. In order for this movement to succeed, the state government of Karnataka will support it fully in every possible way because we consider it our duty to do so. May Cauvery flow in full glory again. May the bond between Karnataka and Tamil Nadu be strengthened with Sadhguru's blessings. It is the fortune of this land that after Sadhguru stepped in here, all our water bodies have filled to the brim and are flowing in full glory, something we have not seen for several years in Karnataka. This is our good fortune. When I met PM Modi, I brought up the subject of drought in Karnataka but today, all water bodies have filled and are overflowing which is a great relief for our farmers. May they continue to fill and flow."
Get weekly updates on the latest blogs via newsletters right in your mailbox.
"Let us focus on reviving all our water bodies. It is not just around Cauvery that we need to plant trees but in the entire state of Karnataka," said the Prime Minister who has also sent his good wishes for the project. We all stand ready and united to fulfil all of Sadhguru's expectations in this regard."
Turning to Sadhguru, the Chief Minister continued, "You have brought awareness about saving trees and rivers and Mother Cauvery to the citizens of this state in the form of this massive movement, you have shown us the way. Under your leadership, we will fulfil all your expectations and enable the planting of crores of trees in the river basin. We consider this our duty," he added to thunderous applause from the audience.
On the culmination day of Karnataka leg of the rally, over 21 million trees were contributed to #CauveryCalling. My profound gratitude to all. -Sg #CauveryDiaries https://t.co/qijmcFtrSF

— Sadhguru (@SadhguruJV) September 9, 2019
The state government is ready to join hands with the @ishafoundation to save Cauvery river, and will provide 2 crore saplings to spread greenery as part of the campaign, CM @BSYBJP said.#CauveryCalling | https://t.co/zu2nS8CySR

— Deccan Herald (@DeccanHerald) September 9, 2019
ಮುಖ್ಯಮಂತ್ರಿ @BSYBJP ಅವರು ಇಂದು ಇಶಾ ಪ್ರತಿಷ್ಠಾನದ ವತಿಯಿಂದ ಆಯೋಜಿಸಿದ್ದ ಕಾವೇರಿ ಕಾಲಿಂಗ್ ಕಾರ್ಯಕ್ರಮದಲ್ಲಿ ಭಾಗವಹಿಸಿದರು.

ಇಶಾ ಪ್ರತಿಷ್ಠಾನದ ಶ್ರೀ ಸದ್ಗುರು @SadhguruJV, ಸಂಸದ @PCMohanMP, ಪ್ರವಾಸೋದ್ಯಮ ಸಚಿವ @CTRavi_BJP, ಬಯೋಕಾನ್ ಅಧ್ಯಕ್ಷೆ @kiranshaw, ರಾಜಮಾತೆ ಪ್ರಮೋದಾದೇವಿ ಒಡೆಯರ್ ಉಪಸ್ಥಿತರಿದ್ದರು. pic.twitter.com/dACcXqlil2

— CM of Karnataka (@CMofKarnataka) September 8, 2019