Isha Blog 2014 – Recap in 14 Articles!
Here are a few articles from 2014 that our readers (you!) really liked. In case you missed them or would like a refresher, here you go!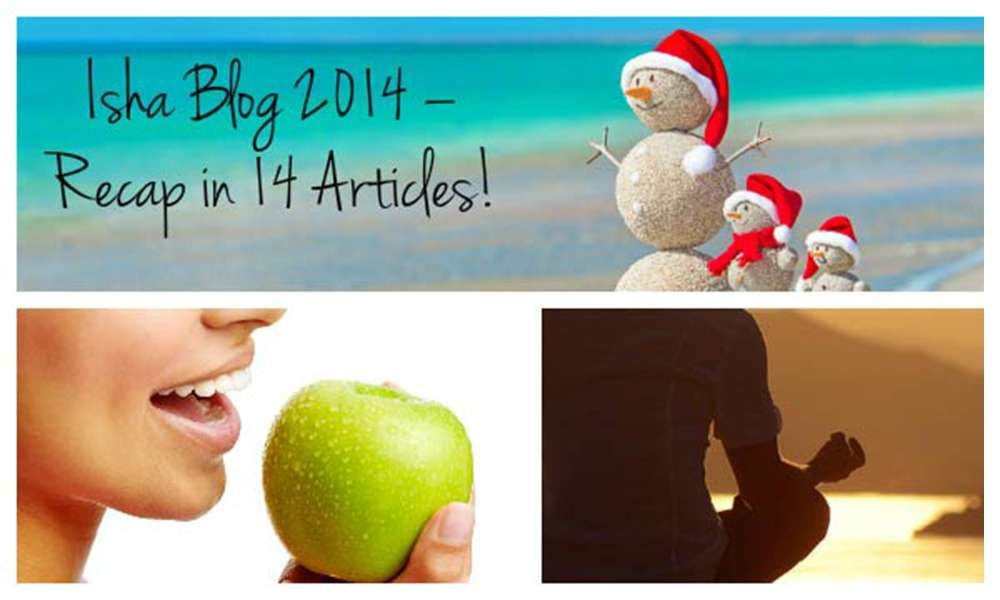 Here are a few articles from 2014 that our readers (you!) really liked. In case you missed them or would like a refresher, here you go. Happy New Year!
Food & Health
8 Health Benefits of Honey and 9 Uses of Honey
Who knew that honey could have such a variety of uses? Did you know that there are tribes in India that are professional honey harvesters? Their diet consists mostly of – you guessed it – honey! Used as both preventive and curative medicine, honey is one of those ancient elixirs that has always been associated with human health.
In this article, we explore 8 uses and 9 health benefits of honey, complete with recipes and medicinal mixes that you will find useful in daily life.
How To Eat Properly – 5 Tips For Healthy Eating
The more we explore food and nutrition, the more confused we seem to become about what to eat. While our entire attention seems to be focused on counting calories and measuring minerals, this article is a refreshing look at how we eat food, which is as important as what we eat.
Relationships
The Recipe For A Happy Marriage – Five Ingredients
Ever wondered how to make your marriage more nourishing? Sadhguru's deep understanding of human relationships filters into five relevant methods that are as practical as they are profound. Includes an interesting video snippet of Juhi Chawla in conversation with Sadhguru. We hope this recipe for a happy marriage serves all the married couples well!
Parenting Advice – 5 Essential Parenting Skills
If you have children, you know what a privilege and a responsibility it is. "You are trying to do something that nobody has ever known how to do well. Even if you have twelve children, you are still learning. You may raise the first eleven properly, but the twelfth one can give you the works!" says Sadhguru. These five essentials parenting skills are a must read for every parent.
Get weekly updates on the latest blogs via newsletters right in your mailbox.
Live-in relationships are already an accepted norm in most modern western societies, and are becoming more common even in the East. As the Internet continues to flatten cultural differences and societies become more homogenous, the question becomes even more relevant: "What is right for me? Live-in relationship or marriage?"
The Meaning of True Love – Taking Love Beyond Words
What is the meaning of true love? This blogpost contains a simple yet powerful spiritual practice that can help take love beyond words and make it an enduring quality within.
"Today, many women in our modern society are stepping out and having a career. What do you think about women having a career, managing a home and being financially independent?" Juhi Chawla asks Sadhguru. Considering the many events of violence against women that we witnessed in 2014, this piece becomes vitally relevant and a must read.
Yoga & Meditation
Thoughts During Meditation? Mind Your Garbage!
 "How do I control my thoughts during meditation?" This is not a blogpost where you will learn to control thoughts. Instead, Sadhguru points out the thought process is essential to the human possibility of growth. But then, how to harness the power of the mind? Read on…
Surya Namaskar – How it Really Works and Benefits You
Surya Namaskar is perhaps the most popular set of 12 powerful yoga asanas (postures) from hatha yoga. Many a physical therapist recommends it as a good cardiovascular workout. But is that all there is to the practice? Sadhguru explores the deeper dimensions of this process, and the powerful Surya Kriya from which it is derived.
Krishna is always depicted with blue-colored skin. In this blogpost, Sadhguru looks at the irresistible attraction that people feel towards Krishna and why the color blue has always been associated with him.
Krishna In Mahabharata – Treachery at Kurukshetra
The Kurukshetra war is a major Sanskrit epic of ancient India. It is said that the destruction and ruin caused by it almost annihilated the entire civilization of the time. Sadhguru talks about Krishna's role in the war and the times when he supposedly used deceit to outwit and overcome the enemy.
Who Is Shiva: Man, Myth or Divine?
Shiva is worshipped as a god in Indian culture today. But Sadhguru says "In the yogic culture, Shiva is not seen as a God. He was a being who walked this land and lived in the Himalayan region." Astonishing and eye-opening, this blogpost presents a perspective of Shiva that is largely unknown to the world.
On the Trail of the First Yogi
Follow in the footsteps of the first yogi. Trace his footsteps from Kailash to Kantisarovar, Kashi and to Velliangiri in the south of India. These are among the most sacred pilgrimage spots where Shiva himself spent time.
Sadhguru's Message for International Day of Yoga
On December 11, 2014, the United Nations declared June 21 as "International Day of Yoga" – adopting a measure proposed by Prime Minister Narendra Modi who said yoga lets people "discover the sense of oneness with yourself, the world and nature." In this blogpost, Sadhguru welcomes the dedication of a day to yoga and elaborates on profound aspects of the yogic sciences.
Editor's Note: Get the latest updates from the Isha Blog. Twitter, facebook, rss or browser extensions, take your pick.