A Himalayan Journey to Educate Rural Children
A group of self-funded and self-motivated Isha volunteers decide to raise funds for educating rural children by trekking the highest Himalayas peaks. This is their story…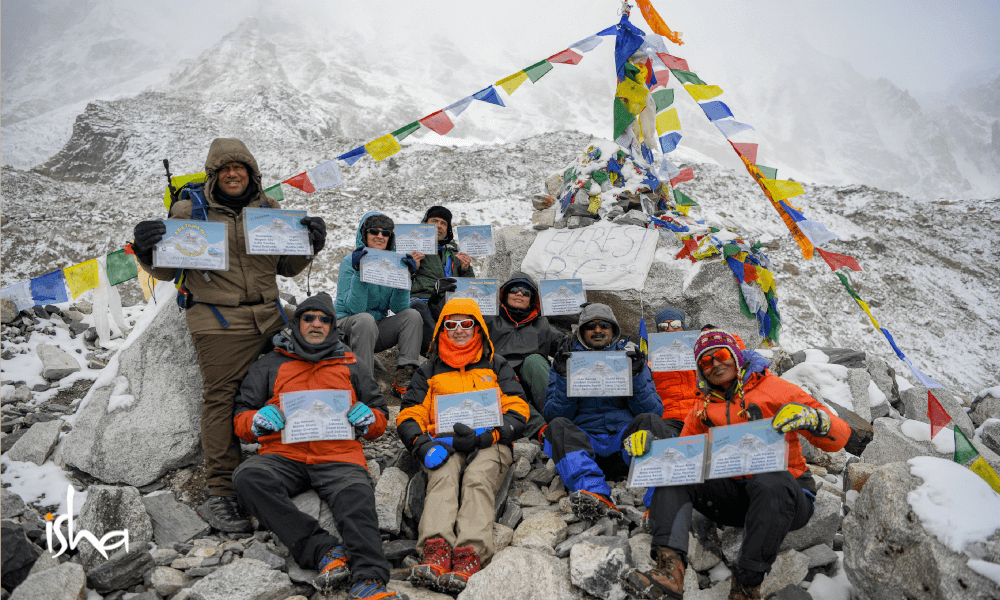 An Audacious Idea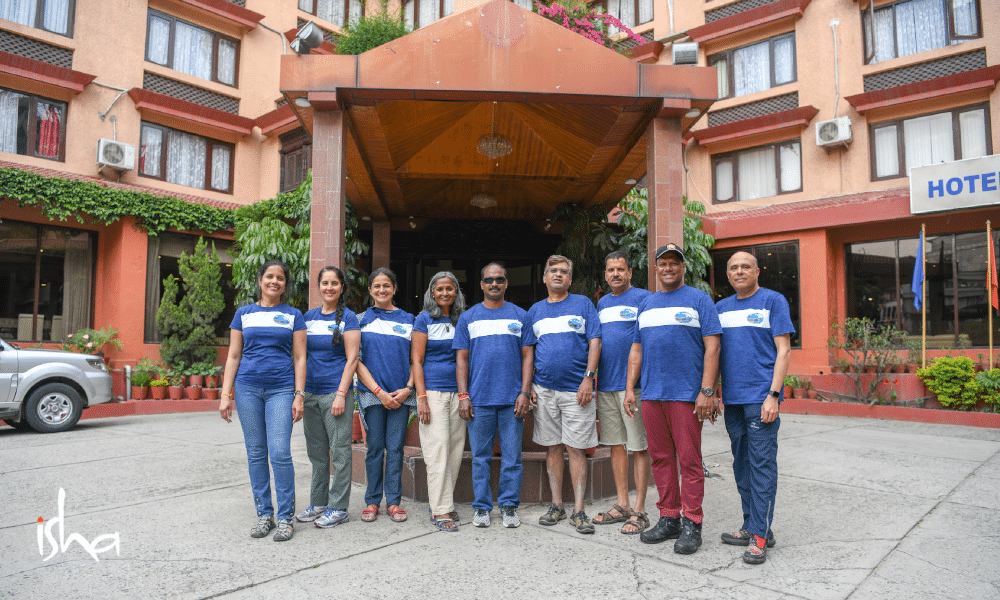 A group of courageous volunteers at Isha Foundation planned a mammoth task. They decided to climb some of the world's highest peaks - Kala Patthar (18,519 feet) and Everest Base Camp (17,600 feet) in the Khumbu region of the Himalayas. What's more, for some of them, it was their first ever mountain trek! There was one single cause that brought this diverse group of people together – raising funds for rural children to get an education at Isha Vidhya. Isha Vidhya is a not-for-profit education initiative by the Isha Foundation, working for the economic and social empowerment of children in rural India. 
The Adventure Yogis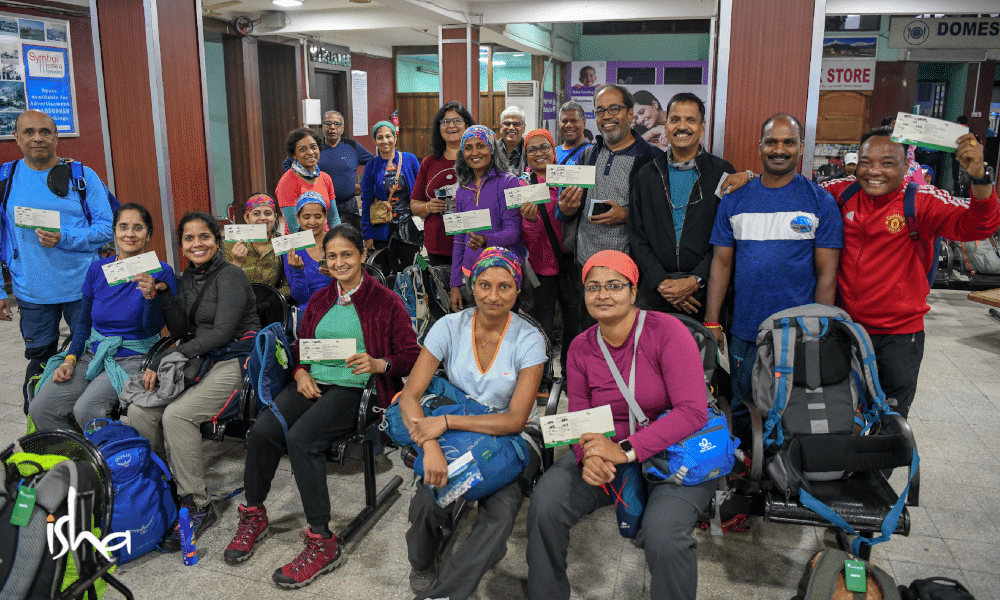 The group needed a name and aptly decided to call themselves "The Adventure Yogis." With this, they were ready and rearing to raise money for this noble cause. It started with contribution requests to friends, family and well-wishers, and every single volunteer extensively used social networking platforms like Facebook, Twitter and Whatsapp to highlight the cause of Isha Vidhya. Leaving no stone unturned, they even sent out personalized emails to their colleagues at work. What touched people was the team's willingness to undertake such a huge task for a selfless cause. 
The Journey Begins
More so, all these volunteers were self-funded and self-motivated volunteers from four countries around the world. They geared up to go to the Everest region in March 2019. For many of them it was the highest altitude ever attempted so far. On the 29 March, 2019, the volunteers travelled from various parts of the world to Nepal to endorse the campaign they cared deeply about. The expedition started with a helicopter ride to Lukla (2860 meters above sea level), where the trekking began towards Everest. Then the volunteers walked for about 6 to 8 hours a day, stopping in between for food and shelter.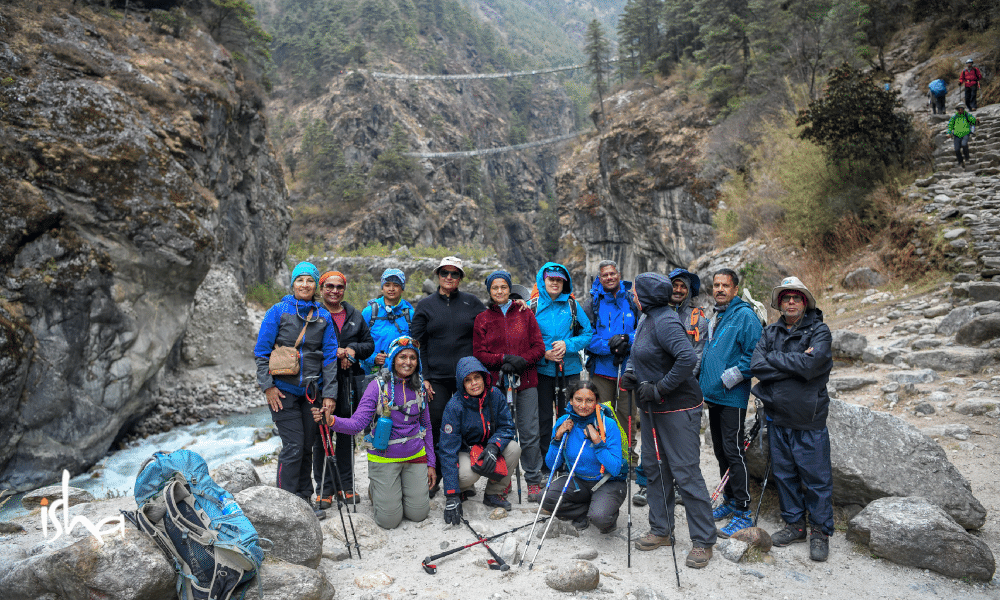 Get weekly updates on the latest blogs via newsletters right in your mailbox.
Passing through the scenic Phakding, traversing through streams, hanging bridges, and plenty of colorful Buddhist prayer flags, the group finally reached the bustling Namche Bazaar. Namche Bazaar is a beautiful village nestled in the Himalayan range. One can see arrays of colorful shops and cozy cafes with a splendid view of snowpeaked mountains. Our Adventure Yogis halted here for acclimatization. Since oxygen levels and atmospheric pressures are low at higher altitudes, the body finds it harder to draw breath. It can be dangerous to climb higher without acclimatizing the body first.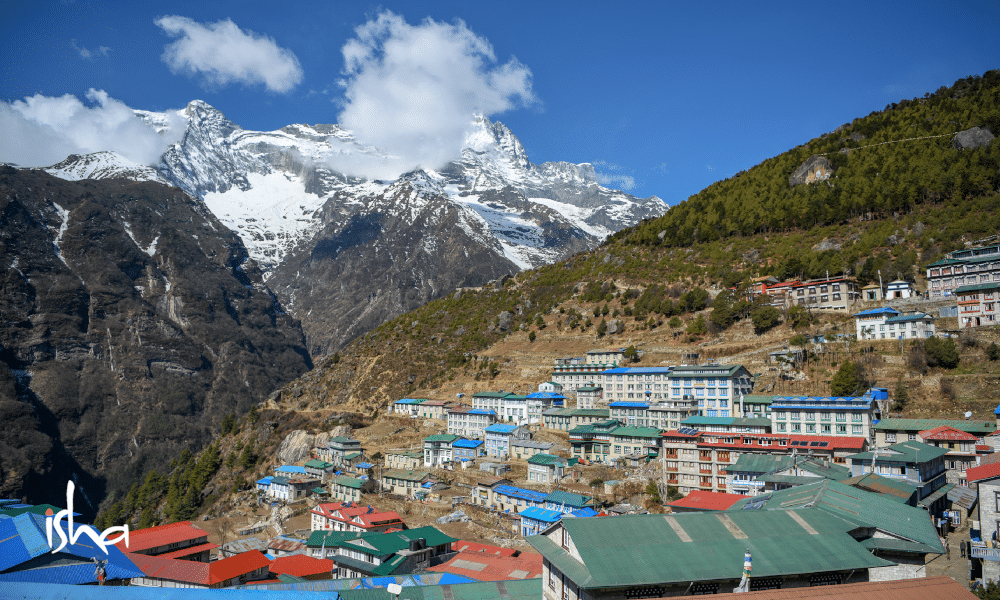 First View of Mount Everest
Eager to catch their first glimpse of the Everest peak, our Adventure Yogis checked into the Everest View hotel. The first sight of the breathtakingly beautiful Mount Everest fired them up to make the journey even more! The group then continued their journey towards Tengboche, where they visited a monastery. Utmost peace was experienced, and blessings were received for the treacherous journey that lay ahead. After seven days of trekking for long hours, the group reached the snow covered town of Gorak Shep which rests at an elevation of 5164 meters. All of their fatigue drained away when they played in the snow and experienced the mesmerizing sunset.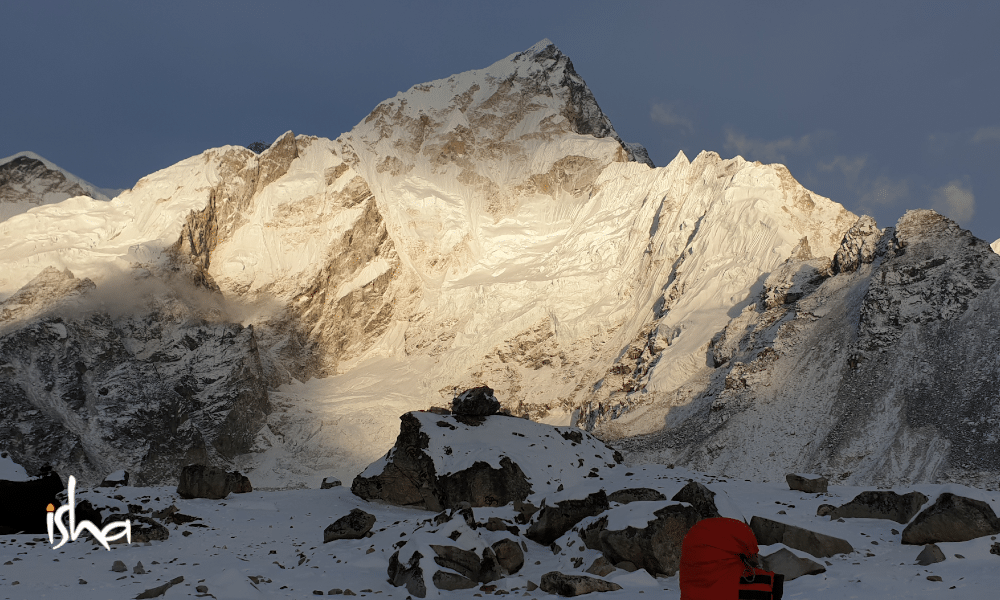 Destination 1 – Everest Base Camp (EBC)
The day after reaching Gorak Shep, all the volunteers were excited to start their trek towards the Everest Base Camp as trekking at that altitude is a real challenge. Taking small baby steps on the gentle upward slopes towards Everest Base Camp, the trekkers made slow but steady progress. In spite of taking very small steps and taking many other precautions, breathing became laborious due to the thin air at such altitudes. Many shared that if it had not been for the Isha practices, they just wouldn't have been able to do this trek that even experienced mountaineers struggle with. And then it started snowing heavily! So it was only after putting their fortitude and grit through a thorough test, about three hours later, the Adventure Yogis finally reached the Everest Base Camp (5380 meters). Being absolutely overwhelmed, emotions shaped into thankful mutterings to the universe, prayers, team hugs and tears.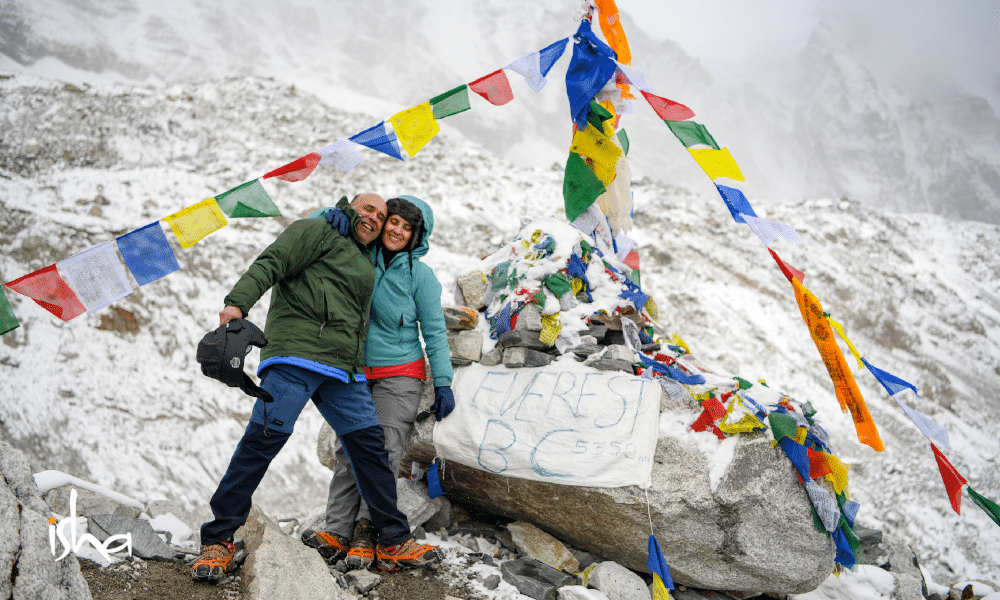 Destination 2 – Kala Patthar Summit
The volunteers returned to Gorak Shep and some of them attempted the Kala Patthar summit (5550 meters). Kala Patthar is known to provide the most beautiful and accessible view of the Mount Everest. The view was astounding!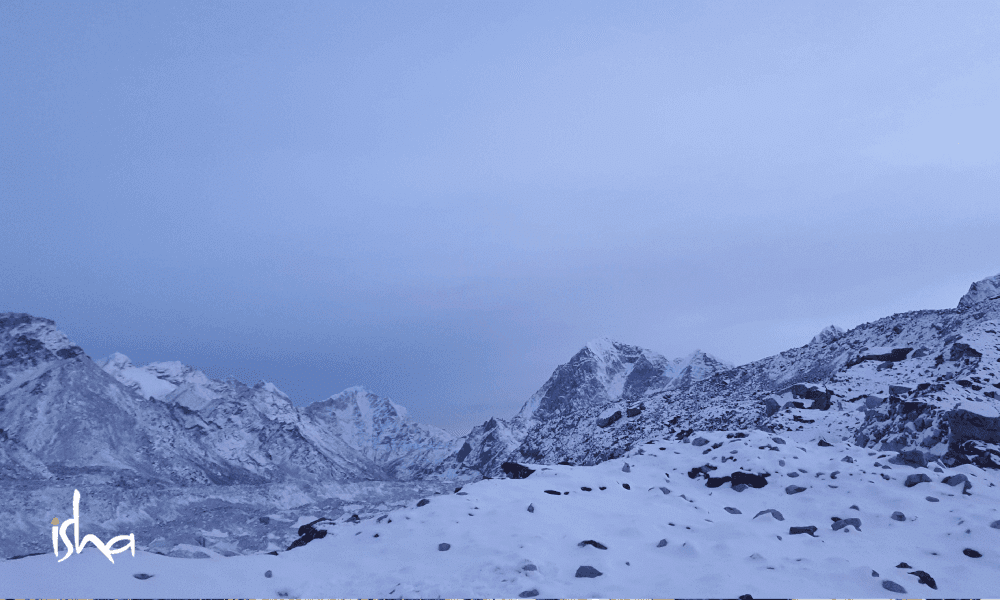 Mission Accomplished!
Finally, the volunteers descended to Lukla over the next three days and then flew back to Kathmandu. This journey had been a transforming and eye-opening one for the entire group. The mountains often teach the value of patience, endurance and gratitude. The Adventure Yogis showed exemplary courage and completed the exciting and fulfilling journey and ended up raising around USD 15,000 for Isha Vidhya. Their contribution will go a long way in helping lift the underprivileged children in rural India towards a bright future.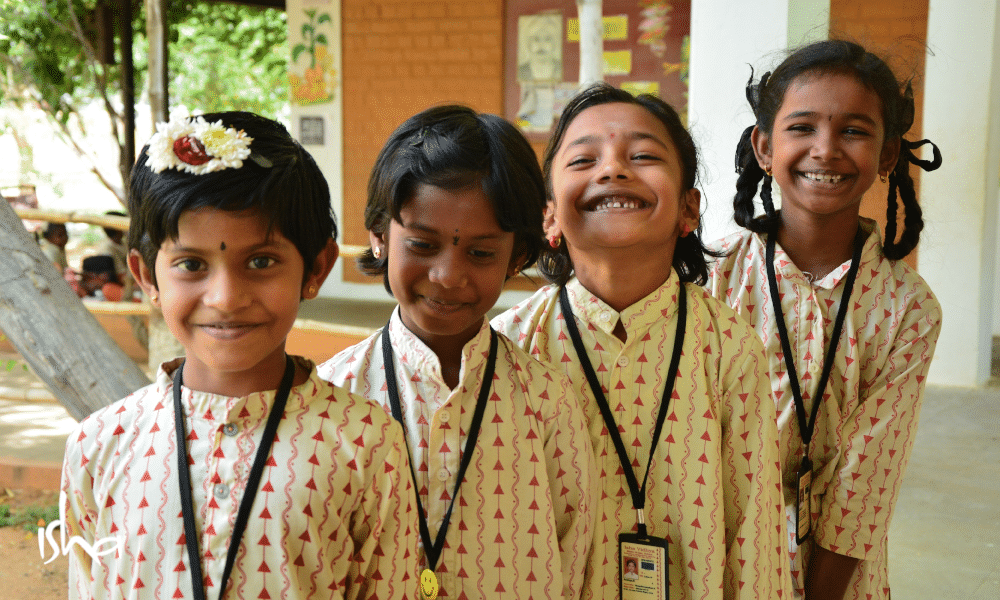 Editor's Note: Over 5000 Isha Vidhya students are still awaiting sponsors. If you would like to give flight to an underprivileged child's future, please donate here.