The Healthy Food Awareness Program
Last month, 34 people came together at the Isha Yoga Center to explore the world of "roti-making" with Santhosh Nanda, during the Healthy Food Awareness Program.

Last month, 34 people came together at the Isha Yoga Center to explore the world of "roti-making" with Santhosh Nanda, during the Healthy Food Awareness Program.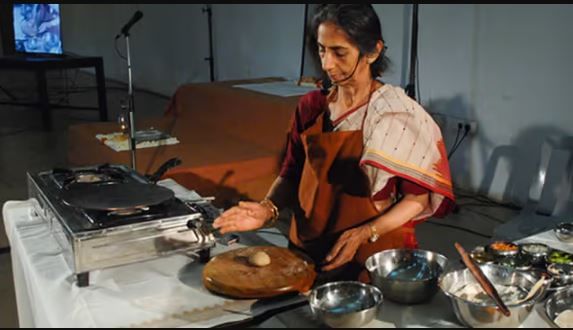 How many ways are there to making this popular preparation? Well, Santoshji took the group into a new realm of rotis, using whole wheat, ragi (finger millet), bajra (pearl millet) and black chickpea flour to show how a variety of nutrients, grains, and tastes can be incorporated into every preparation. Her recipes were highly invaluable – both for the experienced cooks and the budding ones. In the course of the program, Santoshji personally demonstrated and taught the participants fifteen different varieties of the traditional roti, including sweet ones with khoa (a sweet prepared with milk) savory ones with peas and bitter gourd, and a few other exotic ones including a particular favorite which featured papaya pieces.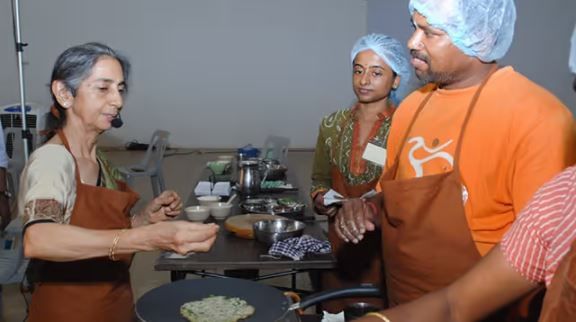 Above all, the dedication of this dainty yet passionate woman swept volunteers and participants off their feet, showing the true ingredient which makes every meal magical. Her sharp eye and a boundless willingness to share and patiently explain short-cuts, intricacies, and pinpoint common mistakes in various preparations to even the most inexperienced student made the program enriching – well beyond the taste buds. Set in the classic Isha yoga program style with Sadhguru's photo, lamp, and usual yoga padhi music, this seemingly ordinary "cooking program" in itself became a means to explore new frontiers and ways of life. In fact, it was Sadhguru who suggested that Santoshji offer this program.  After tasting her delectable cooking and whole-hearted approach to preparing a meal, Sadhguru encouraged her, so that more families would integrate these nutrient-rich rotis into their diets.
Get weekly updates on the latest blogs via newsletters right in your mailbox.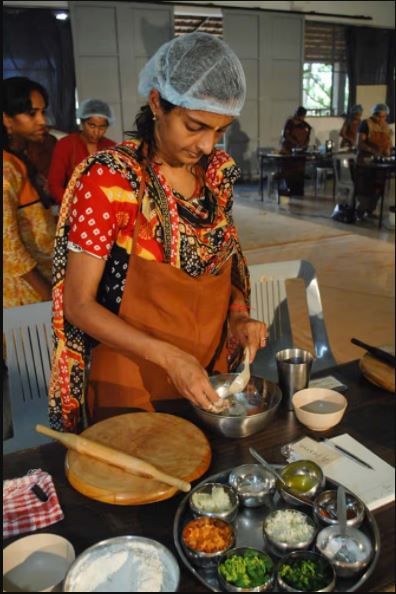 "After Isha, I have fallen in love with the most mundane aspects of my day-to-day routine. Even dishwashing has been a very moving experience after a couple of volunteering activities and BSP volunteering. When they announced the cooking class, I was like, "Okay, I am going to fall in love with cooking too." That was the thing that I was looking forward to. I don't know if roti is my thing yet, but definitely something is moving. I have never touched and felt food like I felt today." – Aparna, Bangalore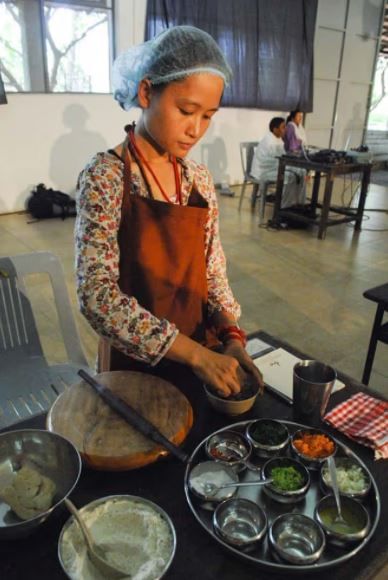 "I took this food health awareness program because I always had a passion for food and nutrition and creating healthy recipes. After this class I found that there is a new dimension to food. It is not just science, nutrition or technique, it is also about making a closer connection with the food because as Sadhguru said, it is what makes your body. I think I have a deeper understanding of food and I have broken some of my limitations about what is right, what is wrong, and what is best to eat." – Lucy, China
"I am a software engineer, so most of the time I eat in the restaurants outside, and I can clearly see the impact of outside food on my body and mind. So I decided to learn cooking. After going through this program, I can see how cooking can be fun. I am also noticing how important each grain is. Today when I eat, even if a single grain spills from my plate, it really clicks within – how much has gone for this single grain to come onto my plate." – Narasimhamurthy, Hyderabad
Editor's Note:
 The health benefits of natural foods are well documented and among the most consistent findings in nutrition science. Natural foods are not only good for you but can be quite delicious! At
Isha Life
, choose natural foods that promote good health, naturally.
Isha's latest ebooklet,
Food Body
, looks at the kind of foods the body is most comfortable with and explores the most appropriate ways of consuming such foods. The 33-page booklet is a first step to tune into your body and figure out what suits it best. The book is available on a "name your price" basis. Pay what you want and download it.