Hands of Grace – Dokra Art
In today's Hands of Grace article, we take a look at Dokra art, the age-old craft of making metal artifacts from Chhattisgarh.
Hands of Grace, a handicrafts fair, is being organized by Isha Foundation during Navratri, from 9th to 13th October at the Isha Yoga Center. 50 stalls will showcase thousands of exquisite items including furniture, interior décor, garments, organic bodycare products, stone and metal crafts, accessories and gift items, offering the gamut of India's arts and crafts tradition. Hands of Grace is an endeavor of Isha Foundation that seeks to rejuvenate India's traditional arts and crafts industry and establish a lasting legacy for future generations. It is a part of Isha's larger initiative to revive India's cultural ethos.
Through this series on the Isha Blog, we hope to showcase a few of the varied handicraft forms and craftspersons who will be a part of Hands of Grace. Today, we focus on Dokra Art from Chhattisgarh.
Craft: Dokra Art
Artisan: Sushil Sakhuja
Place: Bastar, Chhattisgarh
Items: Idols, Animal Figurines, Vases, Photo Frames, Modern Door Handles, and more.
Dokra (also called Dhokra) art is an ancient method of making metal artifacts by a wax-casting technique. An art that is 4000-5000 years old, its earliest known lost wax artefact is the dancing girl of Mohenjodaro. The name comes from the Dokra tribes, the metal-workers of Bastar, Chhattisgarh. Distant cousins of this tribe also extend from Jharkhand to West Bengal and Orissa. Today, Dokra art is admired all over the world for its primeval simplicity and enchanting folk motifs.
Get weekly updates on the latest blogs via newsletters right in your mailbox.
The process of making Dokra is fascinating and uses only natural raw materials. The basic mold is made with fine sand (mostly found next to the river banks) and clay. Goat and cow dung or husk is added to the principal material then layered with pure beeswax found in the jungle where the craftsmen reside. Wax threads are then prepared and wound around the clay mold until its entire surface is covered uniformly. After this, decorative aspects are added. The clay is then cooked over a furnace where the wax comes out from the drain ducts. The furnace is built above ground with bricks and natural fuel (charcoal, cow dung or coal). The wax burns in the furnace leaving a free channel for the metal to flow. Molten metal (mainly brass and bronze) is poured inside the mold. The molds are taken out after the metal has melted, and half-an-hour later, water is sprinkled to cool them. They are then broken and the cast figures are removed. The portions are retouched and are meticulously scoured at the river with clean sand to give the products a soft polished look. Normally, a simple figurine could take anywhere between over fifteen to thirty days to make.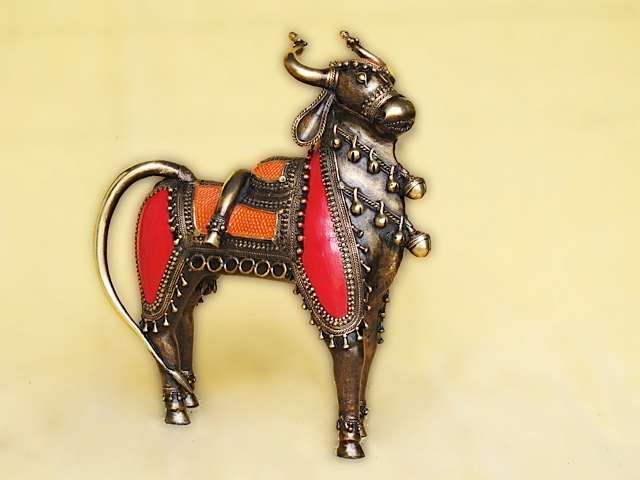 Every piece of Dokra art has a distinct identity. According to artisan Sushil Sakhuja, the tribes originally used this art form to create idols of deities, but over a period of time, as spiritual erosion took place, they started making more secular forms used more as artefacts than objects of worship. His craft collective has a vast repertoire – gods and goddesses, tribal and animal figurines, vases, door handles, and photo-frames. Nandi (Lord Shiva's Bull) is one of the fast-selling favorites.
Traditionally Dokra as an art form was learnt and handed down over generations through the family. A native of Bastar himself, artist Sushil Sakhuja began his journey in Dokra by learning from local master artist Shobha Ram Sagar twenty years ago, and he has since worked extensively with various Dokra artists, won national awards and participated in several international exhibitions as well.  He is helping to revive the art by training both men and women of the families in Bastar while also constantly striving to come up with new products which have contemporary use and commercial viability. Belonging to a rare and unique breed of items and processes, the Dokra products are indeed a collectible.
References: Artist interview in Hindi, his website www.sushils.com, Wikipedia, Interview with Arnav Taode (NIFT graduate, Design innovator worked with Bastar artisans for craft documentation.)