Former Rajasthan Chief Minister Vasundhara Raje launches Sadhguru's books
Vasundhara Raje, leader of the opposition in the Rajasthan State Legislative Assembly and former Chief Minister of Rajasthan, released 'Don't Polish Your Ignorance,' authored by Sadhguru, at an event held at the Isha Yoga Center on 30th May. Mr. J.M Balamurugan, IAS, invited Ms. Raje to the dais and presented the first copy of the book to Ms. Raje's son Dushyant Singh, MP. Published by Jaico Books, 'Don't Polish your ignorance' is a guide to spiritual awakening, leading the reader through the travails and tribulations of daily life.
Ms. Raje then shared her experience of being in the Isha Yoga Center as a part of the Yoga Marga program – a holistic mental and physical health revitalization program at Isha Foundation's yogic health and relaxation spa, Isha Rejuvenation Center. Ms. Raje recounted her experience of the past 21 days while she was staying at the Isha Yoga Center. She said that it had revitalized her spirit and had worked miracles on her body, mind and soul. She urged the audience to make use of the wonderful space of the Isha Yoga Center as often as they could.
Don't Polish Your Ignorance – It May Shine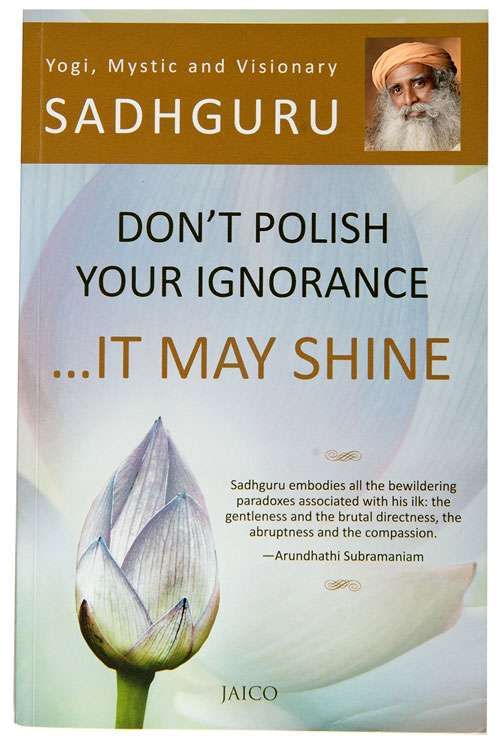 Compiled in a unique question and answer format, this book is a collection of Sadhguru's answers to the searching questions of spiritual seekers. Throughout the book, Sadhguru reminds the reader through answers which blend profundity with his trademark wit, that the only thing that lies between a human being and the divine, is a choice: to determinedly refuse to strengthen one's ignorance – to 'gold-plate one's limitations.'
Get weekly updates on the latest blogs via newsletters right in your mailbox.