Dussehra Celebrations at Isha Yoga Center – 2013 Schedule
Dussehra at the Isha Yoga Center is set to be a grand celebration with poojas, music and dance, special sadhana, a handicraft expo, live webcasts and updates, and of course, Linga Bhairavi.
Dussehra at the Isha Yoga Center this year is set to be a grand celebration with poojas, dance, special sadhana for devotees, classical music, traditional handicrafts and of course, Linga Bhairavi. The 9-day period of Navratri from 5th October to 13th October will culminate on 14th October in Vijayadashami – a day of victory over darkness.
Dussehra at Linga Bhairavi
4th October, the day before Navratri, is Mahalaya Amavasya – a day to express our gratitude to previous generations. A special Agni Arpana will be offered from 6 pm till midnight, and a special Kalabhairava Shanti Process will happen at midnight from 11:15 pm (Oct 4) to 12:20 am (Oct 5). From 5th to 14th October, Linga Bhairavi will be open till 9:20 pm every night. Each day of Navratri will begin with a special Vilakku Seva and Navratri Abhishekam, The Devi Navratri Pooja from 5:40 pm to 6:20 pm inside the Linga Bhairavi, is a powerful opportunity to imbibe Devi's Grace. The pooja will be followed by the Linga Bhairavi Procession and Maha Arati.
Get weekly updates on the latest blogs via newsletters right in your mailbox.
Vijayadashami on October 14th, is seen as an auspicious time for children to be initiated into education. At Linga Bhairavi, a special vidyarambam for children will be conducted, followed in the afternoon by a special vidyarambam for rural children from nearby villages.
For more information on participation, contact +91-9443365631, +91-9486494865, or email info@lingabhairavi.org.
Navratri Sadhana
For those devotees who wish to connect with Devi, a simple but powerful Navratri sadhana has been offered by Sadhguru to experience Her Grace at home. Please view this page for more details.
Devi, Patron of Arts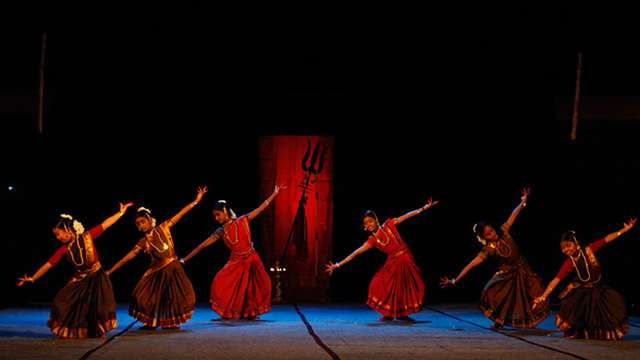 Dussehra is traditionally a time when the performing arts are celebrated. Navratri at the Isha Yoga Center will include various classical dance and vocal performances every night from 5.30 pm – 7:00 pm. Various renowned artistes of the younger generation will showcase their talent. The concerts will also be webcast live, every night at http://isha.sadhguru.org/live/.
For those among the audience who are inspired by the classical performances to swing a leg, a Dandiya Raas will happen on each of the nine nights. Originating from Vrindavan, Dandiya Raas is said to have its roots in Krishna's Leela and his Raas with Radhe and the gopis.
Hands of Grace Handicrafts Exposition
This year's celebrations will also feature Hands of Grace, a unique craft exposition featuring traditional handicrafts from across the length and breadth of India. From 9th to 13th October, 50 craft groups will showcase thousands of exquisite items including furniture, interior décor, garments, organic bodycare products, stone and metal crafts, accessories, and gift items, offering the gamut of India's arts and crafts tradition.
India's craftsman, possessing a deep knowledge of natural materials, produce diverse and multi-dimensional handicrafts which are unmatched in beauty and design. Unfortunately, industrialization and mass-production have eroded the fundamental framework of many handicraft traditions which have consequently disappeared in the last hundred years. Hands of Grace is an endeavor of Isha Foundation to rejuvenate India's traditional arts and crafts industry and establish a lasting legacy for future generations.
Daily Updates
Stay tuned at the Isha Blog for daily updates every day from 5th to 14th October. We will be bringing you Sadhguru's articles and videos on the significance of Navratri and Dussehra, interesting nuggets about Navratri celebrations and Goddess worship from around the country, features on a few of the handicraft traditions at Hands of Grace, updates on the artistes' performances and lot more!
Editor's Note: If you need it, here's information on getting to the Isha Yoga Center.