Live Coverage Day 27 – Rally For Rivers, Chandigarh
The Punjab and Haryana region which is hailed the granary of the Indian sub-continent, was a major focal point for the rally from the start, being a region that is heavily farmed, thereby in much need of river rejuvenation and soil replenishment. The rally in Chandigarh was significant because it is the shared capital of Punjab and Haryana as well as a union territory by itself. It was a top-heavy rally that was attended by the Hon'ble CM of Haryana, Shri Manohar Lal Khattar, the Hon'ble Governors of both states, Shri V.P Singh Badnore of Punjab and Prof. Kaptan Singh Solanki of Haryana, and Smt. Kirron Kher, MP from Chandigarh.
All the dignitaries in attendance were in complete support for the rally and expressed their gratitude and appreciation to Sadhguru for conceiving and initiating this movement. The eloquent Smt. Kirron Kher spoke in a melodious mix of Hindi, Punjabi and English. Shri V. P. Singh Badnore recounted his memorable experience about flagging off the rally in Coimbatore on Sep 3, and expressed his gratitude to Sadhguru for coming to his state. Of note was Shri V. P. Singh Badnore's portrayal of the rally as a "referendum", seeking people's participation and vote to pass the proposal as a policy. He mentioned that this was also the vision of the Prime Minister.
Another major milestone that was achieved was the exchanging of an MoU between the Government of Punjab and Isha Foundation for planting trees along the river banks of the state. What has been commendable along the course of the Rally is the state governments that have come forward to sign MoUs, which will ensure afforestation of riparian lands, irrespective of the river revival policy being passed at the center.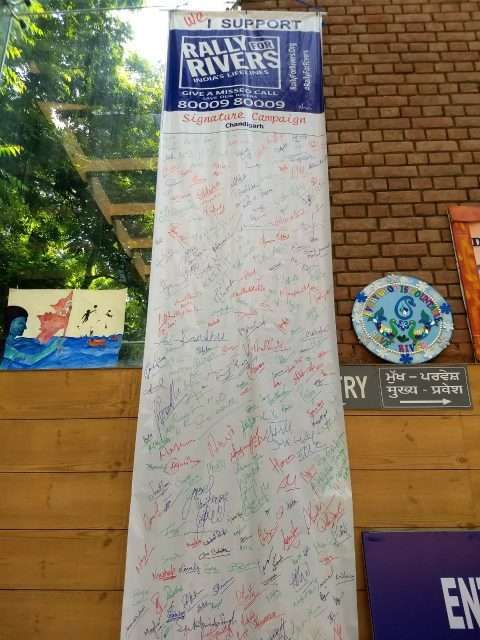 Get weekly updates on the latest blogs via newsletters right in your mailbox.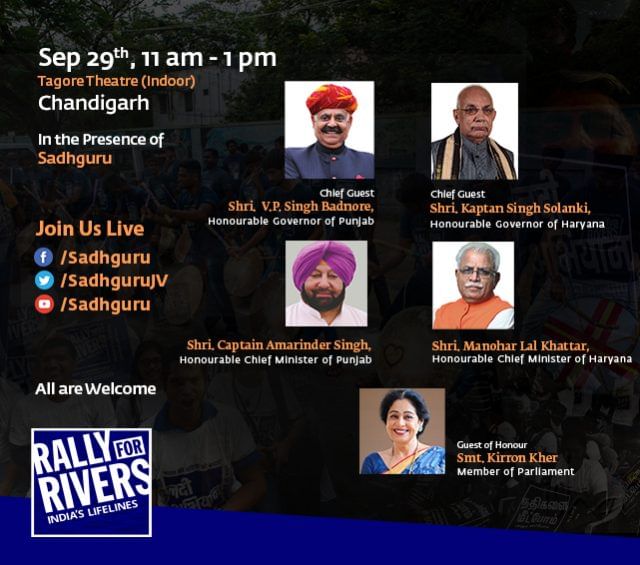 After the rally in Chandigarh, Sadhguru headed to the India-Pakistan border at Wagah, where he attended the elaborate ceremony which happens two hours before sunset. The Border Security Force, strong supporters of Rally for Rivers, reinforced their solidarity towards the cause with Sadhguru. Sadhguru remarked after the event, "This amazingly unique event at Wagah border. Very impressive mock bravado. I wish for people on both sides that it was all a mock fight."
The next stop, Haridwar, is a gateway to heaven of sorts, at the foot of the majestic Himalayas. A symbolic penultimate stop for this spiritual journey with economic significance and ecological consequence for the nation, before we go to New Delhi.