The Fire Temples of Azerbaijan and Arunachala
The fire temples of Arunachala and Azerbaijan (Baku) have an interesting history and lore surrounding them. Sadhguru explains the significance of these places and why people traditionally went there during the last stages of their lives.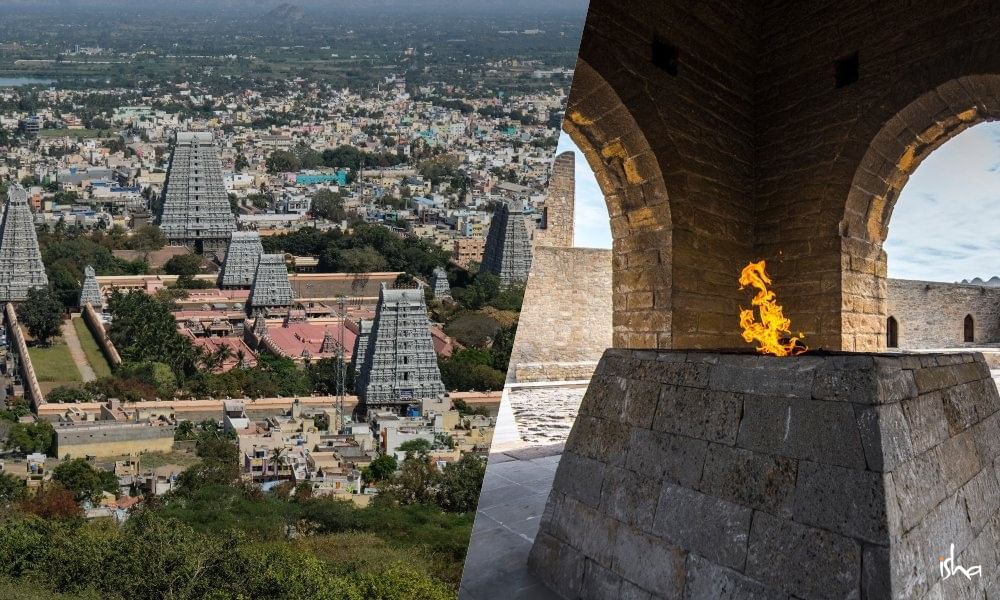 Sadhguru:
Today, we are able to eat so many varieties of food essentially because of our ability to control fire. If there was no fire, there would be no cooking. We can eat almost anything in the world today because we can soften it up with fire and consume it. The moment we could control fire, it has brought various aspects into our life.
Because of this, fire worship has been a part of every culture and every tradition across the world. In some cultures, it has reached a very high level of sophistication, and in others it is just worshiped as a powerful symbol. Many temples were built for fire. A few years ago, I was in Azerbaijan where there is one such fire temple.
Temple of Fire in Azerbaijan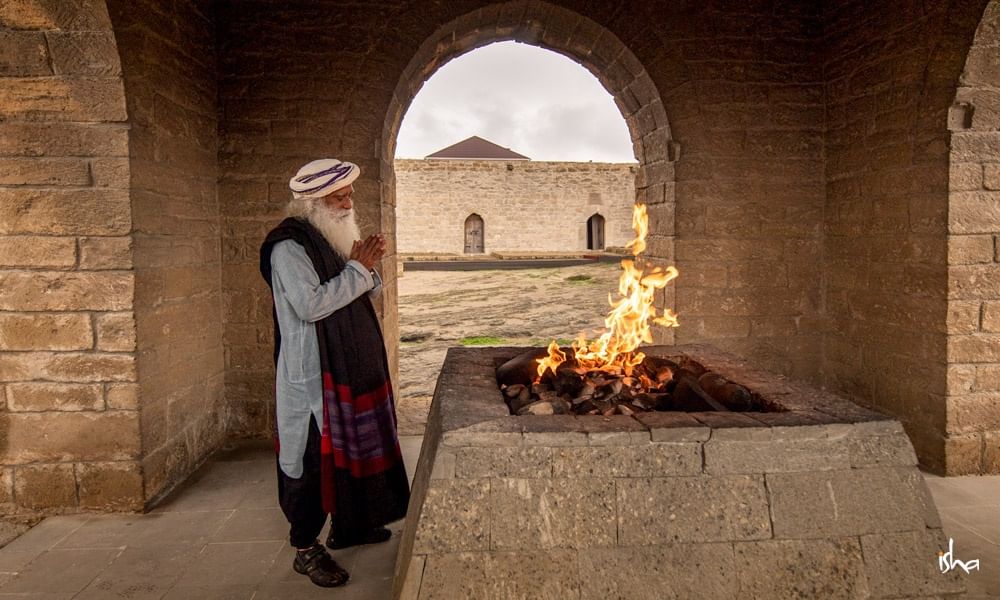 Azerbaijan is a land rich in petroleum and natural gas. In fact, Azerbaijan means "Land of Fire." There are places where natural gas is seeping out of the land on its own and is on fire. These fires have been burning for thousands of years and a Hindu fire temple was built around this burning fire of natural gas. It has been rebuilt many times, but the original one is estimated to be about 8500 years old.
Azerbaijan had a large percentage of Hindu population at that time. Afghanistan, Pakistan and present-day India together were generally referred to as Hindustan. So people traveled from these regions and came to the fire temple to live around it, and also to die. When I say "to die," it is not their wish to die, but everyone dies whether you wish to or not. This is something a lot of people have forgotten; they think it is only other people that die.
Get weekly updates on the latest blogs via newsletters right in your mailbox.
Even if all of us crash in airplane and die together, we are not dying together. We are dying alone.
In India there is a tradition that when the time to die comes, you should not be among your family, you must always move away. This may sound strange. In Western cultures, you want the entire family to be there, and the rest of the family is waiting on the other side arranging a party for your coming. But, in India when the time to die comes, you must move away from your family, because if you are with your family, you will continue your psychological drama, thinking that is the ultimate drama in your life.
Your psychological drama is not the ultimate drama. Your emotions and thoughts are important to a certain extent, but existentially they mean nothing. They only mean something in the psychological space – which is also an important part of our making. I am not saying one should ignore it. I am not saying it does not matter to you at all. All I am saying is it has no existential significance. Only if you transcend that will you die well.
The Significance of the Azerbaijani Fire Temple
When people realized they are past a certain age and within the next year or two they may pass, they would walk all the way to a sacred space by themselves to die. They did not want their relatives, children, or spouse around them, because they wanted to realize that all these things are just arrangements that you make for your comfort and convenience here; this is not ultimate nature of life. The ultimate nature of life is that you are born alone and you will die alone. Even if all of us crash in airplane and die together, we are not dying together. We are dying alone. Individual life needs to deal with itself the way it is. You cannot deal with it in groups.
So people always withdrew into energetically-charged spaces which are considered sacred, like Kashi or the Azerbaijani fire temple, because at least when the moment of death comes, you want to transcend the physiological and psychological drama. When you are young, your physiology may be playing one kind of drama; when you are old, it will play another kind of drama. When you are young, it may be a drama of pleasures; when you are old, it will be a drama of pains. There is not much difference between pleasure and pain. They are just two sides of your neurological system. If you touch it one way, it is pleasure; if you touch it another way, it is pain. It is the same thing happening in two different ways.
To transcend the drama of pain and pleasure, suffering and bondage, it is important that you move away to such places, so these temples were created.
Arunachala – a Fire Temple in India
One significant temple that was created for fire is Arunachala in southern India, which is a fabulous masterpiece of architecture. This temple is engineered in a brilliant way in terms of geoengineering – understanding how the planet spins. They made it in such a way that only on the summer solstice day, the sunlight will fall on the face of Arunachala – the form of Shiva here, where he is the "Fire God".
The Arunachala temple is one of the most powerful temples that you can find in southern India. You do not go there to worship, but to ignite yourself with all the three fundamental fires, so that the fourth dimension of fire – which is generally not even talked about – becomes accessible to you.
The temple is at the foothills of the Arunachala mountain, an extinct volcano which is quite incredible. I really do not know the geological history of this volcano or how long ago it became dormant, but definitely it should have become dormant many thousands of years ago. But, people still remember that this is a fire mountain.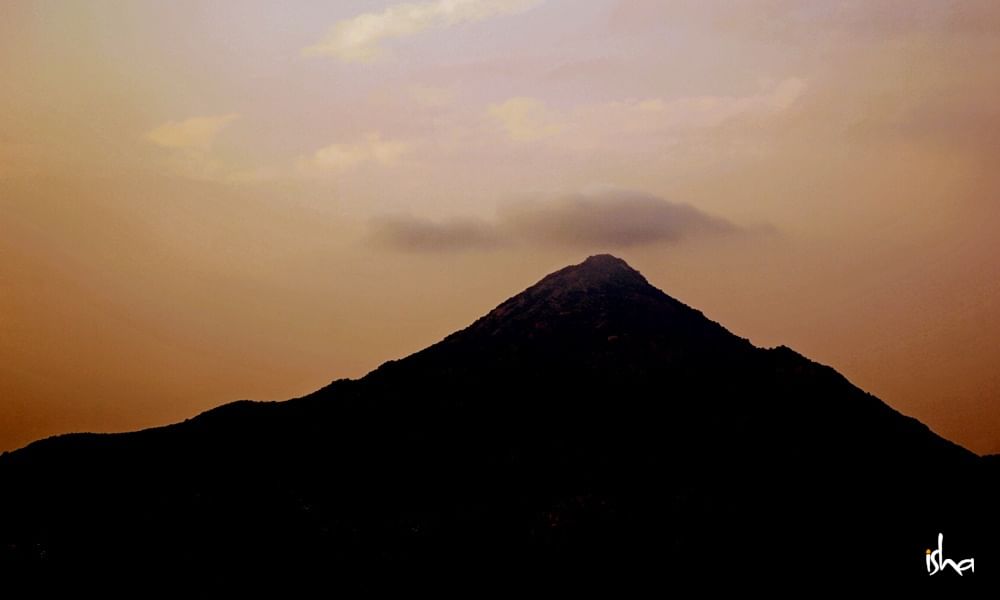 This memory of it being a volcano somehow carried on, because India is one of the few cultures on the planet where people lived in the same place. They valued living in the same place. They were not in a conquest mode. Even if you offered them a mountain of gold somewhere, they would not go. They wanted to stay where their forefathers were. Because of this, they still remember. Even today, the mountain is seen as more worshipful than the temple. That is how the tradition holds it.
Editor's Note:
Read about the three fundamental fires and the fourth dimension of fire
in this article
.