Week in Review - Live Updates of Isha Yoga with Sadhguru in Trichy - Over 10,000 Attend!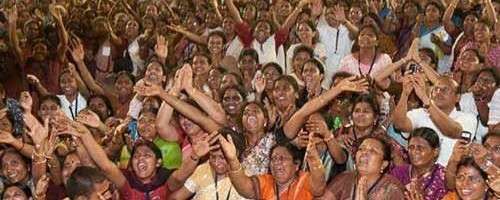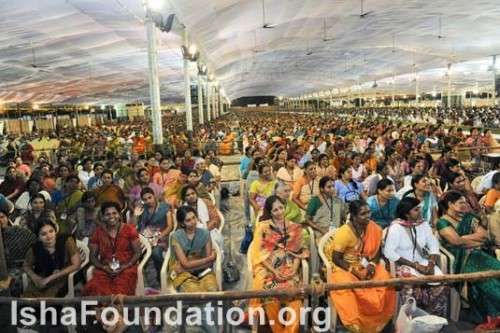 What to say about the three-day Isha Yoga Program with Sadhguru? Volunteers were overwhelmed by the experience of being a part of such a massive transformation. One volunteer shares:
Sadhguru has been speaking about transformation happening at a grand scale, and I have always been excited about the possibilities. But actually witnessing it these past three days has made it real for me; I just could not believe something so grand was happening right in front of my eyes.
Even from the first day, the commitment and excitement the participants had for the three-day program could be seen in the very way they moved. But by the third day, I sensed such a deep sense of love and devotion for Sadhguru. What had happened to these 10,000 people in just a matter of three days was too big to miss, and their gratitude and commitment could already be sensed.
During the initiation process, something happened that I cannot put into words, but a sense of bliss and light seemed to fill the hall like a blanket. And when I looked into the eyes of the participants afterwards, they seemed so at peace within themselves. Their eyes shone and they had a new sense of wonder. They looked at Sadhguru with childlike amazement. And as Sadhguru began to chant, they also chanted and many cried. Their own longing was beginning to bloom.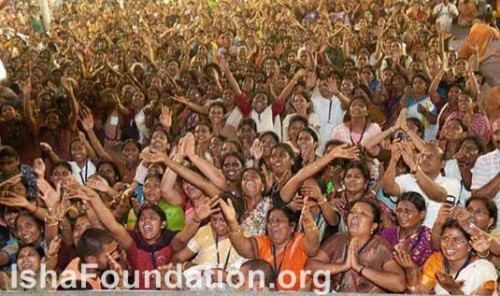 As the program came to a close, Sadhguru stood up and chanted "Maha Deva", then began walking down the ramp so he could be with them. The participants cheered and rushed towards him, lining the ramp to get as close to their new guru as possible, and placing their hands above their heads in Namaskar, hoping to make eye contact with the Master. Sadhguru made his way slowly down the ramp, taking his time to see each and every one of them. And as the music changed to "Alai, Alai!" everyone began to dance. Sadhguru himself joined in and the crowds and the level of cheers and excitement rose to a new peak.
I hope that everyone has the opportunity to somehow be a part of these programs as a participant or volunteer. Just seeing this massive transformation happen right in front of me was something I could never have imagined.
Get weekly updates on the latest blogs via newsletters right in your mailbox.
Participants shared their experience, saying transformation at a grand scale was happening for Tamil Nadu and the World. Many shared, with tears in their eyes, that they have never seen anyone like Sadhguru before who could transform people like this within just a few days.
Here are a few personal sharing from participants and volunteers:
"I never experienced anything like this in my life, and I am a 70-year old woman with seven daughters. Being with Sadhguru is something; whenever he clapped his hand, it was so joyful for me. The moment he clapped, it was so explosive it just made me joyful."
"I came from Bangalore to be a part of this program, and before this, I had never been to any kind of large gathering anywhere. I am not the kind of person who goes and sits in a crowd and I often feel uneasy being with people. But being here for three days, something has been released within me. I feel something within myself has been broken and I can now be in many crowds!"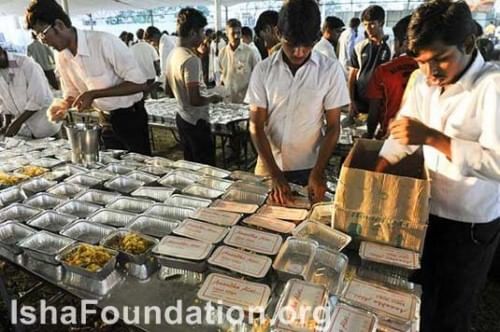 "I am 65-years old and have been volunteering for 45 days, just taking care of as many activities as I can. And I have come because my one true longing is just to be with Sadhguru. I just wish to be in his presence. That is why I have come."
"I am a retired government employee and I always thought that whatever I had to learn in life was already done, but after coming to this program, I feel there is so much more than what I have experienced."
"My son has been telling me to come for a long time and I was not willing. And now, I am thanking my son. I am so grateful to him for having me come and do the program."
"I am an MBA student and my body was so rigid and I have terrible backpain, but just after being here for three days, I can already see a change in my body and much of the pain has lifted."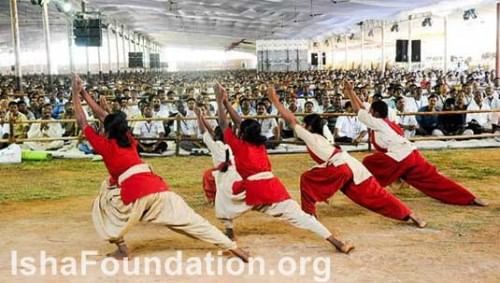 Over 10,000 participants filled the premises for Sadhguru's second of three Isha Yoga Programs in Tamil Nadu. (Next week, Chennai!) And the preparations made to accommodate such a massive crowd for the three-day program have been tremendous.
Over 1,100 volunteers have been working tirelessly to make this happen. They began 15 days ago by setting up the foundation for the massive outdoor hall, complete with a roof and fans to protect participants from surprise rains and the hot sun. And three days ago, the massive preparations for the dais, decorations and seating arrangements also took place, with a handful of volunteers preparing meals for those working around the clock.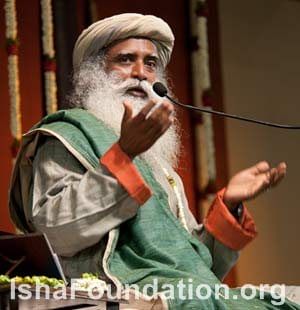 Nearly 4,500 participants come from districts outside Trichy. To accommodate them, food and accommodations have been provided for all three days. There are over 500 temporary toilets and a huge lorrie supplying 30,000 liters of water daily. Three participants have even come as far away as France! They do not understand Tamil, but are just happy to be in the presence of Sadhguru and soak in his blissfulness.
The program began with riveting Nirvana Shatakam chanting by the Isha Samskriti children. Sadhguru then started the program with stories and anecdotes, inciting laughs and applause from the massive crowd.
The Isha Yoga Programs with Sadhguru are the latest continuation of Isha's "Ananda Alai – A Wave of Bliss" - a spiritual movement that is spreading like wildfire throughout Tamil Nadu. Ananda Alai is part of Sadhguru's wish that no one be left untouched by the spiritual process.
Click on the Photo Gallery below to see the latest images from the program. And be sure to stay tuned next week for the Chennai program!