Project GreenHands Receives India Today Safaigiri Award
Project GreenHands honored for mobilizing community to plant trees in Tamil Nadu and Puducherry.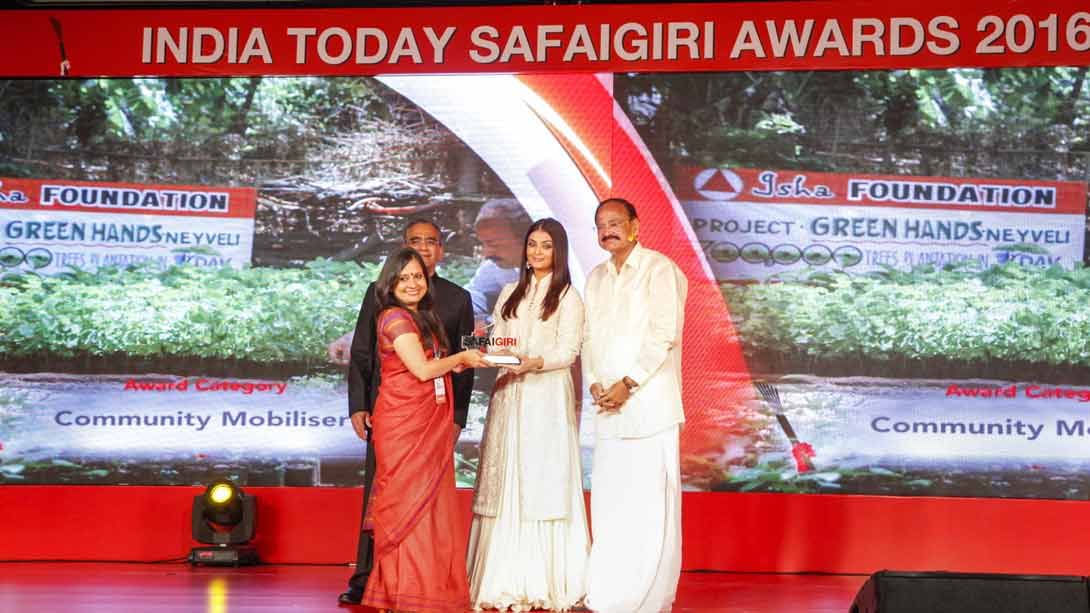 This week, Project GreenHands, Isha Foundation's environmental initiative, was honored by the prestigious India Today Safaigiri Awards. These awards felicitate individuals and organizations for their efforts in championing the cause of cleanliness. Project GreenHands was recognized for its achievements in mobilizing a large number of people to plant trees and restore the depleting green cover and eroding soil in Tamil Nadu and Puducherry.
Union Minister of Urban Development, Housing and Urban Poverty Alleviation and Information & Broadcasting Venkaiah Naidu, actor Aishwarya Rai and India Today Group Chairman Aroon Purie presented the award to Project GreenHands at a ceremony in New Delhi.
Describing the motivation behind Project GreenHands, Sadhguru explained, "The most important aspect of Project GreenHands is we have made people strongly feel that planting a tree is not about somebody or something. It's not about the planet. It's about you, because trees are our closest relatives. What they exhale, we inhale; what we exhale, they inhale. Without them we cannot do. So this is something that any human being will realize if he just closes his eyes for two minutes and looks inward; he can clearly feel the relationship with everything around himself. May all Indians be inspired by and replicate the efforts of the people of Tamil Nadu to bring back green cover through Project GreenHands."
About Project GreenHands
To restore the fast depleting green cover of Tamil Nadu, Sadhguru instituted Project GreenHands in 2004. Since its inception, Project GreenHands has enabled the planting of more than 28 million saplings with the support of over 2 million people from Tamil Nadu and Puducherry. In 2006, Project GreenHands was created a Guinness World Record for planting maximum number of trees (8,52,587 seedlings) across 27 locations in Tamil Nadu with most number of people in one day. In 2008, it was awarded India's highest environmental award - Indira Gandhi Pariyavaran Puraskar (Ministry of Environment & Forests) by Dr.A.P.J Abdul Kalam, President of India.
Editor's Note: Learn more about Project GreenHandsand follow them on Facebook.
Get weekly updates on the latest blogs via newsletters right in your mailbox.