On the Verge of Something Great - Foundation Stone Laying Ceremony of Mahima
The Isha Institute of Inner Sciences in the US marked yet another milestone on May 19th as Sadhguru led a ceremony that laid the foundation stone for Mahima, the 33,000-square-foot dome that will be the center's main program hall. Just as the 4-day Bhava Spandana program at IIIS ended, Sadhguru announced that it was Buddha Purnima, and that although it had not been planned, we could not have asked for a better day on which to lay the foundation stone than the full moon day that marked the anniversary of the Buddha's enlightenment. He then invited everyone present to join him outside.
Several hundred meditators filed outside the program tent and formed a circle around Sadhguru under a canopy of deep blue clouds shot through with layers of white, azure, and purple. With the land cleared for imminent construction, participants gathered on the red Tennessee mud and stood expectantly under a huge dome of sky, encircled by a huge ring of pine trees and enveloped by an endless blue ceiling. Sadhguru asked where the moon was but although all gathered turned and looked for its reflection, it had not yet risen.
Get weekly updates on the latest blogs via newsletters right in your mailbox.
The foundation stone itself jutted from the ground, sharp and pointed, about two feet high. Sadhguru asked two IIIS residents to come forward and press a lemon against the stone, releasing the juices to flow over the rock. Sadhguru himself then took a coconut and broke it on the stone. Another IIIS resident noted, "Something happened when he broke the coconut, something indescribable." Sadhguru then held aloft a large piece of carved wood that held a large pile of lit camphor, and everyone joined him in singing the four lines of Guru Pooja that begin, "Karpura Gauram…"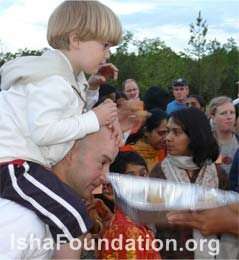 Sadhguru explained that the ceremony was designed to secure the cooperation of the five elements in building the hall. Then, with a gravity of tone that made everyone present shiver, he pronounced that things would happen in Mahima that no one had ever seen before. Next he explained that mahima means 'grace', and that everything we do with our practices is just to make us available to Divine Grace. One meditator, overcome with emotion, said, "As I watched Sadhguru initiate the construction of Mahima, my eyes welled up seeing the possibility it is going to be. This grace, just as a sun that aids the blossoming of a lotus flower, will aid the flowering of not just the few hundred present, but for those hundreds and thousands who have not even heard about Isha yet."
Sadhguru ended the ceremony by leading all in three lines of a consecrated chant that Gautama Buddha gave to his disciples. Trays of delicious homemade laddu were circulated, and everyone milled around afterwards in the charged atmosphere, basking in the tangible feeling of love and excitement that hung in the air. As Sadhguru has said many times, Mahima is not an end point or even an accomplishment - there is so much seeking in the world that it can never be enough. Yet, after a long journey to reach this point, American meditators feel they are on the verge of something great. "This has made me realize…this is going to be huge - absolutely huge," one meditator said, echoing Sadhguru's prediction of a swell of rising consciousness in this country that will facilitate the transformation not only of this nation, but the entire world.