Over the last month, the children of Isha Home School have been juggling, twirling, and tumbling their way into class. The junior students of Isha Home School (ages 5-10) have had the unique and privileged opportunity to work with Circulo, a contemporary circus company with the goals of enriching and connecting lives in various places around the globe through the world of circus. "I find that some of my students have become more confident and focused in class after starting Circulo training. This has been a tremendous experience for them," comments Dr. Manjushri Nair, Junior School Coordinator and teacher.
Circulo is established in three different countries around the world: France, Chile, and Equador. A dynamic couple, circus professionals Mr. Sebastian Belmar,(Choreography) and Mrs. Natalia Matus (Project Management and Development), from Circulo-Francia currently conduct training in the art of circus in Paris, France. Both Belmar and his wife are from Chile, South America where Circulo originated in 2004. After reading about the Isha Foundation and its many causes, Circulo-Francia was inspired to do a social project for the first time in Asia, particularly, India. The "Scholie-Inde Project" was well received and sponsored by the University of Paris 8, St. Denis and CROUS Creteil. It being their first time in India, Belmar and Matus have found India to be "a beautiful and enchanting country" and have definite plans to return.
Get weekly updates on the latest blogs via newsletters right in your mailbox.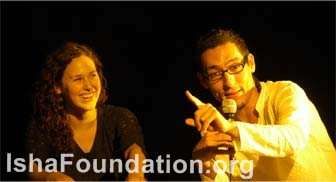 Contemporary circus does not include animals; rather, it is a subtle fusion of circus, dance, theatre, and particularly for Circulo the added elements of yoga and kalaripaitu. For Isha Home School students, this has also brought a new sense of awareness about animal rights, the differences of traditional circus, and an appreciation for the physical fitness needed to be a circus professional. Pleased by the level of enthusiasm shown by the school, Belmar and Matus also extended their expertise to a few sessions for our middle school students and some teachers.The versatile artists have been intensively training the students in the art of clowning, acrobatics, trapeze, and juggling , which culminated in an evening performance on the 6th of August entitled "Khelo" (meaning a game or to play in Hindi), produced by the student performers, and directed by Belmar and Matus. Principal Maheshwari Ethirajalu remarked, "Isha Home School feels greatly privileged to host Circulo-Francia.They have truly inspired our children. The students have thoroughly been enjoying themselves and look forward to sharing their newfound creative expression with all of us."