INSIGHT 2017 Day 2 – Business Journeys and Space Odysseys
From discussions around business to science, a day filled with innovation, insight and introspection.
From discussions around business to science, a day filled with innovation, insight and introspection.
The second day of Isha INSIGHT 2017 was packed with high-caliber sessions filled with immense learnings on various aspects of doing business in the current information economy. An energizing early-morning yoga session conducted by Sadhguru prepared participants for the day ahead.
The day's business learnings launched with Mr. Hemant Kanoria, Chairman & Managing Director of Srei Infrastructure Finance Limited. His keenly intuitive and knowledgeable delineation of his personal as well as business odyssey showed how he used every challenge not only to grow his business, but also for personal transformation. Hailing from the industrious Marwari community, and a family that had been in the business ambit, he shared some nuggets of ancestral business wisdom that had been passed down to him from his grandfather. He said he was taught to figure out the A (accounts & finance) before getting into B (business), and not the other way round.
Over the course of Mr. Kanoria's talk, and later during Mr. Kanoria's responses to the many questions from participants, Sadhguru observed and remarked that it was Mr. Kanoria's "sage-like" approach to business as well as life in general, which had kept him going despite undergoing several life-threatening episodes. Later, while answering a question on how he tackled high-pressure situations on a day-to-day basis, he explained that two hours of yoga and introspection in the morning put him in the right frame of mind for the day ahead.
The afternoon was studded with sterling presentations on the topics of innovation and branding, with cutting-edge viewpoints from experts like Sanjay Jain, CIO, CIIE - IIM Ahmedabad, Madhukar Kamath, Executive Chairman of DDB Mudra Group and M.S. Unnikrishnan, MD & CEO of Thermax group.
Get weekly updates on the latest blogs via newsletters right in your mailbox.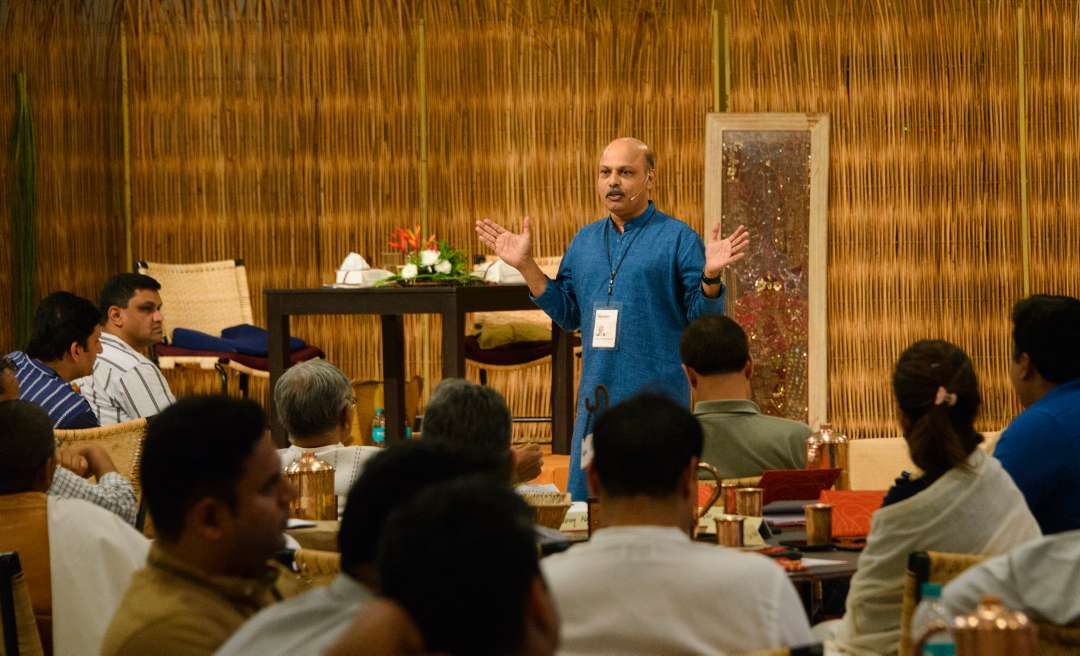 Another highlight was the awe-inspiring account from Mr. A.S.Kiran Kumar, Chairman of the Indian Space Research Organization, on the journey and achievements of ISRO. ISRO has been a source of tremendous pride for our nation, and Mr. Kumar shared several interesting stories and details about ISRO's Mars mission and other ISRO milestones. He spoke about their technological capabilities and shared glimpses into future plans.
When queried on the laws that governed space, he remarked that "Space belongs to humanity, not any one country", which apparently was something humanity had yet to come to terms with. Despite being a distinguished space scientist and the captain of a world-renowned entity, what was striking about Mr. Kiran Kumar was the simplicity and humility that he displayed amply throughout his presence at INSIGHT and the Isha Yoga Center, which he later took a tour of.
Sadhguru took the evening session, which commenced with an invigorating Kalaripayattu and Bharatanatyam performance from Isha Samskriti. Sadhguru then led a "Chit Shakti" meditation session – an appropriate end to this busy day, which helped the participants wind down and internalize the volumes of knowledge that had been shared.
INSIGHT 2017 Day 1 - A Dive into Scaling Up Business
Editor's Note: Follow INSIGHT on Twitter.