"Every society needs individuals who will go on planting mango trees without thinking whether they will get to eat the fruit or not."
Project GreenHands (PGH) is a grassroots ecological initiative established by Isha Foundation, which aims to take corrective measures to increase the green cover, restore soil health and manage natural resources appropriately.
PGH is involved in an array of rural and urban greening campaigns across South India, and has over the years partnered with the government, corporates, schools, colleges and NGOs in various environmental initiatives. PGH wants Tamil Nadu to be a beacon of environmental responsibility, illustrating what is possible when people take their future into their own hands and take action now, to save their environment.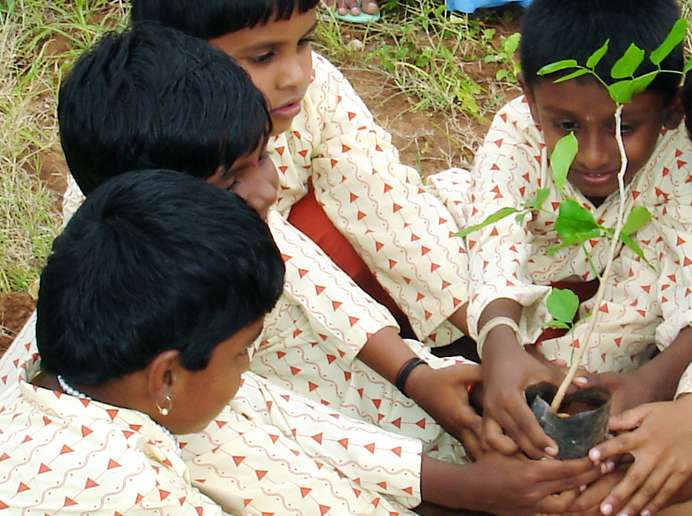 GREEN SCHOOL
For the concept of environmental stewardship to have a strong foundation, it needs to be tackled at the fundamental level. Establishing environmental knowledge in children builds this foundation and creates the next generation of ecologically conscious populace that will be more conscious of trees and the role they play in everyone's lives.
Combining the need for practical, hands-on environmental education and the availability of an already established Government program – National Green Corps (NGC), the Green School Movement was conceptualized by Project GreenHands of Isha Foundation.
TREES FOR LIFE
Farming, which once was the noblest profession of providing nourishment, life's fundamental need, to all human beings, has now been reduced to a socially backward position primarily because of farmers' financial situations. 'Trees for Life' is an agro-forestry initiative for promoting the planting of ecologically and economically beneficial tree saplings in farmlands, thereby offsetting/increasing farmers' income.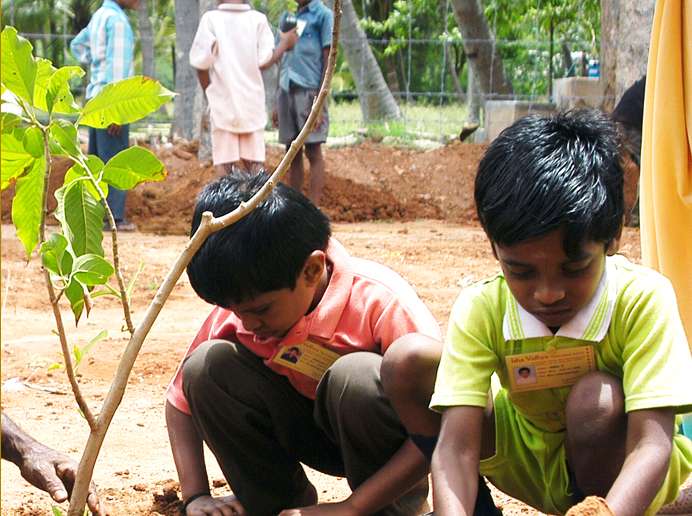 "Whether it's through the school education program, the rural program or the Greenhands program, all three of them make a difference to the daily living of people."
Smt. Vasundhara Raje
Chief Minister of Rajasthan
"During our session, we were shown an inspiring documentary on the Project GreenHands campaign by Isha Foundation. I've asked Sadhguru to support my dream of increasing the green cover in Andhra Pradesh to 33% in the next 5 years"
Shri Chandrababu Naidu
Chief Minister of Andhra Pradesh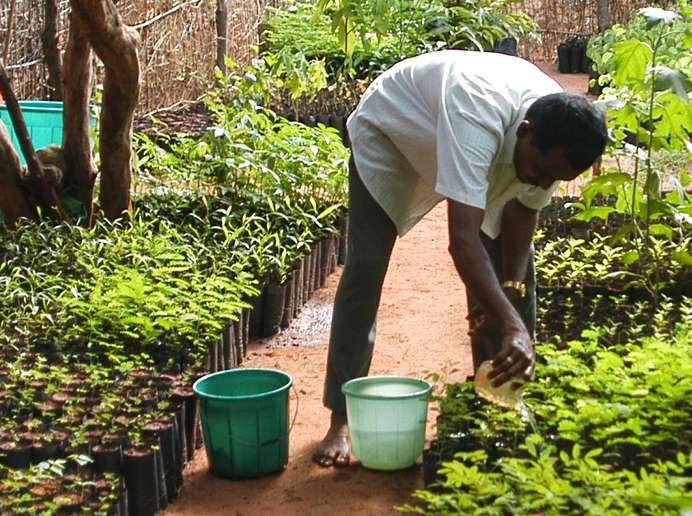 NURSERIES
As the name suggests, these are nurseries that are established and run by PGH volunteers. All the activities in the nursery like sowing the seed, transplanting, filling pockets, watering, weeding etc., are done by volunteers along with their family and friends. These nurseries are established in lands offered as donation for the project by people. Many local public and companies who cannot physically volunteer have in their own way made in-kind contributions to the nurseries like sponsoring motor pumps, red soil, tools and implements.
Excerpt from Sadhguru's speech when receiving the Indira Gandhi award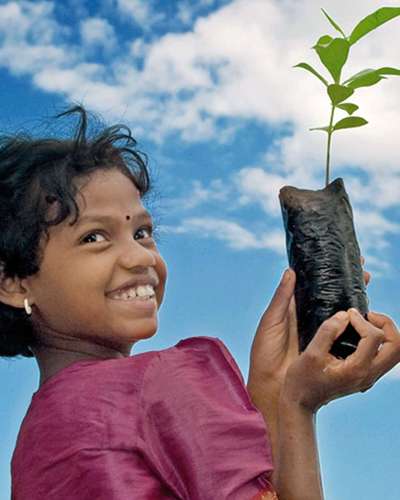 "Trees keep our lives going, just like the outer part of our lungs. You cannot ignore your body if you want to live, and in no way is the planet different from this. What you call 'my body' is just a piece of this planet. And the very essence of the spiritual process is about just this.
When we say 'spirituality,' we are not talking about looking up or looking down. It is about turning inward and knowing the nature of what 'this' is. The first fundamental fact of looking inward is always to see that you are naturally very much a part of everything around you. Without that realization, there is really no spiritual process. That is not the goal of spirituality, that is the fundamental – that who you are, or what you think you are, is just a part of everything else."
This is an excerpt from Sadhguru's acceptance speech when he received the Indira Gandhi Paryavaran Puraskar, India's highest recognition for environmental work. The award was given to Project GreenHands on June 5, 2010, for its efforts in mobilizing over 2 million volunteers to plant 17 million trees.