INSIGHT - DNA of Success 2013
INSIGHT 2013 kicked off today with sessions featuring Dr. Prathap Reddy, KV Kamath and Sanjeev Bikhchandani.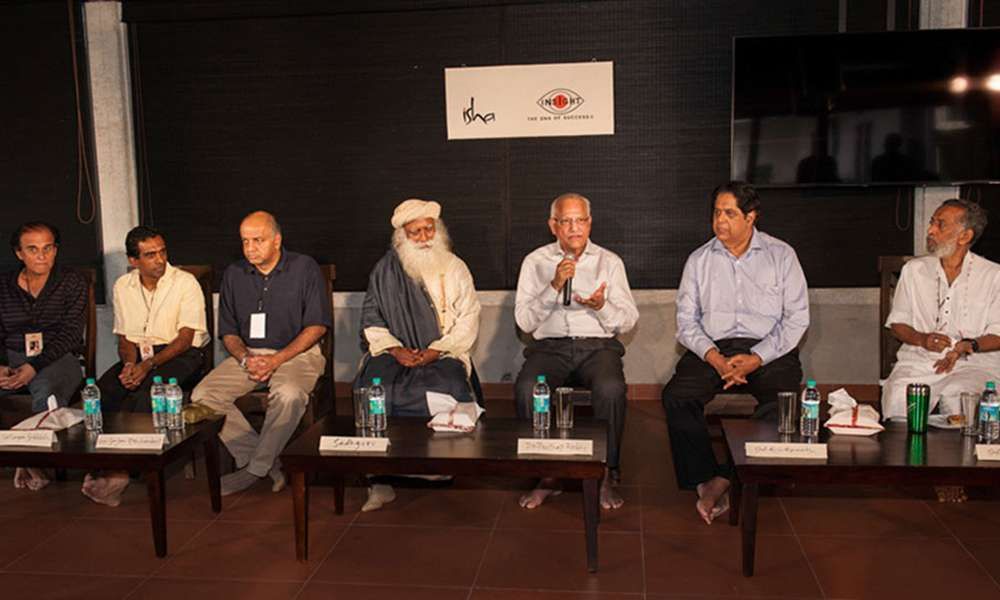 Welcome to the live blog of the second edition of "INSIGHT – The DNA of Success". Creating businesses and scaling them up requires exceptional skills. INSIGHT is a leadership program offered by Isha Foundation's Isha Education initiative, which provides business leaders with practical takeaways that multiply capability to manage both external situations and inner growth.
The 4-day program from Nov 23-26, will see some of India's most celebrated business leaders and top CEOs sharing their life journeys and experiences. Follow this post for live updates of the event.

Day 4
The program came to a close with a sathsang with Sadhguru. After a Q&A session, some of the participants visited the nearby Isha Vidhya school. After a very enriching four days, we now head back to implement everything we've learnt at INSIGHT. To end my updates, here is Prasoon's "Happy Dent" chewing gum commercial. Enjoy!
Day 3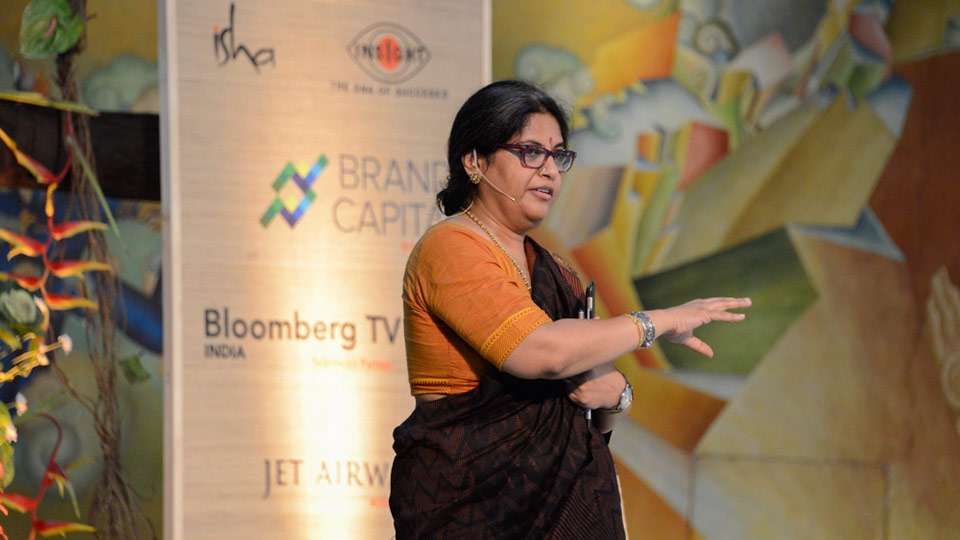 The morning wake-up call, with the soft strains of a flute accompanied by some gentle drumming, brought the participants out, ready for their yoga session with Sadhguru. Then, after a hearty breakfast, they gathered in the hall for a talk by Professor Dipak Jain, former dean of Kellogg's School of Management, and now Chaired Professor of Marketing at INSEAD, along with Sadhguru. Dipak spoke about his life and experiences. Peppered with anecdotes and suggestions, it became one of the most tweeted sessions of the day! He rounded off his talk with observations on the essential traits needed in an entrepreneur. This was followed by a session on financing for the SME segment by Sachin Nigam, Senior Director of CRISIL SME Ratings.
Post lunch, Isha Samskriti children put on an enthralling display of the ancient Indian martial art, Kalaripayattu. Rama Bijapurkar, Management and Market Research Consultant, then spoke to the participants about branding and markets – about scaling up, where to start, and what the avenues of value addition are. Satish Pradhan, Executive VP, Group HR at Tata Sons, spoke of his experiences in the area of human resources, and reiterated the points that an entrepreneur should remember. His was a high-energy session with many questions that continued even during the break that followed.
This was followed by a panel discussion moderated by Bloomberg TV. It started off with a question to Sadhguru about money worries during recessions. The seriousness of the problem was referred to Dr. Ram Charan and the other panelists, and the outlook that emerged was positive.
Day 2
Get weekly updates on the latest blogs via newsletters right in your mailbox.
The morning started with a wake-up call in the form of a beating drum. The participants emerged with smiles – intrigued and touched by the care and sensitivity shown in the tiniest of aspects. A yoga session with Sadhguru was followed by a wonderful breakfast.
Refreshed in body, mind and soul, the participants gathered in the stunning and spacious Spanda Hall where Dr. Ram Charan kicked off the proceedings with a discussion and group activity on yesterday's interview with Sanjeev Bikhchandani. The various groups shared three insights each – and Ram Charan elaborated on some to give further perspective.
Harsh Mariwala and Ravi Venkatesan
Day 2 gave us a glimpse into the workings of Marico Industries Ltd. one of the largest FMCG companies in India, known for brands such as Parachute Hair Oil and Saffola Cooking Oil. Marico's Chairman and MD, Harsh Mariwala shared his life journey with the participants, during a one-on-one chat with Ravi Venkatesan, the former Chairman of Microsoft India. Harsh began with his childhood days and explained how he was just an average student. Though he wanted to go abroad for his higher studies, his father asked him to stay back and get involved with the family business. He then described how he took up the least glamorous of the family's many industries – Bombay Oil, a company which dealt with bulk oils.
The next hour was filled with personal stories, learnings and guidance for the participants, as Harsh described how he turned the ugly duckling into the swan it is today – Marico Industries, complete with shampoo brands, cooking oils, hair oils and a host of the other products with a global presence. Ravi Venkatesan very ably distilled the essence of Harsh's success, and later, Harsh answered several queries from the participants regarding the challenges he faced and the many aspects of his multifaceted company.
After lunch, Dilip Cherian mediated a panel comprising Sadhguru, Harsh Mariwala, KV Kamath and Ram Charan. The questions were based on Harsh's sharing. Lessons for small and medium enterprise were discussed. A Q&A session looked at a range of topics including choosing consultants and the role of spirituality in managing talent.
After a short break when the resource leaders were surrounded by participants eager for more insights and answers, Dr. Ram Charan took the participants through a framework for organizational strategy and growth. Everything was explained in the context of Harsh's entrepreneurial experiences.
Dilip Cherian and Prasoon Joshi
The evening session was a "duet" with Dilip Cherian, one of India's most prominent image management experts, and Prasoon Joshi, National Award winning lyricist, screenwriter and advertising copywriter. The two stalwarts of communication looked at creativity and the importance of communication. Dilip spoke about the creative process of branding and the importance of brevity and clarity in communicating with today's impatient world. Prasoon spoke of writing his first book at the age of 17, and recollected some of his most successful ad campaigns, like Happy Dent Chewing Gum, which was so successful that every pan shop began to stock it and the company had to open a whole new factory just for a piece of gum.
Tomorrow's schedule includes several sessions with Sadhguru as he interacts with Prof. Dipak Jain, Rama Bijapurkar, Sachin Nigam and Satish Pradhan. Later in the evening will be a panel discussion hosted by Bloomberg TV.
Day 1
Today's resource leader Sanjeev Bikhchandani, Founder and Executive Vice Chairman of Naukri.com, shared his operational methods and keys to corporate success with Dr. Ram Charan, while the participants benefited from Dr. Ram Charan's analysis. Sanjeev, towards the end of his talk, spoke of how he was truly honored to be a part of the program.
The INSIGHT program is also about developing connections and networks, and the participants started right from day 1, getting to know each other and developing bonds. They were also active on Twitter, busy tweeting to the hashtag #ishainsight.
Earlier in the day, Dr. Prathap Reddy, Founding Chairman of the Apollo Group of Hospitals, during a session with KV Kamath, Chairman of ICICI Bank, Dr. Ram Charan and Dilip Cherian, shared his life journey which spans many decades, and saw him create the largest chain of hospitals in India. Drawing on his immense knowledge of the modern medical system, he reflected on the need to merge modern healthcare with ancient knowledge such as yoga to offer holistic and effective health solutions. He urged the media to act as a unified voice to bring this need to the government's attention. Mr. Kamath, during the session, commented on the nature of the participants in this year's program. "This time the participation is largely from the medium-sized companies," he said. Elaborating on the nature of the program, he said, "What happens in this program is we all share our experiences in the business context and Sadhguru shares his experience in the spiritual context."
A Host of Leadership Talent
The second "Insight – The DNA of Success" program began today at the Isha Yoga Center with over 140 business leaders and entrepreneurs. The program will continue till November 26 and will include chats, talks and the life journeys of several highly successful business leaders who have built and grown world-class organisations. Along with Sadhguru, Dr. Ram Charan, the favourite business coach of several Fortune 500 CEOs, is overseeing the entire program. Dr. Ram Charan, often considered the world's leading business advisor, has brought his several decades worth of business experience into the program. He is helping bring clarity to the art of management and leadership and is leading several in-depth sessions into topics which included decision-making, absorbing ideas from others, finding the right talent and scaling up a business.
Balancing Inner and Outer
The "external management" aspects of the program are balanced by the "inner management" technologies that Sadhguru offers. The participants have been initiated into several yogic techniques that bring health, vibrancy and a sense of wholeness to the body, mind, emotion and energies. Several resource leaders and participants commented on this unique feature of the program.
A host of key leaders who will share their experience and facilitate group sessions during the program include Harsh Mariwala, Chairman and MD of Marico Ltd., and Ravi Venkatesan, Former Chairman of Microsoft India. Stay tuned tomorrow at 11 AM for live tweets of this session from @ishafoundation. Tomorrow evening will also see Dilip Cherian, Co-founder of Perfect Relations and Prasoon Joshi, National Award winning lyricist, screenwriter and advertising copywriter, talking about creativity and communication. Stay tuned at 6.30 PM for tweets.
In the following days, Vellayan Subbiah, Managing Director of Cholamandalam Investment & Finance, Sachin Nigam, CRISIL's SME ratings business, Satish Pradhan, Advisor to Tata Sons Ltd., Rama Bijapurkar, Management & Market Research Consultant, G Ravindran Co-founder, Leadership Next, and Krishna Giri, Head of Management Consulting and Technology services will also take the stage to offer guidance and advice to participants.