Mystical Conversation with America's Most Influential Rabbi
A warm evening in Beverley Hills brought together lively banter and exchange between Sadhguru and Rabbi David Wolpe who explored life from the mundane to the mystical.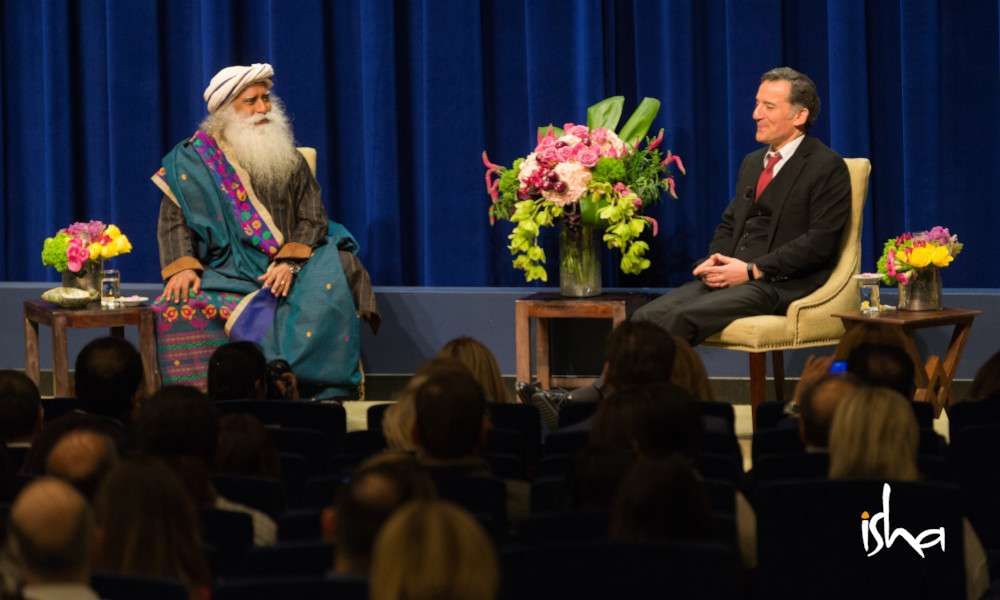 On Wednesday, April 3, 2019 evening, Rabbi David Wolpe, named the most influential Rabbi in America by Newsweek magazine, spoke with Sadhguru on the "Mechanics of Mysticism."
The volunteers arrived at the Writers Guild Theater in Beverly Hills on Wednesday afternoon expecting to see an empty hall and anticipated much to be set up. To their pleasant surprise, a few vibrant Persian women were eagerly setting up a dizzying array of hors d'oeuvres, lovely silk tablecloths and elaborate flower arrangements, featuring a whole eggplant! A volunteer remarked, "The irony was that we were asked to bring a Persian rug for the main stage for an event that was hosted by the Persian American Women's Conference!"
Even though the event was to start at 8pm, there were already lines forming outside the theater by 6:30pm. They were excited to catch a glimpse of any celebrity as they didn't know who would turn up. When Sadhguru and Rabbi Wolpe entered the lobby towards the main hall, we expected a throng of people to gather around them - but it was apparent that most didn't have any clue as to who was walking among them!
Sadhguru laughed heartily and said that he was not identified with anything around him - which left his intelligence free to explore everything.
With the event underway, Sadhguru's piercing clarity about the cyclical nature of human existence and the innate desire to go beyond these cycles left everyone with the natural question in their minds, "But how to achieve this?" Instead of answering this directly, Sadhguru explained about how he grew up with an uncluttered intelligence, remaining uneducated in a world where everyone is trying to teach you something that hasn't worked in their own life!
Rabbi Wolpe found this hard to digest, contending that Sadhguru must have learned many things growing up, in terms of how to conduct his life, his business, his relationships. To which, Sadhguru laughed heartily and said that he was not identified with anything around him - which left his intelligence free to explore everything.
Get weekly updates on the latest blogs via newsletters right in your mailbox.
Rabbi Wolpe also humorously disagreed with Sadhguru when Sadhguru said he was uneducated, noting Sadhguru's perception of the world.
Sadhguru simply responded, "It's as simple as seeing through a window."
Later in the conversation, Rabbi Wolpe and Sadhguru spoke about the issues that arise from being too identified with the body and the mind. At one point, the audience erupted into laughter with Rabbi Wolpe when he told Sadhguru he was trying to keep up with Sadhguru's profundity.
Both went on to talk about raising children, human empowerment that has come from tools and technology, and looking at life just the way it is – without prejudice.
Towards the end of the conversation, Sadhguru chuckled and said, "If you look at life without any prejudice, you can't help laughing at it."
There was a funny moment where Rabbi asked Sadhguru what advice he has to the first-world problems that many are creating for themselves here in LA, Sadhguru lightly quipped, "Everyone in the world has the same problems. It is just that people who live in the villages in India will tell you their problems straight away, but the women of Beverly Hills will take three days of long-winded conversations to tell you their same problems!"
As Sadhguru exited the stage, this time everyone gathered around, clicked selfies and requested him to return. Definitely, they had been deeply touched by his profound wisdom and clarity, as well as the lightness and ease with which he could simply be.
A reception with the audience followed the event accompanied by the music of Sounds of Isha. Favorite parts of the dialogue were recounted while mingling with Sadhguru and Rabbi Wolpe.
Editor's Note : In Conversations with the Mystic is an exclusive series of interactive episodes where eminent personalities from various walks of life explore a range of subjects with Sadhguru. Watch past conversations here.