Isha Insight 2018 Day 1- When Passion Met Competence
As we cross day One of Isha Insight, read below a live account of the magic that can be created when a diverse group of corporate leaders get together and connect in an enchanting ambience.
A Chettinad Welcome
The much awaited 7th edition of Insight kicked off with the display of profound traditions of the business community from the Chettinad region of India. These renowned traders boast a vibrant culture, astonishing architecture, grassroots agriculture, and spicy and fragrant cuisine.
221 top corporate leaders from 15 countries across the world stepped into the exuberantly decorated venue of Spanda Hall on a drizzling morning to a spectacle of a lush garden under an overcast sky that seemed to embrace the ancient and mesmerizing Western Ghats. To top it off, they were struck by the scene of volunteers waiting to adorn them with embellished traditional Chettinad turbans and pearl earrings for the men, and matching pearl necklaces for the women. This uniquely joyful ambiance was the perfect segue, setting the tone for the day.
"Every human being, no matter who they are, in their own exposure and the times in which they exist, aspire to be something more than they  are,"
"Every human being, no matter who they are, in their own exposure and the times in which they exist, aspire to be something more than they are," Sadhguru told the leaders in his opening remarks. His words resonated not only with the unspoken aspiration of all who were present in the hall, but with humanity as a whole. Including the participants in his sphere of wisdom, Sadhguru proffered the essential ingredients of what it takes to be a successful leader before turning the floor over to the speakers.
Soon after, B.S. Nagesh, the founder of TRRAIN and the chairman of Shopper's Stop, engaged participants with his witty gossip, and the program picked up momentum to a point where the whole day felt as if it passed in the blink of an eye. Yet within this elastic and charged timeframe, so many incredible stories of passion, struggle, innovation, disruption, and above all an expansive vision were shared.
Get weekly updates on the latest blogs via newsletters right in your mailbox.
A Captivating Trio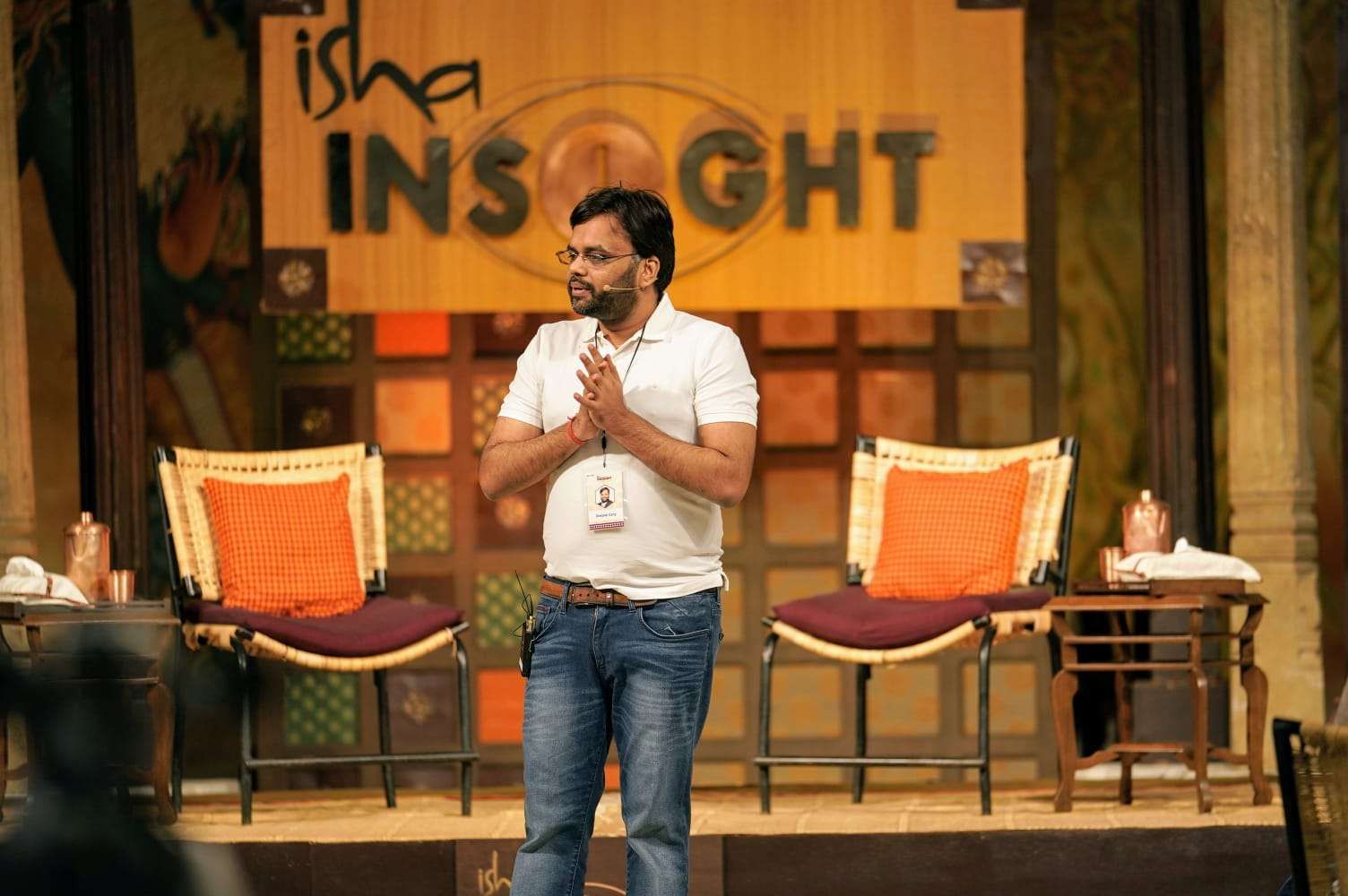 Deepak Garg, CEO of Rivigo, ex-McKinsey, zapped participants with his simple and yet magically disruptive and humane relay model of truck delivery. This business intervention not only made Rivigo one of the largest players in the logistic value chain market, but also benefited thousands of people in the 37th caste – the truck driver. Shibam Das, the co-founder of Atomberg Technologies, reflected on insights from his journey of moving from the bottom 5% rung of prestigious IIT-Bombay to realizing his potential and becoming one of the "Champions of Change". Participants had the opportunity to see both Deepak and Shibam take the dais with Sadhguru. All were overwhelmed and encouraged to have Sadhguru sit for the sessions, keenly listening and occasionally joining the participants and resource leaders in dissecting the DNA of success of the day's speakers.
Amitabh Kant – On Full Throttle
Hardly could participants recover from the feverish passion of these young entrepreneurs when they were inundated by a "man on full-throttle", Amitabh Kant, CEO of Niti Aayog, whose zeal to transform India seems unparalleled. "Think big, think large, never think status quo," replied the ex-bureaucrat when Sadhguru asked him how had he managed to be so effective in the government structure, that too in the various governments that he had served.
Sadhguru and Amitabh Kant, made for a compelling session, where they spoke about a range of issues like education reforms, smart cities, and the role of entrepreneurs in designing an exciting new-age India, an energy-efficient India. "India needs to make a quantum jump into renewable energy. India's biggest asset is the Sun, much bigger than what oil is for Middle Eastern countries. Today 80% of our imports are towards energy. If we are able to fire all our vehicles using solar energy, we have a revolution at hand. This is the biggest disruption that Indians can cause anywhere in the world," was the closing nugget of his business insight.
"What is on display is the highest level of effervescence, commitment, and passion for the India story," Sadhguru commended Amitabh for his contribution to this country, in the end of their session.
The Ola Story
But the electric day of learning from the exemplary, young, and first-generation leaders of India was not over yet. Bhavish Aggarwal, co-founder of Ola Cabs, ascended the stage with Sadhguru, moderated by another game-changer of Indian industry, Ajay Kaul, former CEO of Jubilant of Domino fame.
"Today we have a greater ability to take risks. Even if your initial idea doesn't work, there will be several other options downstream. If you have a dream and you are at it, even if your family and support system don't understand, they will back you," shares Bhavish, making the participants a part of his incredible entrepreneurial journey. "You have to make sure you are closely connected to the consumer. If you don't, your competition will. You have to be nimble and entrepreneurial," he also reminded his fellow leaders.
Sadhguru closed the speaker sessions by reinforcing, "The purpose of all activity is human wellbeing. Whether you're making a safety pin or running a taxi business or manufacturing a spacecraft, it doesn't matter." His final remark of the day, "Most people forget that your safety pin may become redundant at any time, but human wellbeing will never become redundant," left the participants disrupted, in the best way.
A Moonlit Dinner
After a table discussion of the takeaways of the riveting day, the leaders had another surprise in store for them as they were offered the chance to witness the mystical Linga Bhairavi Pournami procession. With a taste of Chettinad cuisine at dinnertime, just as participants began to drift off…with just a pinch of encouragement from Sadhguru and the lilting tunes of Sounds of Isha, they broke into an impromptu dance as if they'd been waiting for that moment all day long.
Though the full moon was hidden behind a veil of clouds, the participants' faces glowed nonetheless. Let's see what Day Two has in store for these willingly captive top leaders of industry – you won't want to miss it! Stay tuned...