INSIGHT 2017 Day 1 – A Dive into Scaling Up Business
Instilling Ancient Indian Business Wisdom into Contemporary Corporate Leaders
Instilling Ancient Indian Business Wisdom into Contemporary Corporate Leaders 
"Integrity, insight, and inclusiveness are the three essential qualities of leadership." – Sadhguru
"I woke up this morning at 5:30 am. At 6:30 am, I was out to explore this place – the ambience here is so exuberant. The aliveness and the joy with which this program and the learning is happening, is something incredible and unique," Sudeep Bhatia, CFO, Electronica Finance, shared animatedly. Sudeep is among 231 business leaders from the world over, who have come to Isha Yoga Center to participate in the sixth edition of INSIGHT.
As they stepped into the venue – Spanda Hall – for the program opening, they were taken by total surprise as the volunteers welcomed them dancing to Rajashtani folk music, and decked them with colorful safas. What's a safa you ask? It's the traditional turban – for lack of a better word – worn in Rajasthan. No one could miss the fascinating and colorful motifs – symbols of Rajasthani panache – all over the lush green Spanda Hall that is now an oasis of insight.
The most unique aspect of this year's program is that participants imbibe the wisdom, skills and resilience of the most successful business community – the Marwaris – who have thrived for centuries, despite the nebulous borders and military operations that were the hallmark of this region for hundreds of years. "This time, we thought we will look at the traditional practices which made this nation into such a vibrant enterprise – such a vibrant enterprise, everybody in the world wanted to come here", said Sadhguru during the opening session.
Get weekly updates on the latest blogs via newsletters right in your mailbox.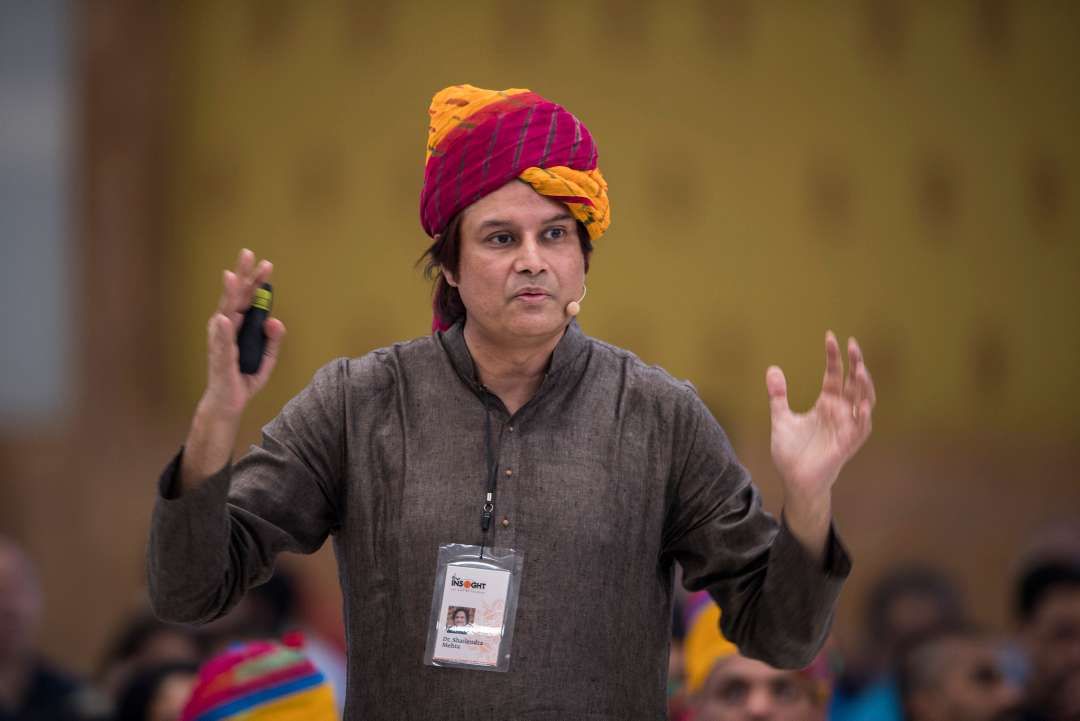 Dr. Shailendra Mehta is the Faculty Advisor for this year's edition. President and Director of MICA in Ahmedabad, Dr. Mehta also headed Auro University as Chairman of the Board of Management and Acting Vice Chancellor, and Ahmedabad University as Provost/Vice Chancellor. With the acquired rigor of the academician that he is, and his innate Marwari business DNA, Dr. Mehta wonderfully presented a framework to apply the ancient business culture and practices of this community in contemporary commerce. Participants spent the evening in discussions and activities on how they could incorporate this framework into their respective businesses.
The anchor, B S Nagesh, founder, TRRAIN and Non-Executive Vice Chairman of Shoppers Stop Ltd, invited the resource leaders to share the best moments from each of their roundtable discussions with all the participants. The forum became a melting pot for invaluable ideas and enriching experiences, which were shared with great involvement by the resource leaders.
While Ajay Kaul spoke about how in his previous avatar as a CEO of Jubilant FoodWorks Ltd., he scaled up Domino's Pizza from a INR 70 crore to an over INR 3000 crore business in just 10 years, Nandakumar Nair, founder & CEO of SunTec Business Solutions, shared his journey of transforming his company from a one-man show to an orchestra of high-performing players. After attending the INSIGHT program for two years consecutively, Nandakumar brought 15 top managers from his company to the program last year and wishes to bring his clients next year.
The concluding session of the young and dynamic Ameera Shah, MD of Metropolis Labs, was one that undoubtedly offered moments of pride for all women present. The amazing eloquence and ease with which she took the participants through her illustrious journey of risks, rewards and battles of a woman entrepreneur with the grit to succeed, was truly fascinating. She received a completely deserved standing ovation.
The day ended with a sumptuous dinner with a line-up of delicacies from Rajasthan – the bedrock of Marwari culture.
"There is genius in every human being," said Sadhguru in the morning while reminding participants that after all, business is done by human beings and the quality of a human being definitely determines the quality of the activity that they perform.
"I want you to give yourself absolutely and make this into a turning point in many ways in your journeys – whatever journeys you are in", was Sadhguru's reverberating message that set the tone for the upcoming days of the program.
Editor's Note: Follow INSIGHT on Twitter.