Hands of Grace – Exploring Kalamkari and Kawad
Hands of Grace is a handicrafts fair being organized at the Isha Yoga Center during Navratri, from 9 to 13 October. In this post, we look at two of India's unique handicraft traditions.
Hands of Grace, a handicrafts fair is being organized by Isha Foundation during Navratri, from 9th to 13th October at the Isha Yoga Center. 50 stalls will showcase thousands of exquisite items including furniture, interior décor, garments, organic bodycare products, stone and metal crafts, accessories and gift items, offering the gamut of India's arts and crafts tradition. Hands of Grace is an endeavor of Isha Foundation which seeks to rejuvenate India's traditional arts and crafts industry and establish a lasting legacy for future generations. It is part of Isha's larger initiative to revive India's cultural ethos.
India's craft traditions are as varied as they are ancient. Over the next four weeks we spotlight a few of these many handicraft forms and craftpersons who will be participating in the Hands of Grace craft exposition. Today we start with  Kalamkari, the art of hand and block printing with vegetable dyes, and Kawad, the art of making "shrine-cupboards."
Craft organization: Dwaraka plus (A Bangalore-based NGO)
Craft: Kalamkari
Items: Saris, stoles, cushion covers, hand bags
Kalamkari is the art of hand painting and sometimes block printing on fabric with vegetable dyes. Kalamkari was traditionally used for making narrative scrolls and panels or for textile art pieces. Today, it is used for a range of products in home furnishings, apparel and accessories.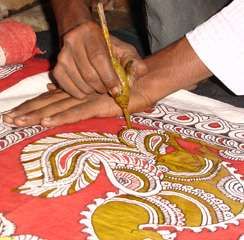 "Kalamkari" literally means "to decorate with a pen," a name given by the Mughals, who were great patrons of the craft in the Coromandel and Golconda areas. The 3000-year-old art form evolved in two villages in Andhra Pradesh, Srikalahasti and Machalipatnam. Both centers have a distinct style of Kalamkari. Machalipatnam was influenced by the Muslim trade ties across Asia and hence, Kalamkari here catered more to Islamic aesthetics. The Srikalahasti style flourished under the patronage of the Srikalahasti temple – one of the five pancha bhuta temples. Thus, the art form here drew its inspiration exclusively from Hindu mythology.
Kalamkari painting is an intricate and tedious process of resist-dyeing and hand printing. Kalamkari painting requires a lot of treatment before and after the painting is completed on the cotton fabric. First the cloth is whitened in a solution on cow or goat dung and dried in the sun for a couple of days. Contours are then drawn with a point in bamboo soaked in a mixture of fermented jaggery and water. The dyes follow after this. Dyes are obtained by extracting colors from parts of fruits, vegetables, roots and leaves, with mineral salts of iron, tin, copper and other metals serving as mordants (which helps bind the color to the fabric). Certain colors require the application of alum and wax as well. After applying each color, the Kalamkari is washed. Fabric may undergo up to 20 washings before completion. Various effects are obtained by using cow dung, seeds, plants and crushed flowers.
For more info: 
http://resources.archedu.org/kalamkari.html
http://en.wikipedia.org/wiki/Kalamkari
Get weekly updates on the latest blogs via newsletters right in your mailbox.
Craft person: Dwarka Prasad Jangid
Craft: Kawad
Location: Chittorgarh, Rajasthan
Kawad (or kavad) art is a 500-year-old art tradition originally practiced by a group of Jangid Brahmins near Chittorgarh, Rajasthan. Artisan Dwarka Prasad Jangid's family has been creating these art forms for generations. The kawad is a portable wooden temple containing multiple panels within a panel which unfold outwards on either side, to reveal a shrine in the center. A traditional kawad would typically be painted in red with 10 doors reciting Krishna's and Rama's stories, but these days they make very small kawads with "just" 6 doors too.
The origin of the kawad art form is an interesting one. The Kawadia Bhatt people were bards who went from village to village reciting epic tales from Hindu mythology. Their wandering lifestyle made it difficult for them to have a permanent temple for worship. So they created these "shrine-cupboards," which were carried on the shoulders of the Kawaadia Bhat men. The storytellers would open the panels of the kawad in the sequence of events in the narration. The recitation of the tales of Krishna, the Pandavas, Ram and Sita, through the kawads was instrumental in keeping these religious traditions alive in some of the remote parts of Rajasthan.
The Kawadias have had to adapt to the changing times and interests of the twenty-first century. In the age of television entertainment and instant gratification, these portable temple-cupboards have begun to tell inspirational stories with a message. One particularly popular tale is of a rural girl whose parents aren't interested in sending her to school. They do eventually though and she goes on to study abroad and eventually comes back to spearhead an educational movement in her village.  Off late, the kawads also have stories from the Panchatantra, which do well.
For more info:  http://twoworldsmeet.wordpress.com/2013/01/15/a-story-to-be-told/
The nine-day Navratri festival from 5th to 14th October at Linga Bhairavi will also be a part of the celebrations. The festival is an opportunity to experience the grace and energies of Devi. Special chants and offerings, the Linga Bhairavi Pooja and the Maha Arati make each of the nine nights a vibrant festival.
For more info about Hands of Grace, check out the e-flyer. Travel info to the Isha Yoga Center is available here.
Next week: Chanderi and Kansaware
Images courtesy: A painting at a Kalamakari exhibition by Anuradha Sengupta
Kalamkari from Indianmuslimobserver