Yaksha 2014
It is that time of year again and Isha gears up for February-March madness. In the week leading up to Mahashivratri, we are delighted to host Yaksha, the annual festival of dance and music.
It is that time of year again and Isha gears up for February-March madness. In the week leading up to Mahashivratri, we are delighted to host Yaksha, the annual festival of dance and music.
The line-up for Yaksha 2014 is tremendously exciting. There are several recitals of classical music and dance – vocal concerts in the Carnatic and Hindustani styles as well as instrumental concerts.
All the performances are being live-streamed free. Also, we'll be live-blogging Yaksha here through the week. Stay tuned.
Day 7
8:40 pm
Now that winter is passing and spring is here, the artiste sang the seasonal raga Basant. The medium tempo in Ek taal was Aayi rut basant mori and then, for the drut in Teen taal it was Ban ban phoolat rahi kaliyan – the buds are flowering in every garden, on every branch... a song of celebration of the profusion of spring.
Dr Bhide-Deshpande ended the recital with a profound Kabir bhajan. She explained the context: Kabir is asking the seeker to chant the 'ajapa jaap'. Then, seeing that she was addressing an assembly of spiritual seekers, she tapered off, saying bashfully, "What can I say to you about this?"
The words were beautiful as was the rendition:
Ajapa jaap japo bhai sadho
Saanson ki karlo maala
Utter the unuttered, brothers,
Make a rosary of the breath.

It was a scintillating evening and a fitting end to Yaksha 2014!
7:50 pm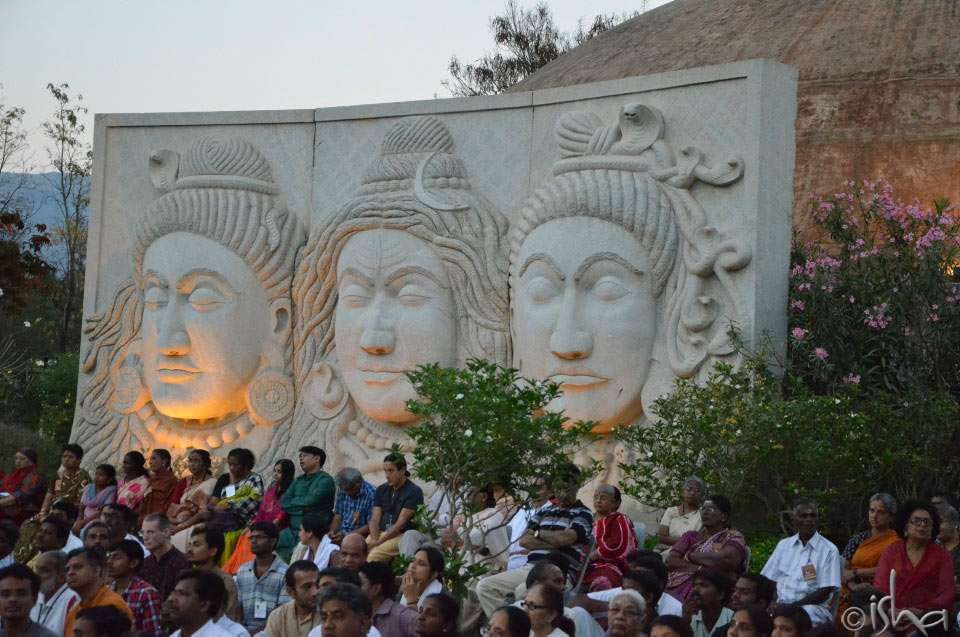 7:40 pm
Dr Bhide-Deshpande began her recital with the seven-noted or 'sampoorna' evening raga Yaman. Singing three compositions, she began the vilambit section with Mo mana lagan lagi. The first explorations were mellow and tentative -- short, seeking phrases. Then she started to soar in the higher pitches with a flurry of descriptive passages till the listeners were gasping at every subsequent one.
For the madhyalaya, she took up the bandish Kar sumiran man mero with iterations that were beautifully devotional. For the drut, faster paced section, she sang the playful and romantic Mai vari vari jaungi preetam par, kab aayenge more mandirva which was soaked with shringara, waiting, anticipation...
6:40 pm
Dr Ashwini Bhide-Deshpande is a Hindustani classical music vocalist of the Jaipur-Atrauli gharana. Born into a family with strong musical traditions, Dr Bhide-Deshpande started her early classical training under the guidance of Narayanrao Datar and then was under the tutelage of her mother Smt. Manik Bhide, who instilled in her the intricacies and traditions of the gharana. She also received guidance from Pt. Ratnakar Pai. She holds a Masters in Microbiology and a doctorate in Biochemistry.
As a musician she has created her own musical style that respects the vocal culture and presentation aesthetics of the Jaipur-Atrauli gharana. She has an intimate understanding of the bandish and has composed close to 200, which were published in two volumes, and were very well received.
Sounds of Isha started the proceedings with Raga Kalyani: Muthuswamy Dikshitar's Kamalaambaam bhajare re.
4:30 pm
The last and final day of Yaksha is here and after a week of super performances, we are about to have a superlative one. Singing this evening will be the phenomenally gifted Hindustani vocalist, Dr Ashwini Bhide-Deshpande. She will be accompanied on tabla by Yogesh Samsi, a noted percussionist who has supported a long line of greats in concerts across the world. He accompanied Pt Kushal Das two days ago as well.
Although this is Dr Bhide-Deshpande's first visit to Isha Yoga Center, Pt Samsi goes back a long way: "I came here to perform with Pt Hari Prasad Chaurasia some 8-9 years ago and I have seen this place grow. I remember when the Mahashivratri Utsav used to happen on the small grounds inside. I have seen Sadhguru's presence, his energy, going far and wide across the world. We are fortunate to have been in contact with him, to have known him."
Ashwiniji concurs: "This visit has been an elevating and divine experience. The search of self, going within has always been the Indian tradition. But it is now the need of the hour. Although we are fortunate to have received it in the form of our heritage, someone needs to remind us, tell us again about our heritage which is so glorious, so rich. We are blessed to have people like Sadhguru who are bringing back these values. And any which way I can be a part of this process, I would be happy to be."
Dr Bhide-Deshpande has a doctorate in Biochemistry, and in music she has composed close to 200 bandishes that have been published. Asked about her range of capabilities, she says, "It is all one elixir, one personality – everything that is within me comes out in my music." Pt Samsi added, "The academician that she was, reflects in her music; for instance, she is able to address so many aspects of rhythm that not many musicians are able to do."
Talking of the parallels between the rhythms of the tabla and those of life, Pt Samsi said, "I was speaking to the Home School children yesterday and among a lot of questions, one girl asked me, 'What is the most important thing in tabla?' I said, 'Being in rhythm.' My father (vocalist Pandit Dinkar Kaikini) and Guru (percussionist Ustad Allah Rakha) were both deeply spiritual and evolved souls, and lived simple and deeply intellectual lives. The rhythm that I saw in them, the rhythm that I see in Sadhguru is the rhythm that one should achieve."
Day 6
8:35 pm
The last item of the recital was also a Carnatic raga: Hamsadhwani. They played Vatapi Ganapatim – the very popular hymn to Lord Ganesha – in Teen tal, with a nice flurry of snatches that they tossed back and forth between each other. It was a playful interchange, and the percussionists got into the spirit of things as well, providing a touch of competition and humour to the concert.
As a performance of classical music, the presentation managed to be both elevating as well as entertaining.
7:55 pm
7:45 pm
The musicians started the evening's recital with the beautiful Carnatic raga Vachaspati. They performed alaap, jor and jhala, with compositions in Rupak and Teen tals. Shashank is using the short, slimmer flute that is typical of the Carnatic style, producing a shriller sound and Rakesh Chaurasia has adopted the longer, fatter bamboo that is more bassy. "At some point, we may exchange flutes," Rakesh joked.
As the artistes elaborated on the alaap, they brought in their own interpretations of the raga. Since it is of Carnatic origin, in Shashank's hands, it sounds like the Vachaspati we know so well. In Rakesh's playing, it sounds unusual – all the right notes but somehow new.
"Music is the same language but the dialect is different," Shashank had said. How true that is. Towards the end, the playing picked up pace, giving us passages of such rapid and intricate nature, that Shashank's fingers were a mere blur as he moved them across the flute.
6:50 pm
The two artistes today are both extremely talented. Playing primarily the Carnatic style, Shashank Subramanyam is a Grammy-nominated exponent of the bamboo flute. He was a child prodigy and began performing from the age of 6. He was trained by his father and by vocalists RK Srikantan, Palghat KV Narayanaswami, as well as Hindustani vocalist Pt Jasraj. Hindustani flautist Rakesh Chaurasia is also a child prodigy and is the nephew and disciple of the towering flute maestro Pt Hariprasad Chaurasia. His style incorporates the tradition of his guru and yet carries a personal stamp.
Interestingly both players have experimented with fusion and collaborations. While Rakesh has a band called Rakesh and Friends, Shashank has collaborated with a host of musicians from other streams of music.
They will be performing a jugalbandi this evening. This is a performance that features a duet of two solo musicians with both having equal footing. This is a very vibrant type of concert, typically with a lot of play between the participants. They are accompanied by Anubrata Chatterjee on the tabla and Patri Satish Kumar on the mridangam.
As dusk falls, Sounds of Isha is pleasing the audience with songs from Meera and Akka Mahadevi and Jayadeva's beautiful Rase hari miha.
4:00 pm
There is an exciting treat in store for listeners today as we countdown to Day 6 of Yaksha 2014. This evening's program is going to be a jugalbandi performance by two young flautists – one from the northern Hindustani Classical tradition and the other from the Carnatic style. Rakesh Chaurasia and Shashank Subramanyam, who have arrived at the ashram, met us earlier today. Have they performed together before? "Yes, we have," Rakesh confirms, "but we try to keep it for special occasions or special places like this one."
A jugalbandi can be a challenging performance to be part of. There is a lot of give and take, and the process is improved by an affinity between the two soloists. Interestingly, these two artistes share a wonderful camaraderie – even conversation with the two of them seemed like a jugalbandi. They nodded in agreement as the other spoke, voiced the same thoughts and finished each other's sentences.
"Our approach to music is completely different," Shashank said. "We play the very same instrument. In fact, they come from the same makers but even the way we blow, and the fingering is different."
Both these artistes have been known to experiment with jazz and fusion music, but today, they will be presenting a more traditional repertoire. "It is a beautiful place!" Rakesh says, "I was thinking that any musician who is working on an album should come and spend a week here – it would just clean up the mind."
Day 5
8:40 pm
Pt Das ended the recital with a very pretty 'dhun' or tune in Raga Mishra Shivaranjani. He played just a line from the famous Hindi song 'Mere naina saawan badho...' as if to recall the pathos of the raga and then invested in an evocative elaboration of the dhun. The entire concert seemed to bind its listeners in a very beautiful space.
7:50 pm
For this concert, the artiste dedicated most of his time to the beautiful evening raga Jhinjhoti from the Khamaj family. This is a raga that lends itself to many moods: the devotional, the meditative, the mellow as well as the romantic. Pt Das's alaap began with a low-pitched contemplation and the jor went on to a fast-paced exploration. For the gat, accompanied by a teen tal on the tabla, he elaborated on a couple of popular bandishes or compositions, infusing listeners with great sweetness.
He spent a generous amount of time drawing out phrases, and impressed the audience with his deft and skillful handling of the fast, intricate sections, which were greeted with bursts of applause.
7:10 pm
6:35 pm
Hindustani sitarist Pt Kushal Das belongs to a family of talented musicians: his father Sailen Das and uncle Santanu Das were reputed sitarists and his grandfather Bimal Das was a renowned Esraj player. He received his first lessons on the sitar from his family and then deepened his studies under the guidance of Prof. Sanjoy Banerjee and Pt Ajoy Sinha Roy. In order to accomplish a more profound understanding of raga interpretations he also took vocal lessons with Pt Manas Chakraborty and Sri Ramkrishna Basu. Pt Das also plays the surbahar. He is accompanied today by Yogesh Samsi on the tabla.
Sounds of Isha has opened the proceedings with the very sweet Tulsidas bhajan Gopala gokula vallabhi and a soulful rendition of Kabir's Yugan yugan hum yogi.
5:05 pm
On this somewhat overcast afternoon at the Isha Yoga Center, we are looking forward to listening to Hindustani sitarist Pt. Kushal Das later today. The instrumentalist arrived here yesterday and spent a few hours this morning looking around and going about interestedly at the excellent Hands of Grace 'haat' that we have going on at the ashram.
Speaking to the blog team earlier today, he said, "It is great to be here. I had heard so much about this place even before this performance was scheduled."
On his musical journey, he said, "In our classical tradition we are taught to regard the raga as a person. And we strive to become more and more familiar with it. Once you achieve a certain intimacy and proficiency, it can be truly meditative." He went on to share a fascinating story: "I have been lucky to achieve deep states of trance just a couple of times in my life. I happened to be touring once in Italy and someone asked me whether it was true that singing or playing particular ragas would bring rain and light lamps. I laughed and told them that indeed there were great masters like Miya Tansen who managed to do that. Later that evening, I told the audience that I was going to play Raga Megh, which was a monsoon raga, but not to really expect it to rain. I started to play and don't remember anything after that. I was at it for two hours. When I stopped, they sat in utter silence. I also looked back at them in a daze. Slowly they started clapping. And then, someone opened the door of the auditorium – there was lashing rain outdoors. Later I found out the rain was not forecasted, and the downpour occurred over just 3-4 sq km. I asked my guru how this was possible. 'Do you remember what you played?' he asked me. I said, 'No, I was in a trance.' He replied: 'Then it is possible.'"
The outdoor seating area in the Linga Bhairavi courtyard is being prepared for the concert. It should be a fine evening – as long as Pt Kushal Das doesn't play Raga Megh.
Day 4
9:06 pm
Next, the artiste moved to a kriti to Shiva: Jambupathe in Raga Yamuna Kalyani. Composed by Muthuswamy Dikshitar, one of the greats of Carnatic music, this song is part of five kritis in honor of the Pancha bhuta kshetras. Built in a circuit, these lingas each embody one of the five elements. In Thiruvanaikaval in Tamil Nadu, Shiva reigns as the element of water and this was a wonderfully devotional rendition. Then, Vijay Siva included Thyagaraja's entreaty to Lord Rama: Manasuloni marmamulu delusuko, in which the saint asks Rama to understand the deepest desires of his heart.
He followed that up with a series of short, literary pieces. He included Papanasam Sivam's depiction of Shiva's dance with Aadum deivam nee in which the poet describes Shiva picking up an earring with his foot and placing it in his ear. This was followed by a 'ninda stuti' or a poem that praises through derision. In this song Purandara Dasa asks Enta Cheluvage Magalanu Kottanu?... questioning the wisdom of Parvati's father in giving his daughter in marriage to one who is a destroyer. A couple of Tamil pieces ended the concert, notably Kudambai Siddhar's description of an enlightened being with Vetta veli thannai.
Get weekly updates on the latest blogs via newsletters right in your mailbox.
As members of the audience moved to the Nandi for the Maha Arati, they were left feeling that they just heard a vocalist who was amazingly accomplished.
7:43 pm
7:20 pm
After a brief invocation of Ganesha, Vijay Siva began with two relatively short pieces. First, Saint Thyagaraja's Nada tanumanisham in Raga Chitta Ranjani, in which the saint describes Shiva as 'nada tanu' – an ever increasing embodiment of nadam. The next was addressed to Lord Muruga of Palani: Innum paramukham in Raga Begada, a composition by Duraisamy Kavi Rayar, in which the poet asks the Lord plaintively: Even now you turn away, is this fair?
This was followed by a more detailed Mari vere gati evaramma. This song in Raga Anandabhairavi is one of a set of nine in praise of the Goddess Meenakshi of Madurai composed by the 18th century composer Shyama Sastry. He hails her to be an "apara kripa nidhi" – a fount of infinite grace... Who else but you is the refuge, mother?
6:51 pm
Carnatic vocalist N Vijay Siva is a disciple of the eminent vocalist, DK Jayaraman and also studied under the legendary DK Pattamal. A child prodigy, he was barely three when he exhibited the ability to identify ragas. He also learnt from his mother, the Carnatic vocalist and teacher Akhila Siva.
Vijay Siva also plays the mridangam and received training from Kumbakonam Rajappa Iyer. Today he is accompanied by Mullaivasal G Chandramouli on the violin, N Manoj Siva on the mridangam, and Pramod and Akshada on the tambura.
A peacock is strutting along the rooftop of a structure, silhouetted against the fading light and the Linga Bhairavi courtyard is looking beautiful.
5:07 pm
We are leading up to Day 4 of Yaksha 2014 and the festival is delighted to have Carnatic vocalist N Vijay Siva perform later today.
After a rather thorough sound check, the artiste made some time to meet the Isha media team. "I have been to Isha Yoga Center before this as well. Even as you come into these hills, the mind quietens and you know you are in the presence of divinity," he said.
Asked about the overlap between music and spirituality, Vijay Siva spoke of how the classical arts in India were traditionally considered to sensitize the human mind: "We become more susceptible to both good and bad, which is why we were asked to focus on the divine through music, so that we automatically imbibed the good."
The concert will be live-streamed free. So register now! And we will bring you on-the-go updates on this page. Stay tuned.
Day 3
8:46 pm
Moving on to the vast fount of 'sharana sahitya' or Kannada bhakti poetry, Pt Kumar sang poet Basavanna's advice to the spiritual seeker: "Kalabeda, kolabeda..." Do not steal or kill, do not lie, or scorn... this is the way to please Lord Lingadeva.
Then, he finished with the traditional Bhairavi and he sang a song much sung and loved in Isha: Yogeeshwaraya, Mahadevaya, Triambakaya, Tripuranthakaya... Mahadevaya namaha.
It was an evening of superlative music.
8:22 pm
In his second piece, Pt Kumar sang 'Tirath ko sab kare' in Raga Tilak Kamod, and for the drut composition went to Miyan Tansen's bandish 'Damaru dam dam baaje.' The rendition, both playful and rousing, was a definite crowd pleaser.
This appears to be a sprinkle of hauntingly beautiful evening ragas, for the next raga is Durga with 'Sakhi mori rumajhuma.' Pt Kumar's style of singing involves a considerable engagement with the lyric: "Rain andheri, kaise jaaun jal bharan..." The night is dark, lightning strikes in the sky, how shall I go to fill water from the well?
The faster paced bandish was the famous, well-loved "Jai Jai Jai Durge maata" interspersed with quick sargams. But there was a surprise in store; for, using the same notes, the vocalist sang a tribute to the Devi in Kannada: "Parvatiye, Deviye, Girijaye, Kalyaniye..."
7:43 pm
Pt Kumar began his recital with the very old Raga Shree from the Purvi thaat. Particularly associated with Lord Shiva, the bandish went "Mora aasra re... jag mein tumre bin humri aur kaun." This is a 'sandhi prakash' raga – ragas that are sung in the transition periods of day, that is, dawn and dusk.
The rendition was full of elaborate taans that left the audience murmuring in appreciation. The drut bandish 'Baje muraliya' was a dazzling piece with pleasing riffs.
6:40 pm
Pt Venkatesh Kumar started to learn singing when he was 13. His father, Huleppa, was a folk singer and leather puppet artiste and could not afford formal musical taleem. So he was taken by his uncle to the Veereshwara Punyashrama in Gadag in central Karnataka run by Padma Bhushan Puttaraja Gawai, saint and Hindustani musician. Pt Kumar learnt Hindustani vocal in the Gwalior and Kirana gharana styles here, which he blends in his presentations, singing the bandish in the Gwalior style, and moving to the Kirana flavor for the vistaar or elaboration.
5:05 pm
Day 3 of Yaksha 2014 appears to be a bright one, but the stage team probably spent a sleepless night thanks to the copious downpour on the ashram last evening and through the night. However, it looks clear and arrangements are in place for Hindustani vocalist Pt Venkatesh Kumar to take the stage later today. In fact, he is in the Linga Bhairavi complex right now going through the sound check.
The blog team met the artiste earlier for a brief word and he was all praise for Isha Yoga Center, which he is visiting for the first time: "In spite of eroding values, in spite of outside influences, it is God's grace that places like this still find root in India. In some small way or the other, we are able to keep this culture intact – it never fully dies out."
Pt Venkatesh Kumar sings in the Hindustani style and hails from the district of Dharwad in Karnataka, which is a particularly fertile ground for legendary Hindustani singers... Mallikarjun Mansur, Gangubai Hangal and Bhimsen Joshi to name just a few. Speaking of his fondness for Dasara pada and Sharana sahitya, the artiste harks back to Dhrupad Dhamaal, which were full of lyric-based singing. "They sang a lot of sahitya," he explains, "and it was almost always devotional in content."
This soft-spoken vocalist is considered by many to be a powerhouse talent who has remained unrecognized for too long. Isha is happy to welcome him to Yaksha and looks forward to hearing him.
Day 2
11:00 pm
Here is a video that brings you some glimpses of Day 2 at Yaksha 2014. Violinists VV Subrahmanyam and VV Ravi were fascinated by the Isha Yoga Center as much as listeners were appreciative of their recital.
8:35 pm
The performers continued with an evocative Annapurne Visalakshi, the Muthuswamy Dikshitar composition in Raga Sama and finished with a very fine stotram Samba Sadashiva Shankara.
As Sadhguru thanked them, the artistes were overcome with the opportunity to meet him. Reluctant to leave such music behind the crowd dispersed. However, the Maha Arati is taking place in front of the Dhyanalinga and yet another day of Yaksha comes to a close.
8:15 pm
In keeping with the beautiful dusk, the artistes picked out the next song in Poorvi Kalyani with Neelakanta Sivan's Ananda natam aduvar, which was followed by a lovely exposition in Raga Ananda Bhairavi. The song was O Jagadamba, a kriti by Shyama Sastry, and dedicated this evening, particularly to the Devi Linga Bhairavi.
Here the violinists made divine play amongst themselves: they tossed phrases at each other, picked up where the other left off, and returned it sometimes with embellishments, sometimes a tweak, sometimes just as it was received. It was a masterful handling by the ensemble.
Then continuing their praise of Shiva, they performed Paratpara Parameshwara in Raga Vachaspati, a composition by Papanasam Sivan. Here too, ably supported by the vocals and the percussionists, the violinists passed along musical passages, leading to intermittent applause, particularly from the corner of the audience occupied by the Samskriti children, who listened keenly.
7:26 pm
As they had promised, the artistes began the recital with a fresh composition that VVS said was more a compilation of phrases in praise of Shiva. The lyric begins:


eesham gireesham jagadeesham... namaamyaham
bruhadeesham namaamyaham
bhaasha thaandava prakasham
kailaasa vaasam kanaka sabhesham
svasadhi jeeva shakthyadharam
vasudeva poojita sankaram

... and goes on to hail "
Linga Bhairaveesam
", the Lord of Linga Bhairavi.
Set in the Hindustani based five-note raga Gorakh Kalyan, VVS called his version Shiva Kalyani. The tribute had Ishas in the audience break into appreciative applause.
The group followed that with Muthuswamy Dikshitar's song for the Goddess Ekambresa nayike set in Karnataka Shudha Saveri and then segued into Saint Thyagaraja's Nada tanumanisham in Raga Chitta Ranjani – an invocation to Sankara, the embodiment of the musical arts.
6:36 pm
Violinists in the Carnatic style, brothers Vadakkanchery Veeraraghava Subrahmanyam and Ravi come from a respected musical family.  Their father Vadakkanchery Veeraraghava Iyer was a vocalist and a violin vidwan; and their grandfather was a court musician of the Swathi Thirunal Sangeetha Sabha – the musical assemblage of Swathi Thirunal, the Maharaja of Travancore, and a great patron of the musical arts. They have studied under stalwarts such as Chembai Vaidyanatha Bhagavatar, Semmangudi Srinivasa Iyer and Puliyur Subramaniam Narayanaswamy.
The brothers are today accompanied by two younger members of their family – VV Murari and young Raghava Krishna.
As we countdown to the start of the main event, Sounds of Isha is pleasing the assembled audience with a Kannada devotional song by Alamma Mahaprabhu.
4:41 pm
For this evening's concert, we have members of an illustrious musical family that traces its lineage to Sri Swathi Thirunal. Occupying the stage will be the doyen violinist Vadakkanchery Veeraraghava Subrahmanyam (affectionately called VVS), his brother VV Ravi, VVS's son VV Murari and Ravi's son Raghava Krishna, who will be singing.
The blog team met the performers earlier today and learnt that there was a treat in store for the audience. VVS, who has long been entranced by the Dhyanalinga, will be presenting a special Sanskrit composition in its praise to open the concert. "I have been working on it for the past 15 days," he said. "I am no scholar and I looked everywhere for the right phrases, the right words... at last it has fallen into place. With Sadhguru's blessing, I will offer it tonight."
It is of particular interest to Isha that VV Ravi, an exceptionally gifted violinist, who has performed all over the world and accompanied artistes of high calibre, is also an Isha meditator. "I was initiated into Shambhavi two years ago, and I have also done my Bhava Spandana," the soft-spoken musician told us. "The practice has helped me immensely, freed me from so many fears and anxieties. Now, when I perform, I am so much more relaxed." In fact, Ravi was here at the Isha Yoga Center two years ago, accompanying the vocalist Neyveli Santhana Gopalan at Yaksha 2012.
The third violinist of the trio, VV Murari, says belonging to a family of musicians gives him a great edge: "The music is around you all the time." Sharing his approach to his art, he says, "I don't look for applause. In fact, I don't think when I play, I just try to be a conduit." Does he find it necessary to contemporize his music? "No. What has come down to us as tradition is tried and tested – I don't think it needs to be changed or altered. Our music is about the same seven notes but it is new every day – after all, the same raga doesn't sound the same on two different days."
The performance begins in a few hours. You can watch the live web-stream. It's free! Of course, we'll be live-blogging here. Stay tuned.
Day 1
10:oo pm
Here is a look-back at Malavika Sarukkai's wonderful Bharatanatyam performance at Yaksha 2014 and her visit to Isha Yoga Center.
9:00pm
The dancer next went to Indian mythology for her material. A story from the Ramayana – in fact, from Saint Tulsidas' Ram Charita Manas was presented: this was the episode known as Marichavadan, the slaying of Maricha.
The story, as many will know, has Rama and Sita in the forest with Lakshmana, when the demon Maricha adopts the form of a golden deer. Sita is entranced by the deer and asks Rama to bring it for her. Rama follows the deer and finally his arrow finds its mark. Seeing love in the eyes of the dying Maricha, Rama blesses him.
The piece was a superb mixture of dance, drama and story-telling. The action-packed sequence depicting the fascinated Sita, the prancing deer, Rama giving chase deep into the jungle, and at last, the final twang of the bow was a gripping one.  And it underlined for us again, what a talented choreographer this artiste is.
No less charming was the dance that followed: Enna thavam seithanai, in Raga Kapi by Papanasanam Sivam. In this lilting composition, the poet asks Yashoda what penances she might have ever performed to deserve the honor to be the mother to Lord Krishna, the omnipresent Parabrahman.
The final item was a technical and robust Tillana in Raga Brindavan Sarang – a powerful rendition of pure dance which, in Malavika Sarukkai's own words, was about "dance, design, spatial dynamics as well as the poetry of numbers."
The entire performance was technically sound and yet very accessible to laypersons. In the beginning, the dancer had said, "I look for the responses of wonderment, the 'aha' moment." And we certainly had many of those!
8:06pm
After a song in praise of Ganesha, the artiste began her performance with a shloka to Shiva, the lord of dance. The song started with the offering of flower petals but went on to offer "flowers from within" as Malavika Sarukkai put it: "offerings, surrender and worship of the lord of the cosmic dance."
After a wonderfully emotive interpretation of the lyric, the item then went into nrittanjali, or pure dance. The piece was composed in the ragas Amritavarshini and Keeravani.
For her next piece the dancer moved from Shiva to his consort. 'Shringaralahari' was a composition by Lingaraja, the noted composer from the erstwhile kingdom of Mysore. Presented in Raga Neelambari, Malavika Sarukkai offered a descriptive and ornamented dance in praise of the goddess, her incomparable beauty, the offerings of music and dance made to her. "As the bee hovers around the lotus, our thoughts are centered in you," the poet sings. In the presence of the Linga Bhairavi in the backdrop, it was a particularly appropriate choice of song.
7:10pm
Yaksha 2014 begins strongly. Opening the weeklong festivities is Padma Shri Malavika Sarukkai, the Bharatanatyam danseuse who has won awards, applause, accolades from critics and audiences the world over.
She is an exponent of the Thanjavur and Vazhuvoor Schools of Bharatanatyam, having studied under Guru Kalyanasundaram and Guru Rajaratnam. Later, she went on to study abhinaya with Guru Kalanidhi Narayanan and the dance form of Odissi with Guru Kelucharan Mohapatra and Guru Ramani Jena.