Walking for the Future of Rural Children - First Isha Vidhya Walkathon in the UK
Ready-Set-Walk! And walk they did, as more than 120 Isha meditators and friends gathered in Richmond Park near London on 22 June 2008 for a fundraiser walkathon for Isha Vidhya. Not only had the participants lots of fun and exercise, raising over £15,000 right with the first Isha Vidhya walkathon in the UK made the event a great success for the organizers and sponsors as well.
Under grey clouds, a warm carnival atmosphere prevailed as incredulous onlookers were treated to a hilarious warm up session led by a comically dressed Kieran Patel. Also helping to entertain the crowd with their colorful face paintings were Harpreet Birdi and her friends who did not mind missing a day of work to do something that they really care for. "Education is a grounding for life and I think what Isha Vidhya is doing for the children is amazing," Harpreet shared. Participant Elie Zabbal, who came all the way from Lebanon, was enthused about this opportunity to help needy children. "Isha Vidhya is shifting the children from one level to another with purity, integrity and vision... There is something wonderful going on there."
Get weekly updates on the latest blogs via newsletters right in your mailbox.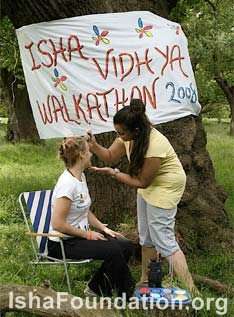 As the sun broke through the clouds, the walkers dressed in their Isha Vidhya Walkathon T-shirts set off. Just 1 hour and 45 mins later, the sprightly 67 year old Kusum Hari was crossing the finishing line. "I feel like the Bionic Woman," she laughed. More smiling faces crossed the finishing line throughout the day and as they walked, they shared their sentiments on Isha Vidhya. Pippa Vine, who recently spent a day at one of the Isha Vidhya schools in India, said, "It's so exciting to have the opportunity to help transform these young lives from the grim alternative of government schools, with corporal punishment and poor teaching. In the Isha Vidhya School, we passed classrooms where children were singing rhymes together, gesturing enthusiastically to the words… It was a profoundly moving experience to see so many bright-eyed little ones completely engaged in their experience of learning and interacting with each other."
Elated with the overwhelming turnout, Renuka Patel, Isha Vidhya coordinator for London, and all those who helped making this first event fun and successful are looking forward to bringing many more committed and caring individuals together for the next walkathon in support of the Isha Vidhya educational initiative.