Resilience Beyond Reason: On the Farmers' Trail of Cauvery Calling
Read the stories of Subramanyam and Sabarinatham and see how underneath their inspiring spirits, there is a call for help.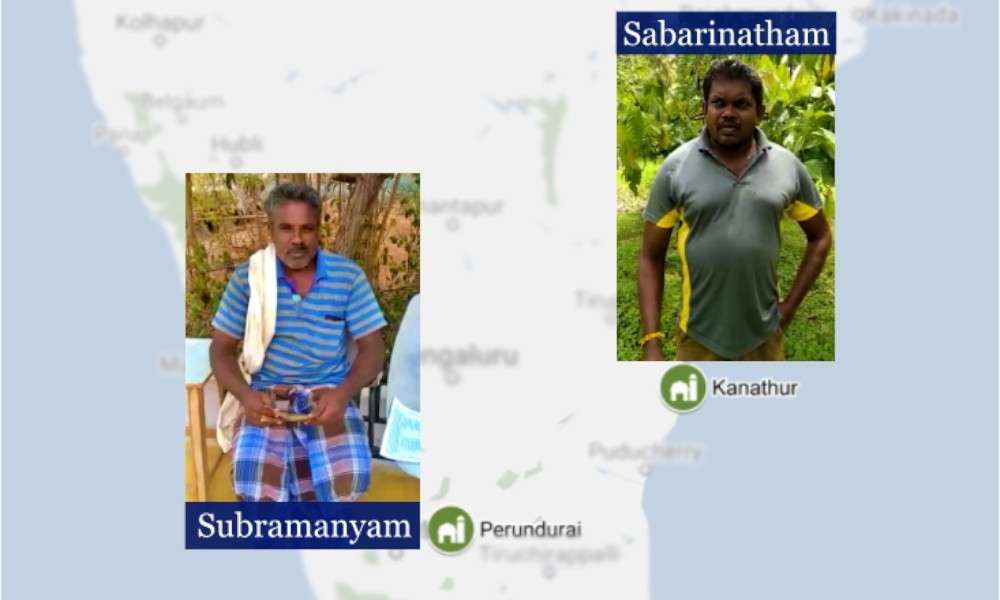 On July 31, 2019, Sadhguru flagged off the Farmers' Outreach Campaign - a game changer aspect of Cauvery Calling. Under this campaign 28 trucks along with hundreds of volunteers are driving towards various districts in the two states of Karnataka and Tamil Nadu, to meet thousands of farmers and educate them about the profitable benefits of agroforestry. But more than that, the volunteers also are getting a glimpse into the heart-breaking reality of farmers' lives.
Here is an opportunity to virtually experience the profoundness and joy of our volunteers. Stay with us, On the Farmers' Trail.
"My name is Subramanyam, and I am from Erode District's Perundurai Taluk in Tamil Nadu. I am 50 years old and right from my childhood I was attracted to farming and used to work with my father. I have a tremendous love for nature," he says. 
With 15 acres of land and his father's reliable formula to get the perfect yield, one would assume that he must be doing great, but there is more than what meets the eye.
From digging a bore well to picking the best kinds of seeds, he is doing everything possible to ensure that he can live his dream job. Very innocently and proudly he presents himself in front of the camera: "Seven years back, I had also attended Subhash Palekar's Zero Budget Natural Farming in Thiruvannamalai." Despite all his efforts, Subramanyam is waiting for a miracle.
"So far, I have invested about 15 lakhs on my farm but did not make any profits." Due to lack of water availability through the year, he has been struggling to maintain the crops. The borewell also has water only seasonally, and because of this water shortage his crops take a huge beating. Recently, sudden expenses forced him to take loans, and to pay off these debts, he had to sell his cattle and other collateral.
Get weekly updates on the latest blogs via newsletters right in your mailbox.
Unrelenting, however, Subramanyam sees the potential success in agroforestry, "Out of my 15 acres, I can grow coconut trees in 3 acres and I assure Isha that I will grow any variety that they suggest. I will extend my full support towards agroforestry by maintaining the plants and doing whatever it takes within my capacity. I am determined to protect nature and will participate with Isha in doing the same. I will also suggest this to other farmers. Namaskaram."
Subramanyam's humble story is a living example of the support that farmers need, irrespective of whether one is a small or big farmer. They all are struggling - some just to survive, others to remain inspired to continue farming.
Four hundred kilometers up north, in Kanathur, Tamil Nadu, an organic farmer, Sabarinatham, has grown trees for a few years and swears by its success. 
"Recently, I planned to grow some trees and went to Vettaikaran Pudur to meet a volunteer from Isha. I was advised to grow five different varieties of trees – Mahokaani Maram (mahogany), Kaya (Torreya nucifera), Rishu, and Kumari Thekku (teak). I planted and cared for them as instructed," Sabarinatham said.
He shared that other farmers fear the stringent policies and regulation around cutting trees and so they don't invest in them. "I want to ask the farmers, why are they so scared? I started by planting the five varieties, as suggested by Isha and it worked miraculously well. The height of the mahogany tree is more than what I had expected. All farmers can plant trees this way. "This tree is 1.5 years old," he shares, pointing at a tall tree behind him.
He goes on to share about his own experience of growing coconut trees, which is a common crop, grown locally. "I tell them, even for coconut you have to wait for ten years. You must take the risk as the yield will also be high. Trees are like a fixed deposit," he explains, giving his long term vision of how an ideal farm would look like.
Sabarinatham has not only experienced and understood what agroforestry offers a farmer but is also taking this message out to his community. His help in making them take this step will go a long way for these families, their income and the river Cauvery.
Editor's Note: Anyone can support Cauvery Calling. Here are a few ways to get involved:
Connect to the farmers of Cauvery basin. Stay Tuned!