Sadhguru receives felicitation in his home state
On the 17th of February 2008, the city of Mysore saw a rather special kind of a homecoming - Sadhguru was felicitated by the Rotary Club and the Vijay Foundation in Mysore. The felicitation was on the occasion of his participation in the World Economic Forum as a special invited speaker for the third consecutive year, but in reality for most part it was a sort of a homecoming organized for someone who they kept referring to as "our own Sadhguru," and an invitation for all to benefit from him. Accolades and honors are not new to Sadhguru. He receives them on various levels every day, but this one by the very people among whom he grew up and with whom he shared some of the most precious moments of his life was something rather special.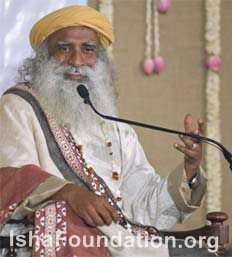 Mysore is one place in Karnataka that has seen a lot of history and culture. Legend has it that at one time the demon-king Mahishasura ruled from Mysore, utterly terrorizing humans and gods alike. This went on until Goddess Parvathi took the form of Chamundi and killed the monster on top of what is now called the Chamundi Hills, outside the city. (Interestingly, the Chamundi Hills are also a place very dear to Sadhguru; it is a place where he spent a lot of time trekking, camping and meditating. And finally, when enlightenment happened, it was on the Chamundi Hills.)
Mysore also had the patronage of many prominent dynasties of the past - the Ganga, Chola, Hoysala and Vijayanagara dynasties. Today, Mysore is largely known for its palaces, museums and gardens along with the cultural advancement made by the Wodeyar kings who ruled Mysore under the British until India's Independence in 1947. It was during this period that Mysore became a crucible of excellence in music, art and culture.
Sadhguru was born in Mysore and spent most of his early life in the city. As a child and as a young adult Sadhguru spent most of his time outdoors, actively observing and exploring life around. His interests in nature and the surroundings was so deep that he was barely seen in any of the numerous schools that he had to change to in order to complete his education. Being bold, curious and fearless Sadhguru obviously encountered many situations of many varieties with people there. This made Sadhguru look at this felicitation by an audience that contained, "my father, my teachers and many others…" rather fondly and with some amusement, even.
One knows Sadhguru as someone who is at ease in any kind of situation, in any kind of environment and with people from any part of the social strata. At one time one sees him speaking eloquently, straight from heart, without any preparation, at global conferences of the top business and political leaders of the world, and deeply engrossing them, while at another time one sees him chatting with a little child in a tribal village, all with the same involvement. So because of its rather unusual background, one was really curious as to how this felicitation event would turn out.
Speaking about the event Sadhguru said, laughingly, "Since I left Mysore almost 24-25 years ago, I have gone back now and then just to visit the family but not to do any kind of work there. For the first time I am going back now in another two days, and going to be speaking to a group of people there. They are holding a felicitation and things like that… There are lots of people there who have known me as a child, as a youth, as many things, but not as anything spiritual, for sure… definitely not as a spiritual Master… My father is going to be there… At least if my mother was there, she would have seen a little of the spiritual side of me, but my father is going to be looking at all the problems that he faced because of me… My school teachers are going to be there... I think they are going to be hugely surprised…"
Get weekly updates on the latest blogs via newsletters right in your mailbox.
On the day of the felicitation, Sadhguru told a jam-packed audience, "It is hugely embarrassing and humbling to be felicitated in your home town in front of your parents, teachers and many, many people that you know; and all these adulations… But I am so happy to be here today, my impressions of Mysore are very fond and sweet within myself."
The organizers had only envisioned a quiet occasion with a small gathering. However, as word spread through the town, a lot of people who had met or known Sadhguru in different ways, and had lost track of him over the years, flocked to the venue. Close to 800 people had packed themselves in two halls with a LCD projection of the event showing in the second hall. Yet, both the halls had not even standing room left and many were left standing in the corridor.
Sadhguru's father, Dr. Vasudev, who arrived dressed in a suit especially for this occasion, was also a little excited. "I thought it was going to be a small event, see how crowded it is!" he said, as we seated him in the first row. Sadhguru's brother and sister-in-law who had been busy inviting all of Sadhguru's friends, acquaintances and relatives, donned volunteer badges to usher in the guests and made them comfortable even though most of them had to stand through the event.
Speaking further, Sadhguru said, "People have been asking me, 'So what is that makes you who you are, where did you go and study after you left, what is that you learnt, where is all this coming from?' My teachers know I did not study, my father knows I did not study… It's a confession: I don't know any scriptures. Being in India and being a spiritual teacher one should have at least read the Gita. I haven't read the Gita. I haven't read any scriptures anywhere. The only thing I know is this piece of life (pointing to himself) - from its origin to its ultimate, that's all I know. And what I have realized is that if you know just this one thing, you know just about everything. Just everything worth knowing can be known because the way this one is made is just the way the whole cosmos is made."
Beginning thus, Sadhguru went on to explain the mechanics of Inner Engineering and the possibilities it presented for one's ultimate well-being while connecting it to economics, politics, leadership, poverty, education and development. While those who had come expecting to hear the wise words of a "sage", were greatly surprised by the modernity of this one, his friends and acquaintances were completely overwhelmed by this outpouring of eloquence and wisdom. "No wonder the World Economic Forum invited him three times," commented the Star of Mysore, the local newspaper which had been carrying reports on him for a few days prior to the event.
The event ended in a dinner which gave everyone an opportunity to meet Sadhguru in person. Though many of them were meeting him after three decades, Sadhguru surprised every one of them by recognizing them even before they could introduce themselves. Many times he would also narrate an incident that happened when they were together, which they themselves had forgotten. This was a rather special reunion because though many of them had come only to meet with an old and dear friend, all of them were touched by something that was beyond words.
Something even more significant happened on that day. History tells us that rarely has an enlightened being been recognized by his own people, in his own time. While some went unrecognized or ignored - many were persecuted by their own people because they were not understood. Emotions and sentiments are one thing, but on that evening a new opening to a different dimension in life emerged in the people who had gathered there. And it is this opening in people that Sadhguru strives to create and nurture all the time.
"We should have done this much earlier, but well, at least now we have done the right thing," said one of the speakers who echoed the sentiments of the others in the audience.