Sadhguru at the Aditya Birla Financial Services Group's 5th Annual Day
Sadhguru's session was one of the most eagerly awaited parts of the Aditya Birla Financial Services Group's (ABFSG) 5th Annual Day. Two members of the audience share their experience.
The Aditya Birla Financial Service Group (ABFSG) (which includes 9 businesses and 16,000+ employees) celebrated its 5th Annual Day on June 15. ABFSG had decided that its employees would benefit from a strong dose of spirituality to help them put life in the right perspective, and invited Sadhguru to take a session at the event.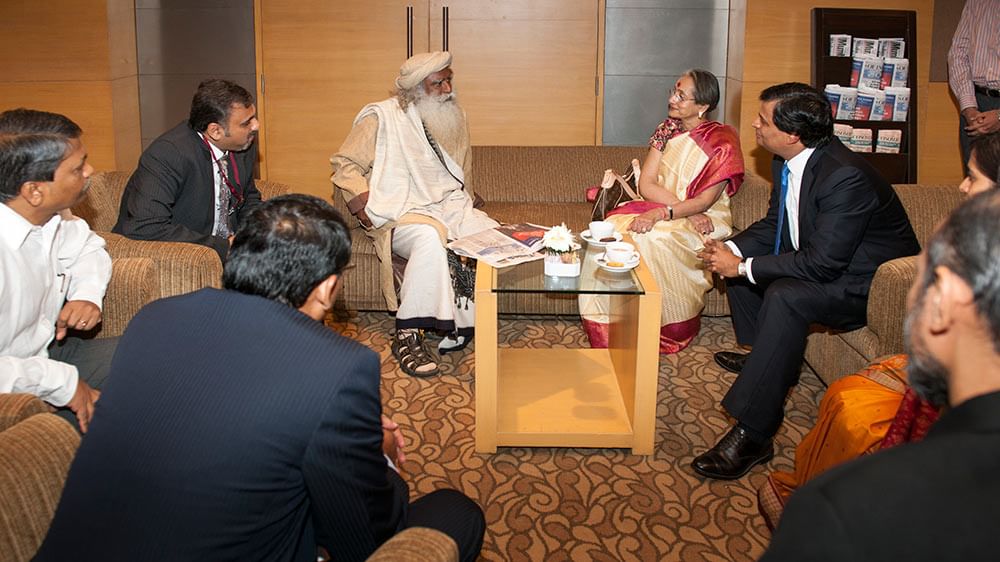 Get weekly updates on the latest blogs via newsletters right in your mailbox.
Sadhguru was extended a warm welcome at the airport by three CEOs and the Investment Director of ABFSG. Sadhguru's session was attended by around 600 people from the middle and senior management of eight different finance businesses, and also by some senior members from the Aditya Birla Group.
Pranav Sharma and Amit Vikram Sharma of the Aditya Birla Group recount their experience of the event:
Sadhguru kept the big audience on the edge of their seats with his riveting yet simple to understand homilies that addressed most of the issues we face in our daily lives. There were regular injections of his wry humor that must have worn down any traces of resistance within the audience. He bust the myth about work-life balance by explaining how everything we do is in fact just 'Life,' and we should learn to live it with full involvement and intensity. He said if we do that, most of our worldly goals – work related or personal – will be automatically met. We got a taste of that single-minded intensity from Sadhguru not only during his talk, but also during a short video on Isha Foundation, where he was seen torturing the best off-roader in the market, the Range Rover, and then flicking the frisbee with the energy you would normally associate with arrows shot in the battle of Mahabharata.
What stood out loud and clear was a central theme which pushed everyone to look inward, and just go all out for the life we dream of living. As he wound down (which seemed so soon since everybody was deeply engrossed and thoroughly enjoying themselves), people were almost left yearning for more.
Thank goodness there was some connect, as we were told that CDs on Inner Management and Isha Kriya, and a brochure on the ethereal ashram near Coimbatore were on their way for all of us.
As a large bunch of us are excited about pushing the boundaries to master our destinies, we will be banking heavily on the hugely motivational interaction with Sadhguru, the tools which we are blessed to be left with, and various programs at Isha which will propel us much faster on our paths.
We feel blessed with his presence and grace.