Kailash Manasarovar Sojourn 2009 - A Breathtaking Pilgrimage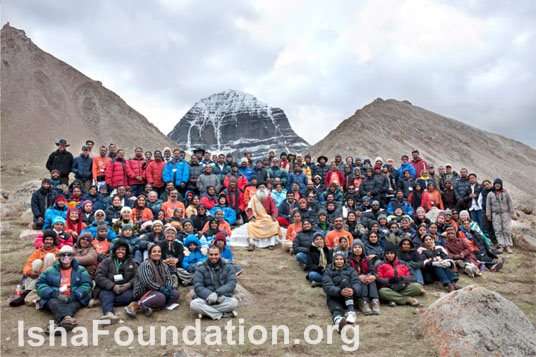 This was the biggest year yet for Isha's Kailash Manasarovar Sojourn, in which over five hundred participants along with many volunteers and sherpas reached and returned safely from the rarefied air of Mount Kailash in Tibet. On this remarkable happening, one medical expert commented that for anyone else, "taking this many people and bringing them back alive is just impossible - only Sadhguru can do that.
Further to bring so many people on this pilgrimage, Sadhguru and the organizers took on the Herculean logistical task of arranging the participants into four different groups, each beginning on a slightly different date. Sadhguru's presence was a constant support for every group, whether he was physically with one group or another, as one participant aptly expressed: "Even those Sathsangs where physically he wasn't present were just as powerful."
By driving long hours at high speeds, however, Sadhguru graced the groups with his physical presence as well, beginning for many in the sojourn's first stop: Kathmandu, Nepal, where Sadhguru gave participants a specific energetic process to make the potentially daunting journey ahead a lot less frightful. For many, this occurred on or around Guru Purnima, and being with one's Guru on such an occasion "was very special."
Also in Kathmandu, the participants got to enjoy the city, and a couple of Indian nationals noted that they felt "at home," as if it weren't a "foreign land," and even that it "seemed like part of South India." In addition to the Sathsangs, a highlight for many participants was the opportunity to visit the powerful Shiva temple of Pashupatinath.
Each group then drove from Kathmandu to the Chinese border, where we encountered the Chinese officials at the "Friendship Bridge," before which we had been warned that if we had been running a temperature, we would have to turn back, missing out on Kailash. Here, too, despite some close calls, every Isha meditator made it through the heavy barrier of visa restrictions and checkpoints, then able to enter the fabled land of Tibet.
The following day, away from the congested border area, the Tibetan landscape opened up to reveal aspects of itself. We were increasing altitude rapidly, and under the bright blue sky, clouds scudded low across the wide horizon of sandy hills and snow-capped mountains, forming shadow-dappled patterns of light and dark so subtle and sensuous that you could easily forget yourself. As one participant noted, she was "completely bowled over by the scenery." Also, within the grand, seemingly airbrushed scenery, there were some intriguing animals. For instance, there were yaks: these great fluffy beasts so cute that you might forget their potential ferocity unless you happened to notice their long, pointed horns as they were galloping.
Along the way, we stopped in the town of Saga, a military town in which photography - and apparently levity - was strictly prohibited. The hotel had unusually long corridors that one participant likened "a hospita...with everyone propped up in bed trying to stay awake" to assist in adjusting to the greatly increased altitude. For most of us, even climbing the stairs posed some challenge as the air was thin approaching 15,000 feet. Even the doctors were getting some altitude sickness, and one of them observed that Saga was a crucial point because "if people could cross that point, the likelihood of their making it was greater."
After acclimatizing in Saga for a couple of days, we moved on to Paryang, which was memorable to one participant for the wild dogs and the "open toilet." But Ishas can be a hardy lot, so even this participant noted that "it was fun; I don't mind." Altitude sickness continued, though, to such an extent that there was one person in our group who almost turned back there, but this person recovered remarkably well and even became among the healthiest who continued. Also, this person was not the only one in our group with severe or otherwise debilitating health issues that attributed their ability to make it; one participant had even recently had a 70% blockage in his heart, but he too made it well. Most of these people, including some respected doctors, could only identify Sadhguru as the reason for their otherwise unaccountably improved health.
After Paryang, we passed through further checkpoints to arrive at Lake Manasarovar. In the presence of this azure blue lake, one participant shared she was not only "struck by the sheer beauty of it," but she was also among those who experienced a "total surge of energy.... The energy just came from nowhere." Also for her, "the water had a different quality."
Get weekly updates on the latest blogs via newsletters right in your mailbox.
Another participant experienced sitting on the shore as follows: "I didn't know the time; I don't know how long I sat there." She continued, "When we were allowed to take a dip, I just ran in there, as if something called out to me, like my mother, and in the water it was the same feeling, like my mothe.... You could really be one with the lake." Many participants expressed the wish to have been able to stay there longer, soaking up that indescribable energy.
Next came the trek to Kailash, and one participant said about the hike: "I didn't find it difficult; it was that pul.... You really felt like you were going back to the source of something." Along the way, the topography was "sheer landscape on either side," and among that, "Kailash stood out starkly from the rest of the landscape."
Now, if you happen to be asking participants more particularly about Kailash, a funny thing happens: Almost everybody's face suggests they were clearly and profoundly affected, but also, almost nobody can say anything about Kailash. One otherwise eloquent participant said, "Kailash was so huge... at every step.... I still don't have any words to say about Kailash.... I was glad to be there.... It was so hard to come back, to leave, to disappear from the view." There was however a process that we were given within view of Kailash, and one participant experienced that "at that moment, I felt it was possible to look and take it home with you." She continued, "Until then, I only looked at Sadhguru as Shiva, but at Kailash, at many moments I felt Mahadeva. In Sadhguru's presence, to feel something of this magnitude was such a privilege."
As Sadhguru was a constant presence in so many ways and also physically present with us at some times, one participant expressed her feelings that "just being there, you feel so complete; you don't need anything more." Another participant said it was "lovely to be in that presence." Yet another joyful participant shared that while she was in sight of Kailash, she was in a state of "no-mind, just constantly singing."
After Kailash, we returned through the same newly familiar towns to arrive safely back in the relative luxury of Kathmandu. Though the pilgrimage took about two weeks, many participants have been experiencing something far more enduring from it. One commented, "The most amazing thing from this trip is how I feel inside now. It was over in a flash, but I feel different inside now."
In addition to Sadhguru's inestimable efforts, the Kailash Manasarovar volunteers deserve some additional acknowledgment. Most were themselves participants and out of their own sense of offering, they decided to devote much of their time to volunteering as well.
One such volunteer/participant shared her experience in this beautiful way: "Seeing people who were there to participate stretching themselves to help others was very touching. Our group had some kind of togetherness. With my health, the Kailash Yatra would otherwise have been impossible for me, but I told Sadhguru I wanted to go, so I went. Definitely I feel much healthier after the Yatra. At every step, you're breathless, but helping others still happened effortlessly. Just as an offering and doing what was needed - that took care of me. When I was breathless, I would just go at that pace; only the pace was different. I also felt the cold, but in the process of helping someone become warmer, I became warmer too. I took each moment as it came; there was no excitement once it started, but it was as if I was on fire - I was just on. I can't believe this could happen to me. If you can just follow the instructions 100%, something else brings you. Then you'll just flow with him. No one should miss this."
So defying the odds, hundreds of Isha meditators made the pilgrimage to Kailash safely. With the grace of Sadhguru and the tireless offerings of so many more beings, the 2009 Kailash Manasarovar Sojourn took our breath away and gave us so much more.