INSIGHT Day 3 - A Compelling Climax
Integrity, Introspection, Incisiveness - some common threads that spun out of the loom that was Insight 2017.
Integrity, Introspection, Incisiveness - some common threads that spun out of the loom that was Insight 2017.
After an early morning hour of yoga to kick-off the last day of the business learning marathon, Sadhguru steered the first session. In his usual style of nonchalance, he categorically shattered current views of what and how a leader should be. He said that a leader is someone who can take their followers to a place they couldn't go by themselves, not where they want to or could take themselves - breaking down a common misconception among bosses and employees alike in today's corporate India on the role of leadership.
Going on to throw light on "success", a concept that has been exploited as a word to mean many things today, he said that if one is committed to success, there is no room for anything but the truth in their life and that the truth is simply what actually works for them and everyone around them. Over the course of the program, one question that had come up repeatedly among the participants was about how Isha itself works as an organization and what were the structures implemented. To this Sadhguru said that Isha did not function as an "organization", but as an "organism" because in an organism, every part just knows what it has to do and seamlessly fulfills its duties to keep the organism going.
Sadhguru spoke about the importance of planting a seed in one's mind and letting it nurture and grow there fully before manifesting it in the physical. He compared it to how a baby must develop fully in the womb before it is born, which otherwise would lead to all sorts of problems after it is born. This was critical for the entrepreneur of today he said, in order to create value-adding enterprises rather than problem-generating machines.
He then led the participants through some deep concepts that form the basis of the yogic science, which is intrinsically related to the science of the cosmos itself, and the audience was completely mesmerized. He paused to ask if he was getting too technical but they urged him to keep going, as what he was saying was complex, but so new and fascinating that they just wanted to keep listening.
After the first session, during the lunch break, the Dollu Kunitha performers who had come from Mysuru entertained the participants. Some banjo music had been assigned as the signal for participants to come back inside the hall for the commencement of the next session. Over the entire duration of the program, it was heartening to see how participants would come back into the hall dancing joyfully, which is not always the case in business workshops and conferences.
Get weekly updates on the latest blogs via newsletters right in your mailbox.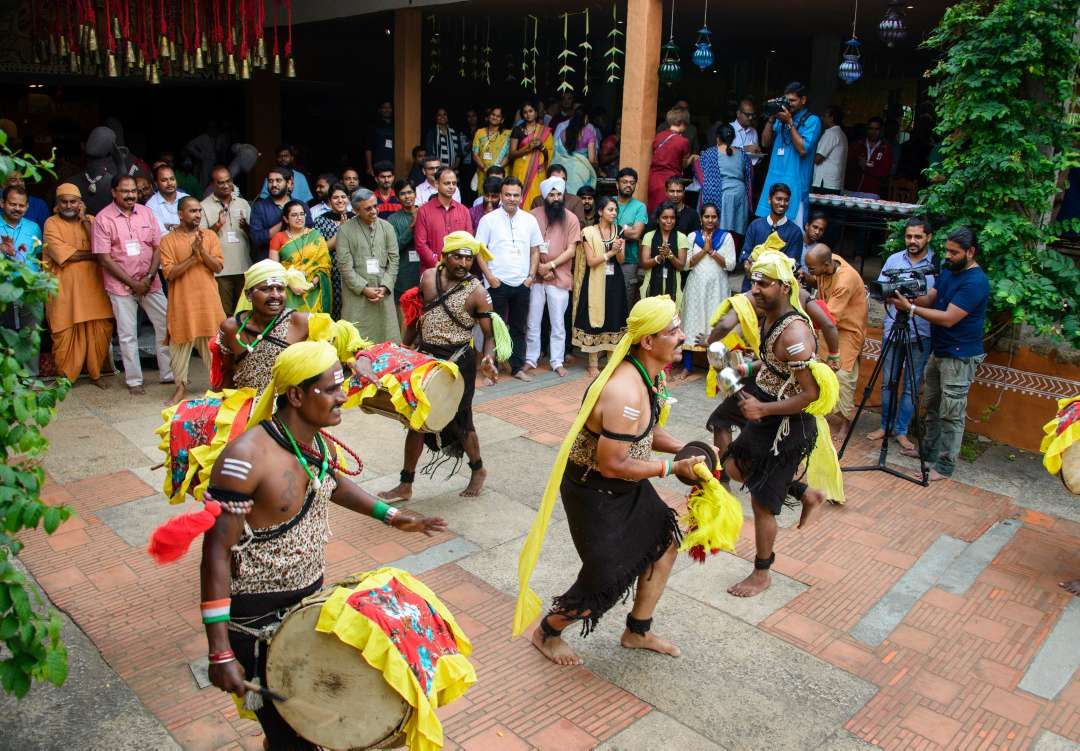 The post-lunch session was by Kiran Mazumdar Shaw, an immensely successful first-generation entrepreneur. She has many firsts to her name, but the most significant being starting the first biotechnology company in India, Biocon. She discussed the challenges she faced as a 25-year-old woman in the 70's trying to start an unheard of biotech business, and how she overcame every one of them. She called herself the "accidental entrepreneur", as she had trained to be a brewmaster. But when she came back to India after her studies, it was impossible to find a job in this male-dominated industry. She then started her business with Rs. 10,000 in a garage which has now grown to a $4B business. She founded Biocon in 1978 and spearheaded its evolution from an industrial enzymes manufacturing company to a fully integrated biopharmaceutical company.
She spoke about how important it is for entrepreneurs to differentiate and break out of the pack. She forayed into niche spaces with several unmet needs that ultimately led her to build highly lucrative businesses. Both her companies, Biocon and Syngene opened to over-billion dollar valuations on the first day of their IPO.
"I didn't come with the baggage of business school," she joked off-handedly, and said that her business decisions were driven by common sense before anything else, which had not let her down so far. Many of the challenges she faced as a woman in business, she realized, were in the mind, and that it is mostly about correcting one's own perception. With these and many more instances and examples that she had to share with those present, Ms. Shaw's session was an apt conclusion to Insight 2017.
Sadhguru summed it up wonderfully when he said that beyond discussions and workshops, Insight is an effort to bring a different dimension of capabilities into the business leaders which largely go unexplored.
INSIGHT 2017 Day 2 - Business Journeys and Space Odysseys
INSIGHT 2017 Day 1 – A Dive into Scaling Up Business
Editor's Note: Follow INSIGHT on Twitter.