Indian Economy Not Ready for a Startup Epidemic
During an interview at INSIGHT 2017, Sadhguru touches on India's startup ecosystem and Rally for Rivers' next steps.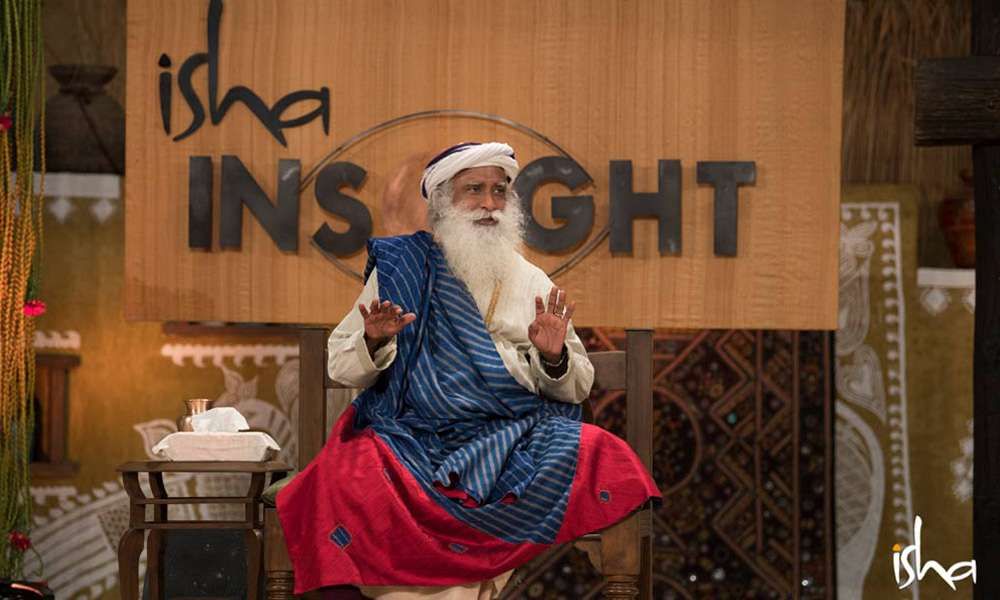 220+ entrepreneurs looking to scale up their businesses participated in the sixth annual INSIGHT leadership workshop at Isha Yoga Center in Coimbatore from November 26-29, 2017.
In an interview, Sadhguru talked about the Indian startup ecosystem, and the Rally for Rivers initiative and challenges ahead.
Q: You drove over 9,000 km across 16 states to create awareness for Rally for Rivers. What is the plan of action going forward?
Sadhguru: The real rally for rivers begins now. The driving part was just the beginning. But it brought an unprecedented participation from people, with 160 million participating in one movement in a month's time in one way or the other. This shows the maturity of the people and polity across the spectrum of political parties. It makes India's future very bright because when things really matter, we come together and make it happen.
Since October 2nd (when the River Revitalization Policy Recommendation draft was presented to Prime Minister Narendra Modi), there have been many significant moments. We have formed a national board with five prominent members. We have had meetings with Niti Aayog, and the Prime Minister has constituted a body with which they are interfacing.
If you look at the states, Maharashtra is proactive and is ahead of all states. Sudhir Mungantiwar, the minister of forest department and finance, has said they will plant 10 crore trees in the Ganga basin, which is largely in Uttar Pradesh! This is the first time a state minister is consulting and participating in plantation in another state. This is the level of coherence and enthusiasm that this initiative has brought. We have also signed MoUs with various states.
We need determination in terms of political leadership, both at the state and central government levels. We are seeing it already but we now need to translate that into action.
Q: This is an ambitious initiative. What are the key challenges in the implementation?
Get weekly updates on the latest blogs via newsletters right in your mailbox.
Sadhguru: The big challenge is to set up the necessary legal and enforcement structures as the exercise needs them to protect people who invest and those who own the land. The government is also looking at forming a legislative structure to accommodate various aspects.
When we come to farmland, we are looking at how to encourage micro-irrigation systems. Generally, in my experience most micro irrigation systems in the country that rural farmers invest in, last only three to four years on an average. After that it fails. The farmer is not going to invest once again in it because he is no longer eligible for the subsidy. So micro-irrigation will work well only if it is outsourced to private agencies.
If we go for micro irrigation, the land will be capable of holding water, erosion will be contained, and we are trying to make this organic, so fertilizer content will not flow into the river, because life in the river is hugely affected by fertilizers and chemicals going in.
Q: INSIGHT is all about entrepreneurs trying to scale up. What are your views on the startup scenario in India?
Sadhguru: I have met people who say they have set up 20 startups. Or in other words, they are essentially looking at the business itself as a product, where you build a product or a machine and then sell it. That is definitely fine if it happens to a certain extent, but I think we are in an overdrive right now.
Some people will call me conservative, but the Indian economy is not ready for a startup epidemic. I am saying this because there is no safety net right now for those who fail. In our country, when people fall, they fall really hard. That's not the case in America. When someone falls, the economy is such that it supports them.
India is in such a stage of economic development where we need solid businesses that last many years and will build teams, possibilities and experiences. If I run a business which involves 50,000 people, I am not just employing people, I am building their experience. Out of these 50,000 people, even if 1000 people go out and start their own businesses, that creates a tremendous ecosystem.
I think startups are great, but right now there is no atmosphere of mentorship or of an ecosystem which supports startups. I am told there is a tremendous amount of money lost in food apps in Bangalore. Everyone started food apps but how many survived? Obviously some people invested and lost a lot of money. If it keeps going like this, people will slowly conclude that India is not the place to invest.
Q: Your advice to young entrepreneurs?
Sadhguru: People should look at building long-term businesses, not just selling a business. If an opportunity comes, it's fine to sell it, but you should not start a business with the intention to sell, because India's economy is still not mature enough for that.
Right now, there is entrepreneurial enthusiasm, and if this has to be maintained, substantial success has to be demonstrated.
Q: There have been some big policy changes in the past year that have also created some uncertainty in certain sections. Is the government on the right track?
Sadhguru: If you allow me an analogy, it is like this government is trying to lay the foundation stone to make a new building. We want to become a developed economy and the right moves have been made in that direction. The fundamentals are right but the details are a bit unclear. It is our duty as a citizen of this nation to see these details are sorted out so that we don't get tangled up in the details. I feel the ministries looking at the major sectors in the country – power, infrastructure, IT, telecom, agriculture etc. – and above all the finance ministry and PMO (Prime Minister's Office) must meet practitioners of these major sectors and listen to them and get their feedback on steps taken.
This exercise should be done in right earnest, and then they can make up their minds on what to do, and how to do it. To sort out the detail, there is no better person than those who are involved in the situations. If this step is taken, then the big steps that have been taken should take proper shape.
Editor's Note: A version of this article was originally published in Mint, a partner in the INSIGHT program.  
Download the ebook "Inner Management", where Sadhguru reveals effective tools to enhance capabilities, change your life, and open up a new dimension that frees us from external influences. Set "0" in the price field to download for free. Download Inner Management