Day 2 – Cauvery Diaries: Of Motorcycles and a Mystic
On Day 2, Sadhguru travels through the tiger country of Nagarhole and makes his way to the small town of Hunsur for the next public event of Cauvery Calling. Stay tuned to the live blog!
Follow the Cauvery Diaries Live
3:40pm - On the way from Nagarhole to Hunsur, Sadhguru made a pit-stop at a farm to apprise the riders about agroforestry and interacted with a farmer who grows pepper, coconut, arecanut and other trees in a coffee plantation. "Thank you for taking care of the soil..." he told the farmer Gangadhar, who was grateful to receive the appreciation.
Nagarhole – Serpentine Streams
Our motorcyclists went out this morning on a safari in Nagarhole.
A national wildlife park and tiger reserve, it is a major attraction for travelers who visit this place for its rich flora and fauna.
The name "Nagarhole" is a combination of two Kannada words: "naga" which means snake and "hole" which means streams. Presumably it got this name because of the serpentine streams here. Despite such a beautiful name, there are dry spells in this region which are forcing wildlife into nearby farms in search of water. These 'surprise visits' to the hamlets bordering the park pose risks to the villagers.
The Terrible Tale of Tobacco Farming
During the Farmer Outreach Campaign, volunteers encountered Kumar, a farmer from Haraganahallu, Hunsur Taluka, a tobacco-growing village. 80% of the farmers are cultivating this same crop for the last 40 years.
Tree cover is minimal and the climate is getting hotter year after year. Kumar shares that all the trees were cut in order to grow and process tobacco leaves. They needed to create a heat chamber to process the leaves, for which firewood is used as fuel.
He tells us about the rapidly depleting conditions of the soil, water and health of the people. He likens the soil to 'thermocol' in resignation, referring to the lifeless state it is in. Children here have not fully developed physically or mentally, and the adults are regularly sick. There is simply no hope for this place as its soil is unable to produce any more crops without the usage of massive amounts of inputs. They are at a complete dead-end as even the tobacco companies have refused to renew their lease due to the high agrichemical content in the leaves.
Meet Our Motorcyclists - ILAKIYA SUDAR
Riding from the age of 8, Ilakiya Sudar's love for bikes is unending. Joining Sadhguru on this trip, she is one of the fastest yet sturdiest riders of the group. Interior designer by profession and biker by passion, this is Ilakiya's first time on a 650 cc bike as her previous rides were not more than 350 cc. Her excitement is palpable as she shares a selfie she took with Sadhguru.
Today the campaign reaches Hunsur. In this taluka, volunteers have been reaching out to farmers in villages to encourage them to take up agroforestry as a profitable solution to their woes. Here we share some pictures from the ground from last month's Farmer Outreach Campaign.
Shravannahalli village, Hunsur Taluka. Even before morning dairy rounds start, registration was in full swing. Villagers understand that agroforestry is the way out of the problem of drying rivers.
Even the little pre-school children in Maraduru know that Cauvery is Calling!
Early in the afternoon in Nagarhole, Sadhguru had an interview with reporter Bhavana from Kannada channel Suvarna TV
All Kinds of Reactions to Cauvery Calling
Not only donations, but also heartfelt experiences keep pouring in from volunteers who are on the ground spreading awareness about Cauvery Calling.
Gayathri was part of a group standing with brochures and placards for Cauvery Calling, when an elderly man approached and berated them for wasting their time. She just folded her hands and let him know that his view was respected and that he could research for himself about Cauvery Calling. Not expecting such a response from Gayathri instead of an argument, he was dumbstruck and took the brochures and promised to research and write about it on social media.
Rituparna had a very different reaction in an incident in Kolkata. She was passing by with placards for Cauvery Calling, when she was stopped by a roadside cosmetic vendor, in his thirties, who enquired what the brochure was about. As she began to explain about Cauvery Calling, she was interrupted by him as he said, "Yeah! I know about this river and this project by Sadhguru," and went on to scan the QR code to pay for a tree.
An avid motorcyclist, Sadhguru interacts with his fellow riders and checks out their bikes earlier this morning
Also this morning, Sadhguru conversed with Rahul Mahajan, editor of Rajyasabha TV, in Nagarhole
Today, Sadhguru will be in Hunsur 
A volunteer shares about the inspiring support of one lady in Hunsur Taluk: "Smt. Mani Prabhakar - Somanahalli Panchayat member, Hunsur Taluk - became an active campaigner of Cauvery Calling. We approached her at her home and informed her about the campaign and requested her to inform other Panchayat members and the farmers. While we were doing door to door campaigning of Sadhguru's event, we found her doing the same too at Somanahalli village."
The voices of Isha Vidhya Vanavasi students reach door to door
These enthusiastic youngsters are painting the town blue with Cauvery Calling awareness songs and slogans. They aim to reach as many people as possible and make it happen for Cauvery!
10:10am - Pledging their undying support to Sadhguru in yesterday's event at Madikeri, actors Rakshit Shetty and Diganth stood by their words as they rode with Sadhguru on this trip.
Rakshit and Diganth caught up with Sadhguru in an informal walk and talk, as they asked questions to Sadhguru, to their heart's content.
Rakshit, ever the actor, started out with questions about Sadhguru's favorite movie. Sadhguru told him about Roman Holiday. He continued to ask questions about Sadhguru's riding experiences when Sadhguru narrated how a king cobra slithered onto his arm.
When Rakshit began a question stating how Sadhguru was born and brought up in Mysuru, Sadhguru chimed in to make a wisecrack, "No I was not brought up by anyone, I just grew up."
On the Chamundi trails, Sadhguru shared untold stories of the time he spent there and stood in a place where he "grew" up.
Stay tuned for more updates on the Mystic's tete-a-tetes.
PM sends his best wishes for #CauveryCalling on Sadhguru's birthday! #FREEINDIAofWaterCrisis@narendramodi @PMOIndia @MoJSDoWRRDGR @gssjodhpur pic.twitter.com/T16Nf4LPsZ

— Rally For Rivers - Cauvery Calling (@rallyforrivers) September 4, 2019
Tamil Nadu's youngest generation show their support for #CauveryCalling! #CauveryDiaries Day2
LiveBlog at https://t.co/KrdRHK49aX pic.twitter.com/nXbNNIhuIj
Get weekly updates on the latest blogs via newsletters right in your mailbox.
— Rally For Rivers - Cauvery Calling (@rallyforrivers)
September 4, 2019
Rituparna went to a cosmetics street vendor in Kolkata to tell him about #CauveryCalling. She was spellbound when he interrupted her, "Ya, I know about this project," and promptly scanned the QR code and donated Rs. 42! #CauveryDiaries Day2
LiveBlog at https://t.co/KrdRHK49aX pic.twitter.com/yfSO7zVGTN

— Rally For Rivers - Cauvery Calling (@rallyforrivers) September 4, 2019
10:09am - @SadhguruJV has a morning tete-e-tete with actors @rakshitshetty and @diganthmanchale, who are both motorcyclists riding with him on #CauveryCalling. #CauveryDiaries Day 2. Follow the Live Blog at: https://t.co/HVmjG4ZiXI pic.twitter.com/i2r7yZnTKT

— Rally For Rivers - Cauvery Calling (@rallyforrivers) September 4, 2019
8:00am - "Many motorcyclists have ridden for a cause and this cause is one of the highest one could pitch for," Sadhguru begins the new day reminding the riders about their important mission. He casually started catching up with the riders and then took them on a trip down memory lane to his youth, where a large part of his life was spent on bikes. The master storyteller left everyone listening in a trance - they all sat like nomads breezily passing their evening in a desert.

Shifting gears, the storytelling turned into an introduction session as Sadhguru asked each of them to introduce themselves along with the beauties that they rode on. Ever the hardcore motorcyclist, the Mystic enquired about the technical details of the bikes, inspecting a few bikes, revving up a few others. He recounted some of his fun bike adventures of his youth - from his friend being hit by a tusker trunk, to being shot at by forest inspectors, Sadhguru had done it all..

When the Sadhguru opened the floor for questions, one question that stood out was,"What do you think while riding? Do you get into a zone while riding" to which Sadhguru wittily replied, "I anyway don't think anything; I am always in a zone and never come out of it."

The riders bubbling with unbridled excitement poured out their experience of riding out with Sadhguru. One young rider, who was never permitted to ride for such a long stretch in the past, explained that that this trip happened only because his parents knew he would be riding alongside Sadhguru. Another biker, who participates in national championships on tracks, let out the secret that this is his first time riding on roads!

Yet another rider turned poet and let his words flow:
It was a cloudy morning when I left my home
To join my folks n hit the road
To get away from this rat race
To feel the wind hit my face
Down the memory lane
I'm talking about riding in the rain…
- Sathyu, who rides a KTM 390 Duke.

He has been riding since the age of 19, he also rides on race tracks and dirt tracks.

At 9.15 am, when a bunch of riders returned after 2 long hours of a jungle safari in Nagarhole trying to spot tigers, Sadhguru couldn't help but quip, "Oh! One seat is empty, one seat is empty! Who was eaten by tiger," as he lifted himself off his chair a bit to peer at them when they rolled in on their golf carts.

After breakfast, the bikes are revved up for another day of endless riding and never-ending passion and joy.
A quick recap of last night.
8:05pm – Sadhguru reached Nagarhole and was greeted with birthday wishes. Festivity was in the air as locals offered a vibrant tribal dance performance. Volunteers even managed to produce a birthday cake and Cauvery Calling chocolates!
.@SadhguruJV reached Nagarhole at 8:05pm last night and was welcomed on his birthday with festivity and a traditional dance performance. #CauveryDiaries Day 2 #CauveryCalling. pic.twitter.com/JnvNSfTkVj

— Rally For Rivers - Cauvery Calling (@rallyforrivers) September 4, 2019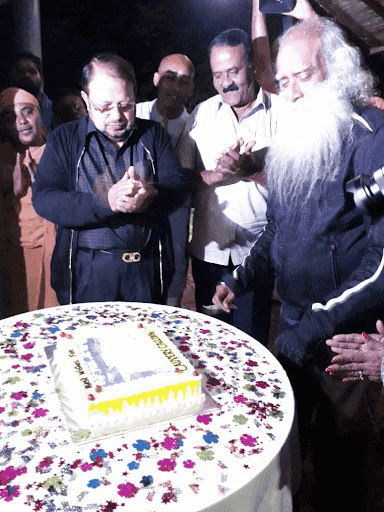 Dear Kajal, your commitment to #CauveryCalling through your contribution is deeply appreciated. May you inspire many more youth towards a solution for Cauvery's plight. Blessings. -Sg https://t.co/oSe700yNVx

— Sadhguru (@SadhguruJV) September 4, 2019
.@SadhguruJV reached Nagarhole at 8:05pm last night and was welcomed on his birthday with festivity and a traditional dance performance. #CauveryDiaries Day 2 #CauveryCalling. pic.twitter.com/JnvNSfTkVj

— Rally For Rivers - Cauvery Calling (@rallyforrivers) September 4, 2019
Your vision to make Jal Shakti Abhiyan a people's movement to #FREEINDIAOfWaterCrisis is truly commendable. As we start this journey from Talacauvery today, we look forward to your support to #CauveryCalling to revitalize this lifeline for millions. -Sg @PMOIndia @narendramodi pic.twitter.com/9O8tSRsLpe

— Sadhguru (@SadhguruJV) September 3, 2019
#CauveryCalling rolls from Talacauvery, the source of Cauvery. Spectacular downpour of monsoons out here. Riding soaked to the bone. -Sg https://t.co/m8vK14bmMt #FREEINDIAOfWaterCrisis pic.twitter.com/FUIJjZupH0

— Sadhguru (@SadhguruJV) September 3, 2019
Dear Tamannaah, thank you for striving to fulfil my tamanna to revitalise Cauvery. -Sg #CauveryCalling #FREEINDIAOfWaterCrisis @tamannaahspeaks https://t.co/pZWcxCpxpU

— Sadhguru (@SadhguruJV) September 3, 2019
We should hand over Cauvery to the next generation the way our elders handed it over to us. Three generations at my childhood home in Mysore, working to keep Cauvery flowing. -Sg #CauveryCalling #RallyForRivers #CauveryDiaries https://t.co/qijmcFtrSF pic.twitter.com/pdwPKhCWvW

— Sadhguru (@SadhguruJV) September 3, 2019
Amidst the charming hills of Coorg it was a pleasure to answer a variety of questions posed by @SrinidhiShetty7. Her interst in knowing the ecological solutions for Cauvery is insipiring for the youth. -Sg #CauveryCalling #CauveryACTION #FREEINDIAOfWaterCrisis pic.twitter.com/6CHG5aWibT

— Sadhguru (@SadhguruJV) September 3, 2019
Mother Cauvery doesn't know what caste, creed, religion or language you belong to. She nourishes us all. #CauveryCalling is a movement that includes not just all human beings but the well-being of all life. Your support means a lot to the Tamil people. I truly appreciate. -Sg https://t.co/Hck80mFYoJ

— Sadhguru (@SadhguruJV) September 3, 2019
We are in these spectacular hills in Talacauvery, Coorg. Magnificent rains out here; a cascade that can wash us away. But this is what the land needs. This volume of rain, if we leaarn to hold it in the land, will India ever have water crisis? -Sg #CauveryACTION #CauveryCalling pic.twitter.com/bxqGq3hbvF

— Sadhguru (@SadhguruJV) September 3, 2019
First public meeting of #CauveryCalling in Coorg. Overwhelming response & commitment from the people of Coorg. -Sg @ShobhaBJP @rakshitshetty @diganthmanchale @AshwiniNachappa #KGBopiah #AirMarshalCariappa pic.twitter.com/nsjrNCx7tR

— Sadhguru (@SadhguruJV) September 3, 2019
We have problems, but we also have a beating heart that seeks solutions. #CauveryCalling is about becoming part of the solution. Join me in this journey from wherever you are. -Sg #CauveryDiaries #CauveryACTION https://t.co/i0XIsX0WQb

— Sadhguru (@SadhguruJV) September 3, 2019