Rally for Rivers: Live Coverage – Day 5
Rally for Rivers: Live Coverage – Day 5
A man with a mission. We hear that phrase but perhaps we haven't fully understood it till we come across someone like Sadhguru.
He began the day early meeting Trichy farmers, then the big event itself. Then, with a brief hour snatched for a visit to the ancient Jambukeshwara temple, he set out for Puducherry.
Thiruvanaikaval - a Pancha Bhoota Sthala for water & reminder that water is an integral part of all life. -Sg #RallyForRivers pic.twitter.com/sdE0cuLn7o

— Sadhguru (@SadhguruJV) September 6, 2017
On the way, he met with the director and staff of NLC India Limited, formerly Neyveli Lignite Corporation Ltd.
On NH 45, @SadhguruJV stops over at Neyveli Lignite Corp, meeting its director and staff. #RallyForRivers pic.twitter.com/xHtOovQiaA

— Isha Foundation (@ishafoundation) September 6, 2017
He interacted with a gathering by the highway at Ulundhurpettai, and then stopped to interact with Vizhupuram Isha Vidhya students, urging them to Rally for Rivers.
Vizhupuram Isha Vidhya students - rearing to #RallyForRivers upon @Sadhgurujv 's call to action. pic.twitter.com/Tskx50iIwK

— Rally For Rivers (@rallyforrivers) September 6, 2017
At Madagadipet, he stopped again for a meeting with local farmer groups, seeking their support and explaining what he was doing with the Rally.
.@SadhguruJV has a meeting with local farmers at Madagadipet, on his way to Puducherry. #RallyForRivers pic.twitter.com/hRYvAtsEeR

— Isha Foundation (@ishafoundation) September 6, 2017
And then he also gave a media interview before entering Puducherry. The young journalist asked him how he managed to be like this at 60. Sadhguru responded that when you're involved and passionate about life, every day is like this.
The pace of the Rally may find us trying to catch our breath, but that's how Sadhguru lives every day.
A phenomenal and touching response all across Tamil Nadu. On to Puducherry. –Sg #PondyForRivers #SadhguruSpot https://t.co/eP6mmez3nZ

— Sadhguru (@SadhguruJV) September 7, 2017
Get weekly updates on the latest blogs via newsletters right in your mailbox.
With a little time at Puducherry, the people of the Rally had a little time to take in the charming town yesterday. A few went through the French Quarter and of course, everyone who ventured out ended up at the beach.
There was a fullish moon above, the waves sloshing on the shore, spraying the rocks, and in the vicinity of the Gandhi Statue where the event will take place, Sounds of Isha were carrying out their sound checks.
It was a most pleasant evening with the possibility of the eat street, the handicrafts bazaar, and of course, the sea breeze. It promises to be a beautiful program.
Chitra from Kanchipuram has travelled about 170 km to be at this event this morning in the beautiful sea-side town of Puducherry.
"I didn't understand the significance of this Rally in the beginning," she says. "But, as I heard Sadhguru explain it, it slowly sank in. And the Nadi Stuti, Bharatam Mahabharatam... It's so rousing and I feel more and more inspired every time I hear it. We have put in a lot of effort in our town to create awareness. I'm so happy to be here and be part of this Rally!"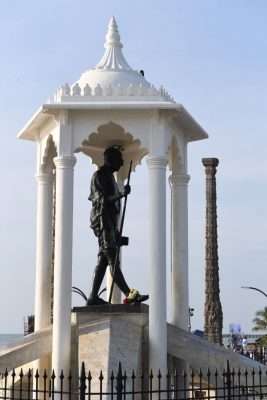 The Mahatma has somehow been a running motif for events on this Rally. We were in the Gandhi Memorial Museum in Madurai, and this event in Puducherry takes place under the approving eye of the Father of this Nation... in the environs of the striking statue on the beach here.
The event kicked off with Sounds of Isha belting out a folkish Tamil number. Sadhguru arrived and took a moment to stand facing the sea and the rapidly rising sun.
Then he welcomed Thiru V Narayanasamy, Chief Minister of Puducherry, to the event. The dignitaries on the dais included, apart from Sadhguru, the Hon CM, ministers Thiru Namassivayam and Thiru M Kandasamy.
The CM recalled his experiences with the holy river Ganga and other rivers, as well as various ambitious projects that could not be executed due to various reasons and difficulties. If all the parties of this nation come together our rivers can be saved and protected, he said, adding, "I pray to the almighty to give strength to Sadhguru that he may complete this project."
Sadhguru said that the leaders and politicians across the board are willing to come together when they hear a call from a fair voice. Of the 16 states, most Chief Ministers almost immediately expressed their willingness to come on board and give their concurrence.
Young Aditya of 5th standard in Aditya Vidhyashram, Puducherry, won the Camlin state level reward for essay writing on rivers by offering his suggestions on how to save the ecology.
"We should adopt local ponds and streams, plant many trees and make each neighborhood green," he says. Hurray for local initiative!
A Demo State
Sadhguru made a few special points with reference to Puducherry
In every event, Sadhguru has been outlining a few points about the policy recommendations that hold good for the entire nation. In Puducherry in particular he made a few special points.
Rally for Rivers is recommending that we plant trees upto one kilometre on either side of major rivers. Of the entire land, about 25% belongs to the government, and about 6-8% is delta land which will not be touched, while the rest belongs to farmers. The state of Puducherry is relatively easy to handle as far as RfR is concerned because it has considerable delta region. The state is small and also, demographically speaking, it is less complicated than some others. Because of this, Sadhguru said to the CM, Thiru Narayanasamy, that Puducherry must become a demo state for the rest of the country to emulate.
Of the total water used in India, about 84% is consumed by agriculturalists. Using new techniques and technologies, the same food can be produced by using less than 10-20% of the water currently used. Europe, particularly France, has developed advanced agro-based technologies to reduce water use. The state of Puducherry already has strong historical and cultural ties with France; Sadhguru suggested that this would be an opportunity to partner with them and develop the state like a test case for the rest of India.