Sadhguru & Dilip Cherian on Women Leaders
As a part of the INSIGHT Q&A series, this post brings you Sadhguru and Dilip Cherian's answer to a question on developing women leaders in the manufacturing sector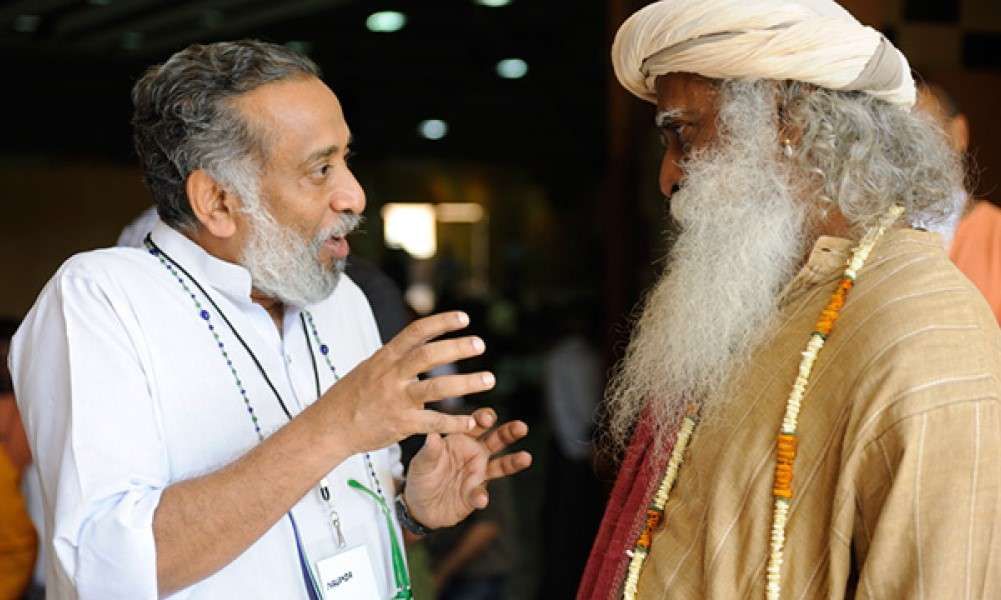 The participants of INSIGHT 2012 came together for an Alumni Meet on 22nd June 2013 at the Isha Yoga Center. The purpose of the meet was to discuss the impact of their learnings on businesses and self, as well as address any roadblocks they encountered while scaling up. With Sadhguru presiding, the resource leaders included Deepak M Satwalekar, Independent Director, Infosys, and former MD & CEO, HDFC Standard Life Insurance; KV Kamath, Chairman, ICICI Bank, who joined via video conference; ad filmmaker Prahlad Kakar; Vellayan Subbiah, MD, Cholamandalam Investment & Finance; Dilip Cherian, Co-founder, Perfect Relations; Jeby Cherian, Managing Partner, IBM Global Business Services, India & South Asia; and Prof. Shailendra Mehta, IIM, Ahmedabad.
As a part of the INSIGHT Q&A series, this post brings you Sadhguru and Dilip Cherian's answer to a question on developing women leaders in the manufacturing sector.
Questioner: I run a company, we are in manufacturing sector. And right now we have about hundred people and thirty percent are women in the factory setup and I wanted to have more women working in manufacturing space and I want to create entrepreneurs and women leaders but the challenge is still very difficult. How do I do that in manufacturing?
Dilip Cherian: Of the five companies I run, three have women CEOs and it's a service company and the advantage we've taken is not of technology and not of any flexibility of any kind but really being able to spot talent, support it and make sure that nothing gets in their way. And when I say nothing gets in the way, the only thing that we have found that the women leaders in our company needed was really the flexibility in terms of the ability to take longer holidays when needed which very often is a burden that still in Indian traditional families falls on the women.
Get weekly updates on the latest blogs via newsletters right in your mailbox.
Aside from that they ask for no quarter, and we found that they rose faster, specifically because in the PR or communications industry, they are very often the people with both the human skills as well as the language skills which are fundamental to our business. So I am not able to answer your question in the specific manufacturing sector but I am sure there are others who will venture to give you some more insight into this.
Sadhguru: I would say women have been more successful in delivering this for a long time. They have delivered much more than any man has delivered. Now I am not only saying this in the lighter sense, I am saying it with a certain genuine respect for that because it is just that we are always thinking today our manufacturing facilities or assembly lines and that kind of stuff but there is a creative part of manufacturing where a woman could play a very strong role. As Dilip pointed out they may need longer breaks because of family and other responsibilities. You need to understand, in terms of manufacturing a human being, nature decided to give much more responsibility to a woman than to a man. So obviously they are good with the manufacturing sector.
There is a certain competence there but it is just that this assembly line type of manufacturing is essentially a very masculine thing and it needs every day attendance. If she attends to it that way she may not be able to fulfill other responsibilities that she has in her life. I would say in the more creative aspects of manufacturing, in terms of design, in terms of development, in terms of marketing, in this she could have a very active role rather than putting her on the factory floor.
I am not saying that's not possible but these other things, other responsibilities that she has may interfere with that aspect of manufacturing.
Editor's Note: INSIGHT: The DNA of Success - A Leadership program with Ratan Tata, Dr. Ram Charan (Top CEO Coach), GV Prasad (Co Chairman & CEO, Dr. Reddy's Laboratories Ltd.) with Sadhguru is going to conducted from Nov 27 - 30, 2014 at the Isha Yoga Center, Coimbatore.
Visit the website www.ishainsight.org, or contact +91 83000 84888, leadership@ishainsight.org for more details.