Mysticism Made Accessible - An Evening with the Mystic Attracts 2100 in Detroit
The Diamond Center of the Rock Financial Showplace Conference and Expo Center in Novi, Detroit, Michigan, was filled with flowers, music and joyful anticipation as volunteers from Michigan and Ohio welcomed more than 2100 people to "An Evening with the Mystic" in continuation of Sadhguru's recent book tour.
An opening video highlighting Isha Foundation Programs and Sadhguru's tireless work towards the inner and outer well-being of all established the tone for the evening - the joy that comes through total involvement with life. When the video ended, co-author Cheryl Simone gave a brief introduction to Sadhguru's recently released Midnights with the Mystic book. Then Sadhguru entered, seated himself, closed his eyes and began to chant, his deep voice resonating through the hall. One woman, on seeing him for the first time commented, "When he walked into the room, I felt like I might cry - not out of sadness…more like joy, a deep joy."
Get weekly updates on the latest blogs via newsletters right in your mailbox.
Offering himself fully to each guest, Sadhguru shifted seamlessly between the mundane and the profound. He was speaking about spirituality, perception and how we can create our lives the way we want them to be. Other times, he was the master storyteller, sharing remembrances of his ecstatic grandmother. And he was ever the jokester, bellowing with laughter after telling us about the lion whose roar of delight after stalking and eating a tasty bull attracted the attention of a nearby hunter who quickly made meat of him, saying, "The moral of the story is: don't open your mouth when you're full of bull!"
Above all, he was Sadhguru, challenging us to understand the difference between what is actually in our experience, and what is in our imagination. He urged the audience not to miss life by imagining things, but to experience the immensity of what it means to be alive…when life is happening to the fullest, everything is revealed.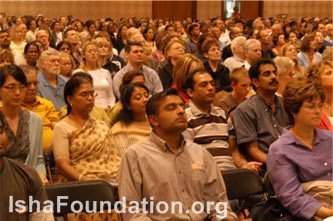 The talk concluded as it began, with the blissful energy of a chant.
Finally, hundreds rushed with their Midnights with the Mystic copies in their hands to stand in the book-signing line for a closer encounter with the Mystic.