Ishas join Anna Hazare's call for change
Anna Hazare's anti-corruption agitation has been causing waves across the nation. On the night of April 8th, Isha volunteers gathered at Jantar Mantar -'the eye of the storm' and in a show of support, marched to India Gate carrying banners with Sadhguru's statement in support of Anna Hazare's endeavour.
If we allow Anna Hazare's demise, it is a clear case of murdering Mahatma Gandhi's legacy of integrity. After all, all that he is asking for is cleanliness in public life, which is something every concerned Indian wants.
– Sadhguru
People of all walks of life gathered every night since Anna Hazare announced his fast against corruption in India. On Friday (April 8, 2011), meditators from New Delhi came together at the epi-center of Anna Hazare's anti-corruption agitation – Jantar Mantar in New Delhi. In a show of support, Isha's volunteers marched from Jantar Mantar to India Gate on Friday night, displaying banners making a call for integrity and honesty in the Government, and in public life.
Get weekly updates on the latest blogs via newsletters right in your mailbox.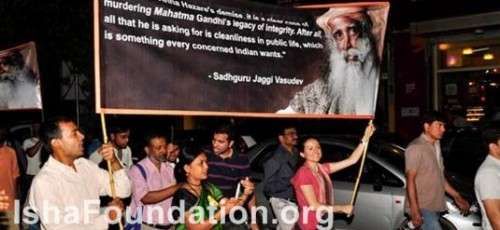 One of our meditators shares…
"When I first reached the place, a huge crowd had already gathered there, holding all kinds of signs supporting Anna Hazare's cause. The next thing I know, I am holding one of Isha's banners, walking on the streets, and shouting with everybody 'hum tumhare saath hein!'
The whole atmosphere was fully loaded. It was so overwhelming to see the people's enthusiasm and passion to make some change, but in a non-violent way. This is a scene which I have not seen in Lebanon – my country, where weapons are considered the only way to get our right, but here, not even one person was throwing a stone cursing, or using an abusive word."
– Hanine Baroud
In small way, this band of Isha meditators contributed to the success of Hazare's determined offensive against corruption which has resulted in the Government conceding his demands on Saturday, April 9.