Isha Institute of Inner-sciences
Destination for Wellbeing
"We have built all kinds of things that we need in our society including hospitals, schools and a variety of facilities for various needs, for our physical, psychological and social needs. But there is no infrastructure for the inner wellbeing of a human being, the essential core of who he is."
Sadhguru
MAHIMA
The central feature of the Institute is Mahima, a 39,000 square-foot free-spanning meditation hall consecrated by Sadhguru to serve a seeking population of millions in the Western world.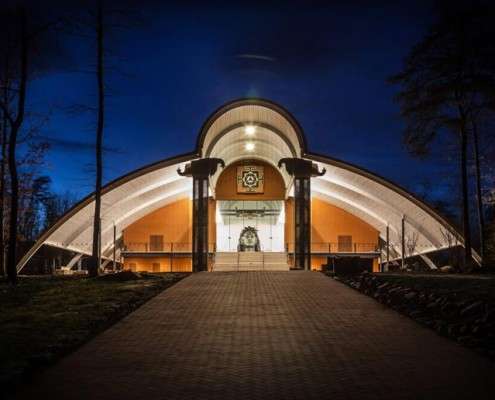 ADI YOGI: Abode of Yoga
Built to serve generations of visitors, this powerful space offers the possibility of deeper knowledge and inner experience of the timeless wisdom of Adi Yogi, the originator of yoga.
NATURAL BEAUTY
The Isha center also offers myriad opportunities for hiking and mountain biking on forested trails winding throughout nearly 1400 acres. The center's five miles of mountain biking trails have been professionally classified from beginner to intermediate skill levels, with steep climbs, water features and tight switchbacks livening up the more challenging routes. The trails are part of an expanding network of over 15 miles of hiking and biking trails featuring beautiful waterfalls, a meandering spring-fed creek and breathtaking bluff overlooks.
RELAXATION AND WELLNESS
Extended retreats feature Ayurvedic rejuvenation consultations and therapies; guided hikes and adventure outings to nearby caves, rivers and falls; and even cooking classes to bring home some favorite vegetarian delights from the Isha center's popular international kitchen.
CELEBRATIONS AND EVENTS
Each year, in tandem with the United Nations' International Day of Peace, Isha Institute of Inner-sciences celebrates both World Peace Day and Isha Fest. World Peace Day is dedicated to empowering peaceful possibilities within ourselves and our world through thought-provoking discussion, creative expression, celebration and meditation. World Peace Day is both a celebration of human potential and an inspiration for every human being to transform his life into a blissful experience. Isha Fest marks the inception of Isha Foundation and commemorates Sadhguru's enlightenment.
ISHA SHOPPE
Isha Shoppe includes Isha's own collection of naturally-made wares. It features Isha Craft, hand-crafted decorative pieces that include paintings, pottery, unique brass and copper metal art, and elegant imported granite carvings. All proceeds from Isha Craft benefit Isha's humanitarian initiatives.
"This space offers one the opportunity to reconnect with oneself and nature. I appreciate having a supportive space to do my yogic practices and be with others who are working hard to offer the possibility of yoga and meditation to others. The atmosphere that is created provides you the chance to really pause and take in what is most important in life. We live such fast paced lives but the Isha Institute gives us the opportunity to see and experience that beneath all the chaos of job, family and work there is a stillness that is available to each of us."
Heather K
"I've visited the Isha Institute of Inner Sciences six times over the last 3 years. It's always a gift to have the opportunity to break away from my day to day routine and visit. Anyone who has the opportunity to be at the Isha Institute of Inner Sciences, even for just a few days, is in for an opportunity to restore him or herself in the beautiful Cumberland plateau and have ample opportunities for meditation and contemplation in a beautiful, natural environment. The scenic location is beautiful year round. There are hiking trails and a waterfall in walking distance from the lodges. The volunteers who staff the center are a delight to be around."
Jen Y
"I learnt Shoonya meditation at the center in August 2014. It was a wonderful experience to spend 5 days in a powerful consecrated space. The yoga center has a great ambience and opportunities for everyone to experience classical yoga. From powerful practices to beautiful hikes, the center has something for everyone. Its a space that is difficult to express in words. It is something one must experience once."
Gaurav Amarpuri
The Institute is open 365 days a year and welcomes visitors from all walks of life.
To arrange your visit, contact info@ishausa.org or call 931 668 1900.
@sadhgurujv

"To live and operate in the world, you may have to identify with something. Play with your identifications - don't let them rule you."
[include:Upcoming_Events_1_0 count="3"]