Rasayana and Injinjeera Leghiam Recipes
Traditional recipes of Rasayana, a Navratri offering, and Injinjeera Leghiam, a Diwali digestive aid.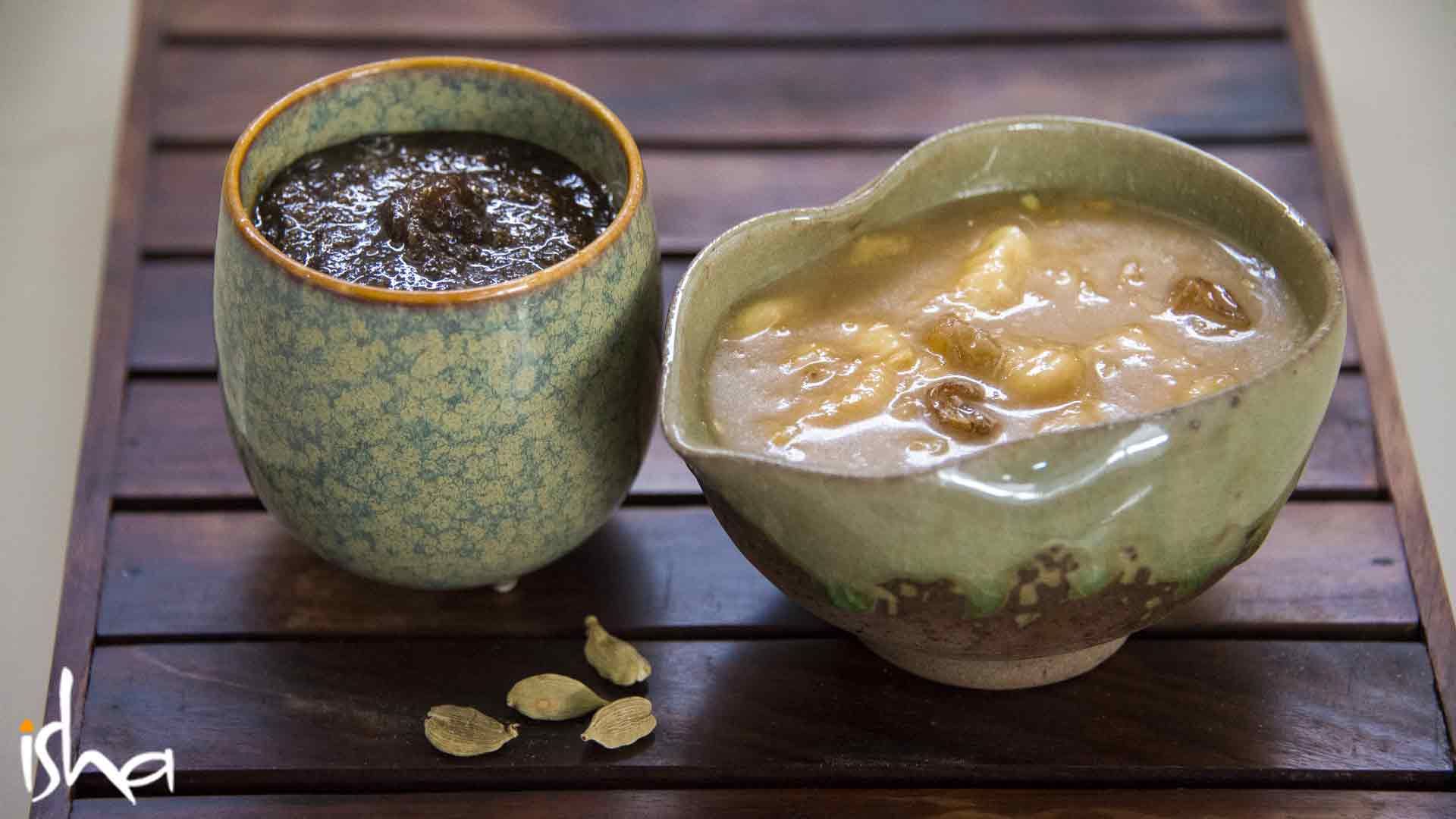 Read in Telugu: రసాయన, ఇంజింజీర లేహ్యం
Rasayana and Injinjeera Leghiam Recipes
Learn to make these traditional recipes for the upcoming festivals of Navratri and Diwali. Rasayana makes a perfect naivedyam (offering) to Devi during Navratri, and Injinjeera Leghiam offers digestive aid following the rich meals of Diwali.
Rasayana
Ingredients:
Bananas (ripe; local variety):7 to 8 medium-sized
Fresh coconut (grated):1 ¼ cups
Cardamom powder: 1 pinch
Jaggery / brown sugar (powdered): 5 tbsp
Ghee (plus a little extra ghee to roast the almonds):1 tsp
Honey:3 tbsp
Almonds:1 tbsp
Raisins:1 tbsp
A few strands of saffron (optional)
Method
Peel the bananas and chop them into ½-inch cubes. Transfer into a bowl. Add the jaggery.
Put the grated coconut, ¼ cup of warm water, and cardamom powder in a mixer, and grind to a smooth paste. Strain in a cheesecloth or a fine sieve and extract the coconut milk in a bowl.
Add coconut extract to the banana and jaggery. Add ghee and honey. Mix well.
Soak the almonds and peel them. Sliver them, and lightly roast them in a little ghee.
Just before serving, garnish with raisins and roasted almond slivers.
Optional: Soak a few saffron strands in milk and crush in a mortar and pestle. Add it to the mixture.
Get weekly updates on the latest blogs via newsletters right in your mailbox.
Note: This is a traditional item from Karnataka. It is an ideal naivedyam/offering to the Devi for Navratri.
Injinjeera Leghiam
Ingredients:
Fresh ginger (peeled, washed, and dried well): ½ cup
Jaggery:½ cup
Cumin (jeera) powder:2 tsp
Coriander seed (dhania) powder: 1 tsp
Ghee: 2 tsp
Honey:½ cup
Method
Pound or grind the ginger thoroughly in a mixer. Add jaggery and spice powders and grind to a paste.
Cook in a kadai or deep pan on medium heat and stir until it becomes a thick paste. After removing it from the heat, add ghee.
When cooled to room temperature, add honey and mix thoroughly.
Note: Injinjeera Leghiam is traditionally prepared for the festival of Diwali. When rich food is on the menu, this leghiam aids digestion and prevents stomach problems.
Editor's Note: Taste of Well-Being, packed with recipes from the Isha Yoga Centre kitchen, is a book that will help you discover the potential that lies within you and the joy you can derive from the simple act of eating. Interwoven throughout the book are Sadhguru's insights into digestion, nourishment, classification of foods and more. Download now.
A version of this article was originally published in Isha Forest Flower. Download as PDF on a "name your price, no minimum" basis or subscribe to the print version.