INNER ENGINEERING LEADERSHIP PROGRAM
5 Days In-Service Program sponsored by the Department of Personnel & Training, Government of India for IAS, IPS & Indian Forest Service officers and other officers under the Central Staffing Scheme.
Next Program Date
17th – 21st January, 2022
Completed Programs
25th – 29th January, 2021
27th – 31st January, 2020
21st – 25th Jan 2019
22nd – 26th Jan 2018
17th – 21st July 2017
23rd – 27th Jan 2017
5th – 9th Dec 2016
4th – 8th Jan 2016
14th – 18th Dec 2015
As underscored by the Hon. Prime Minister Shri Narendra Modi, during his Sep '14 address at the United Nations General Assembly, yoga is an ancient technology with its roots in India. Yoga is deeply ingrained in Indian culture and has always been seen as a powerful enabler for one's ultimate wellbeing.
The Inner Engineering program offers powerful tools derived from the yogic sciences, to achieve one's full potential. It has been specially designed for government officials holding senior leadership positions in the central and state governments, who stand to gain enormously from the timeless wisdom woven with insights on leadership. The program has been devised by Sadhguru and is conducted by highly trained teachers. It not only empowers participants to achieve an inner balance that translates into clarity, creativity, efficiency and harmony at the workplace, but also realize their boundless potential.
Program starts at 8:30 AM on Day 1 (Jan 17th, 2022)
Program Ends at 4 PM on Day 5 (Jan 21st, 2022)
* Please plan your arrival and departure accordingly. Best if you can arrive one day earlier for the program.
* Spouse are welcome to attend the program along with the officers on additional payment. Kindly note, the sessions will be in English & the spouse will need to attend all the sessions as well.
* All safety measures to contain the spread of COVID-19 will be adhered to as per guidelines issued by the Government of India.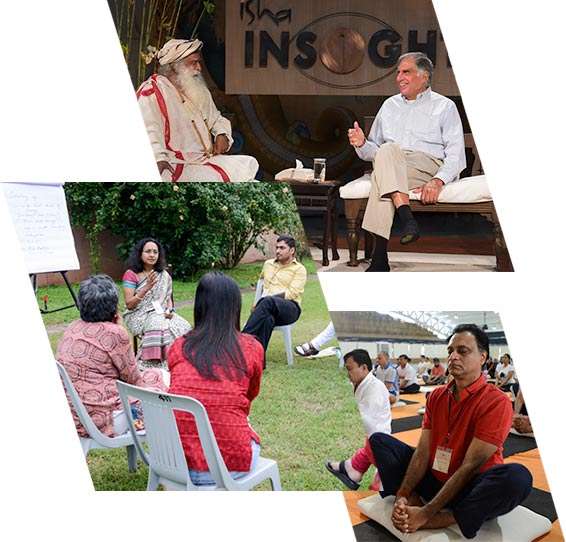 The program employs a variety of methods to address every aspect of wellbeing – body, mind, emotions and energy – to establish a sense of health, joy and vibrancy.
Rejuvenating guided meditations
Energizing asanas and kriyas
Engaging discourses about the nature of the mind and practical wisdom to manage life's situations.
This ancient kriya (inner energy process) is transmitted as a practice to enhance life on all levels. Various research studies on Shambhavi Mahamudra show that it yields immense health benefits. Learn more here.
"Ambition to Vision" is a key component of the program, designed to enable participants to operate beyond the limited lens of ambition, through an all-inclusive vision. It will address significant challenges faced by senior officials in the government sector.
Heightened energy levels throughout the day
Reduced need for sleep
Relief from chronic ailments such as blood pressure, diabetes, allergies, back and neck pain, asthma, headaches, insomnia, obesity, anxiety, poor resistance to cold and flu, fibromyalgia, depression
Increased efficiency, multi-tasking skills, and ability to handle stressful situations
Enhanced focus, clarity, concentration & memory
Develop new perspectives for problem solving and handling complex situations
Improved communication and relationships through an increased understanding of others
Clarity in evaluating personal values and life goals to deliver & direct good governance
Creating inter-departmental synergies to achieve governance objectives
Ability to tap the reservoir of innate intelligence
Transcending prejudices for insightful decision making
Become truly aware of one's responsibility at a profound level
Establish a positive, open approach towards life
Transcend limitations and go beyond fears
Live with a deep sense of inner peace and fulfillment
Achieve a heightened state of consciousness and awareness of body and mind
WATCH
Inner Management by Sadhguru

WATCH
Inner Engineering – Introduction by Sadhguru

Inner Engineering
for Andhra Govt-Glimpses
"All the programs, which the DOPT has been offering through various training institutions, academies and all that, all over the country and across the world, have basically helped us in sharpening our intellect and also getting knowledge inputs. But the most important aspect of our life itself, that is, how we can improve ourselves, so that we can become better human beings and only a better human being can serve the society better. So this aspect has been completely missing in our training programs in the last half a century. Thanks to the present Government of India and the DOPT and Isha Foundation that they could think of bringing this training program, which enhances human value."
Shri. JSV Prasad,
IAS (AP, 1987)
It's been a wonderful experience of five days. I would say experientially – I feel more joy, I feel more centered, I feel more spontaneous and I certainly feel more empowered. It has helped me to touch a core of my being in a very fundamental way. The whole experience of doing a meditative process under the guidance of Sadhguru, the whole Shambhavi kriya and the entire experience here, has really helped me to feel my inner being and I'm feeling more centered."
Smt. Manisha Verma,
IAS (MH, 1993)
This is a program that should be made mandatory for every civil servant. For one thing, it teaches you the true meaning of integrity, of what it means to do your best for everybody, in whichever job you are in. And it also gives you the discipline that you need to be able to touch other people's lives. So it's been a remarkably useful program.
Shri Gurucharan,
IAS (KA,1982)