Yaksha – An Exuberance of Music and Dance
2022 (preceding Mahashivratri) at Isha Yoga Center
India's various art forms which evolved over thousands of years, are not only a reflection of the diverse culture of this land but also a source of spiritual inspiration. They have enriched this nation for generations but are quickly becoming a forgotten dimension of our life. In an endeavor to preserve and promote the uniqueness, purity and diversity of the country's performing arts, Isha Foundation annually hosts Yaksha, a three-day festival of culture, music and dance with performances by renowned artistes. Named after celestial beings in Indian mythology, Yaksha provides a platform for great artistes to perform and connoisseurs to appreciate these ancient arts performed by masters.
2022 Music Performances
Performers for Yaksha 2022 will be announced soon.
Join us for YAKSHA 2022
6:30 pm – 8:30 pm (Please be seated by 6:20 pm)
For More Information, contact:
Ph: 83000 83111 or email: info@mahashivarathri.org
Past Performance
Yaksha, named after celestial beings in Indian mythology, is a spectacular and colorful three-day feast of music and dance hosted annually by Isha Foundation. Celebrated in February/March, Yaksha features some of the greatest artistes in India and attracts thousands of ardent spectators.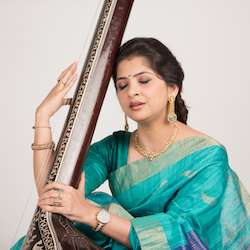 Smt. Kaushiki Chakraborty
Hindustani
Smt. Kaushiki Chakraborty is an Indian classical vocalist. Groomed at Sangeet Research Academy, she is an acclaimed exponent of the Patiala gharana and her repertoire covers Khayals and semi-classical Thumris. She is the recipient of the 2005 BBC Radio 3 Awards for World Music in the Asia-Pacific category.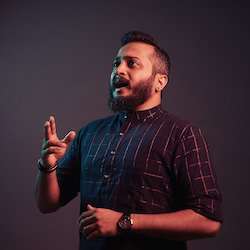 Shri Sandeep Narayan
Carnatic Vocal
Sandeep Narayan is one of the most sought-after vocalists in Carnatic music today. Being the first US-born-and-raised musician to move to India to take up Carnatic music as a full-time career, Sandeep is breaking boundaries and is proud to be a role model for many aspiring musicians. He is the recipient of many awards including the Sangeet Natak Akademi's Ustad Bismillah Khan Yuva Puraskar, and the Kala Ratna and Yuva Purandara Award.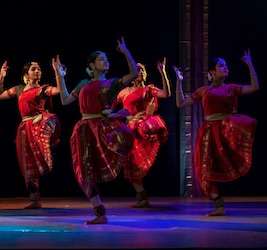 Isha Samskriti
Bharatanatyam
Isha Samskriti was founded by Sadhguru and is envisioned as an offering to children. It provides an ideal environment for children to unfold in harmony within themselves and with the world around them.
A unique blend of Yogic practices, Indian classical arts such as Bharatanatyam, classical music, and martial arts such as Kalaripayattu, bring balance and stability to the child's body and mind. These intricate art forms have been used for thousands of years – not as entertainment or a hobby, but as a spiritual process. Sanskrit – a language unparalleled in its spiritual significance, forms a major part of their learning process. The children also study English and basic Mathematics.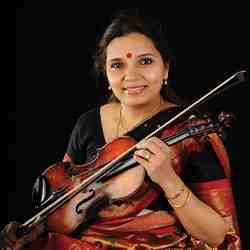 Smt. Kala Ramnath
Hindustani Instrumental- Violin
Smt. Kala Ramnath with her "singing violin" stands among the world's finest, most inspirational instrumentalists. Her playing has been featured on the Grammy-nominated Miles from India project and her compositions have appeared on the Grammy-winning album In 27 Pieces. Born into a dynasty of prodigious musical talent, including such violin legends as her paternal uncle, Prof. T.N. Krishnan and paternal aunt, Dr. N. Rajam, she became a pre-eminent disciple of the legendary vocalist, Pandit Jasraj.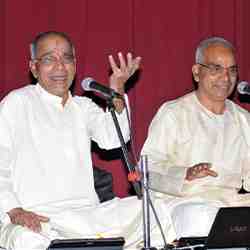 Hyderabad Brothers
Carnatic Vocal
D. Sesha Chary and D. Raghava Chary, popularly known as the Hyderabad Brothers, are top grade vocalists of All India Radio who have been performing Carnatic music for more than 45 years in India and all over the world.
Receiving systematic training from their childhood through their father, Shri D. Rathnama Charyulu, the Hyderabad Brothers have evolved a distinct presentation and their mutually blending voices make a deep impact on the listeners.
Smt. Sharmila Biswas
Odissi Classical Dance
Sharmila Biswas is a disciple of the legendary Guru Kelucharan Mahapatra and is one of the finest exponents of Indian Classical Dance. Known for innovative choreographic work tracing the many facets of the traditional performing arts of Odisha, she blends tradition with modern innovation, which gives her work a contemporary statement. With her senior disciples, Sharmila Biswas presents a number of dances which highlight Orissa's rich cultural heritage.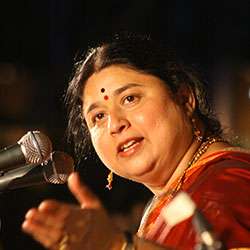 Smt. Kalapini Komkali
Hindustani Vocal
Endowed with a wholly original, melodious and rich voice, Kalapini is widely recognized as one of the finest and well-trained classical vocalists of the younger generation. As daughter and disciple of the legendary Pandit Kumar Gandharva, Kalapini has inherited a capacity for technique and creativity. While strengthening her hold over her inheritance with a fine sense of understanding, she has evolved her own vision and has emerged in the last decade as a vocalist with a profound degree of sensitivity and intensity. Her performances are marked by youthful imagination, artistic thoughtfulness and a mature command over various aspects of classical vocalism.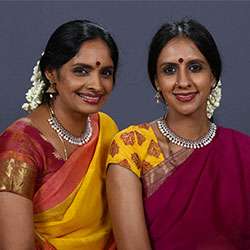 Smt. Ranjani-Gayatri
Carnatic Vocal
In a domain often characterized as elitist, esoteric, and not easily accessible to the masses, this brilliant sister duo of Ranjani and Gayatri has found a way over the years to satisfy and stimulate the cognoscenti and at the same time delight and thrill the lay audience. As top class Carnatic classical musicians, Ranjani and Gayatri are conservators of their genre's unique beauty and preserve ancient tradition as they continue to innovate within it. They have performed in prestigious venues/festivals like The Kennedy Centre in Washington DC, Southbank Centre in London, Ravenna music festival in Italy, Cross Culture Festival in Warsaw, Poland, Bengal Music Festival in Dhaka, Esplanade Theatre in Singapore to name a few.
The final day of Yaksha features a day-long celebration of India's performing arts.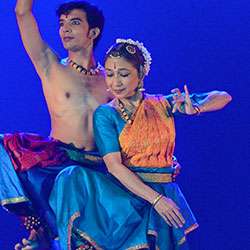 Leela Samson & Spanda Dance Company
Nadi – The River
Leela Samson is a virtuoso performer and a sensitive interpreter of the nuances of the Bharatanatyam dance form. She performs solo and also travels with the Spanda Dance Company for shows in India and abroad. Leela is the recipient of the Sanskriti Award in 1982, the Padma Shri Award in 1990, the Nritya Choodamani Award in 1997, the Sangeet Natak Akademi Award in 2000 and the Natya Kala Acharya Award from the Music Academy, Chennai in 2015.
Performance by Isha Samskriti
Performance by Fakira Kheta Khan and Group (Rajasthan Folk)
The Sari Experience
Participate in a special workshop and runway show demonstrating 108 different styles of draping a sari, conducted by Rta Kapur Chishti, author of Saris: Tradition and Beyond.
Vidushi Bombay Jayashri – Carnatic Vocal
Shri Ganesh and Shri Kumaresh – Carnatic Violin
Padmashri Geeta Chandran – Bharatanatyam
Padma Bhushan TV Sankaranarayanan – Carnatic Vocal
Ustad Sayeeduddin Dagar – Hindustani Vocal
Malladi Brothers – Carnatic Vocal
Rajan Mishra and Sajan Mishra – Hindustani Vocal
Rama Vaidyanathan – Bharatanatyam
Pandit Ajoy Chakrabarty – Hindustani Vocal
Mysore Brothers – Carnatic Violin
Padmashri Meenakshi Chitharanjan – Bharatanatyam
Bijayini Satpathy and Surupa Sen – Odissi