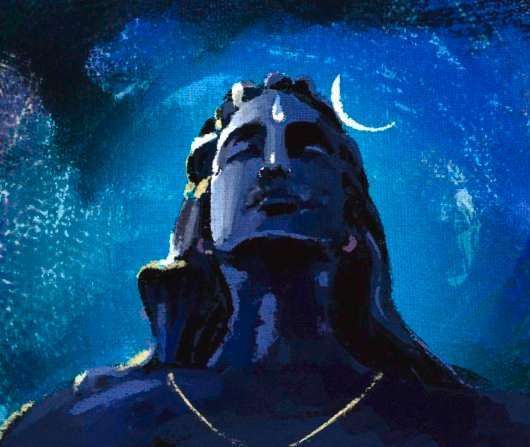 Sadhguru says, "In the yogic tradition, Shiva is worshipped as a guru, not as a god. That which we refer to as Shiva is multi-dimensional. All the qualities that you can ever ascribe to anyone are ascribed to Shiva. When we say Shiva, we are not saying he is this kind of a person or that kind of a person.
"Generally, the moralistic traditions always understand Divinity as good. But if you look at Shiva, you can neither fix him as good or bad. Everything that is in the Existence is a part of him. That is how he is described in the tradition."
The Origin of the 108 Names of Shiva
Sadhguru continues, "He has innumerable forms and manifestations but fundamentally, we can categorize these into seven categories. There is the distant godhead that we call as Ishwara; there is a benevolent personal god that we call as Shambho; there is an uncomplicated hermit or Bho, or an endearingly naïve Sambaleshwara or Bhola; there is a wise teacher of the Vedas whom we call as Dakshinamurthy; the fountainhead of all art forms, we call him Natesha; the fierce, the destroyer of the wicked, we call him Kalabhairava or Mahakala; the dashing seducer of the romantic, we call him Somasundara, which means more beautiful than the moon. These are the seven basic forms out of which millions of manifestations can be derived."
In the yogic tradition, there are 1008 names of Shiva that stem from these seven broad categories. Out of these 1008 names, there are 108 names of Shiva that are widely known:
Aashutosh
Uno que cumple instantáneamente todos los deseos
Akshayaguna
El que tiene cualidades ilimitadas
Anantadrishti
De visión infinita
Augadh
Uno que se deleita todo el tiempo
Avyayaprabhu
Imperecedero
Bhairav
Destructor del miedo
Bhalanetra
Uno que tiene un ojo en la frente
Bhooteshwara
Uno que tiene dominio sobre los elementos
Bhudeva
Señor de la tierra de la tierra
Bhutapala
Protector de los seres incorpóreos 
Chandrapal
Maestro de la luna
Chandraprakash
El que tiene la luna como cresta
Devadideva
El dios de los dioses
Dhanadeepa
La luz de la meditación
Dhyanadeep
Señor de la brillantez
Dhyutidhara
Lord of brilliance
Digambara
El que lleva el cielo como vestimenta
Durjaneeya
Difícil de ser conocido
Gangadhara
Señor del río ganga
Girijapati
Consorte de girija
Gunagrahin
 Aceptador de gunas
Jagadisha
Maestro del Universo
Jaradhishamana
El que libra de las aflicciones 
Jatin
El que tiene el pelo enmarañado
Kailas
El que otorga la paz
Kailashadhipati
Señor de la montaña 
Kailashnath
Maestro de la montaña Kailash
Kamalakshana
 Señor de ojos de loto
Kapalin
Uno que lleva un collar de calaveras
Kochadaiyaan
El señor de las rastas largas 
Kundalin
Uno que lleva aretes
Lalataksha
Uno que tiene un ojo en la frente
Lingadhyaksha
Señor de los lingas
Lokankara
Creador de los tres mundos
Lokapal
Uno que cuida del mundo
Mahabuddhi
Inteligencia extrema
Mahakala
 El señor del tiempo
Mahamaya
De grandes ilusiones
Mahamrityunjaya
Gran vencedor de la muerte
Mahashaktimaya
Uno que tiene energías ilimitadas
Mahayogi
El más grande de los yoguis 
Maheshwara
Señor de los dioses
Nagabhushana
El que tiene serpientes como adornos
Nataraja
El rey del arte de la danza
Nilakantha
 El de la garganta azul
Nityasundara
Siempre hermoso
Nrityapriya
Amante de la Danza
Palanhaar
Uno que protege a todos
Parameshwara
Primero entre todos los dioses 
Paramjyoti
El esplendor más grande
Pashupati
Señor de todos los seres vivos
Pinakin
Uno que tiene un arco en su mano
Pranava
Originador del sonido primordial de AUM
Priyabhakta
Favorito de los devotos
Priyadarshana
De visión amorosa visión
Pushkara
Uno que da alimento
Pushpalochana
Uno que tiene ojos como flores
Ravilochana
Teniendo al Sol como ojo 
Sadashiva
El que ha trascendido
Sarvacharya
El maestro supremo
Sarvashiva
El señor eterno
Sarvatapana
El preceptor de todo
Sarveshwara
Señor de todo
Shankara
 Señor de todos los dioses
Shantah
Preceptor de Skanda
Shreshhtha
Señor de la Luna
Shrutiprakasha
El que tiene un tridente
Skandaguru
iluminador de los vedas
Someshwara
El que tiene un cuerpo puro
Sukhada
El dador de alegría
Swayambhu
Autocreado o creado por sí mismo
Tejaswani
 Uno que difunde la iluminación
Trilochana
Señor de tres ojos
Trilokpati
Maestro de los tres mundos
Tripurari
Destructor del "Tripur" (los 3 planetas creados por los Asuras)
Trishoolin
Uno que tiene un tridente en sus manos
Vachaspati
Señor de la Oratoria 
Vajrahasta
Uno que tiene un rayo en sus manos
Varada
Otorgador de beneficios
Vedakarta
Originador de los Vedas
Veerabhadra
Señor supremo del mundo de las tinieblas
Vishalaksha
Señor de los ojos rasgados
Vishveshwara
Señor del Universo
Vishwanath
Maestro del Universo
Vrishavahana
Uno que tiene un toro como vehículo

Los nombres de Shiva representan diferentes dimensiones de quien él es. ¡Aquí hay una lista de 108 nombres de Shiva y la explicación de Sadhguru sobre por qué Shiva parece tener tantos nombres!