TRIVENI
Durga • Lakshmi • Saraswati
Navratri Offerings to Devi
From Sadhguru and Sounds of Isha
Triveni or "three rivers" celebrates the three predominant aspects of the Devi – Durga, Lakshmi and Saraswati. During Navratri, a festival dedicated to the Divine feminine, Devi manifests in her many forms. The first three days represent the quality of tamas, where the Goddess is fierce like Durga. The second three days are rajas, for the materially-oriented Lakshmi. And the last three days are sattva in nature, dedicated to Saraswati, the Goddess of knowledge and transcendence. On the tenth day, Navratri culminates into Vijayadashami, a day of victory over darkness.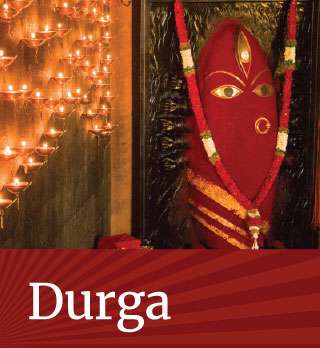 Chanted by Sadhguru, this verse extols the many qualities of Linga Bhairavi. She is the consort of Shiva, the embodiment of Yoga, and the one who is blissful, fierce and compassionate.
2) Chandiran Oliyil Avalai Kanden
Chandiran Oliyil Avalai Kanden is an outpouring of devotion to the Devi by the great Tamil poet, writer and activist Subramania Bharati. "She removed pain and suffering, and created starlight and joy in our hearts."
<•• VIEW LYRICS ••>
Chandiran oliyil avalai kanden
Sharanam endru pugunthu konden
Indiriyangalai vendru vitten
Enadhenrasaiyai (enadhu endra acaiyai) kondru vitten
Payan ennamal uzhaikka sonnal
Thuyarilladhenai seidhu vittal
Thunbam enbathai koydhu vittal
Meengal seiyyum oliyai seiydhal
Veesi nirkum valiyai seiydhal
Vanganulla veliyai seiydhal
Vaazhi nenjir kaliyai seiydhal
Bhairavi Shatakam is adapted from the writings of Adi Shankara, one of the greatest philosophers of India. The beautiful verses describe the infinite qualities of the Devi. In her ferocious form, Devi slays demons and wears a garland of skulls. In other forms, she bestows blessings in this life and beyond.
<•• VIEW LYRICS ••>
Bhairavi shambhavi chandramaulirabala aparna uma parvati
Kali haimavati shiva trinayani katyayani bhairavi
Savitri navayauvana shubhakari samrajya lakshmi prada
Chidrupi paradevata bhagavati shri Linga Bhairavi
Bhairavi mohini devata tribhuvani anandasandayini
Vani pallava pani venu murali ganapriya lolini
Kalyani uduraja bimbavadana dhumrakshasamharini
Chidrupi paradevata bhagavati shri Linga Bhairavi
Bhairavi raudrini bhadrakali bagala jvalamukhi vaishnavi
Brahmani tripurantaki suranuta dedipyamanojvala
Chamunda shrita raksha poshajanani dakshyani vallavi
Chidrupi paradevata bhagavati shri Linga Bhairavi
Bhairavi shooladhanu kashangkushadhari ardhendubimbadhari
Varahi madhukaitabha prashamani vani ramasevita
Malladhyasura muka daityamathani maheshwari chambika
Chidrupi paradevata bhagavati shri Linga Bhairavi
Bhairavi srista vinasha palanakari arya visamshobhita
Gayatri pranavakshara-amrtarasah purnanusandhi krta
Aumkari vinatasutarchitapada uttanda daityapaha
Chidrupi paradevata bhagavati shri Linga Bhairavi
Bhairavi shashvata agamadivinuta arya mahadevata
Ya brahmadi pipilikantajanani ya vai jaganmohini
Ya pancha pranavadirephajanani ya chitkala malini
Chidrupi paradevata bhagavati shri Linga Bhairavi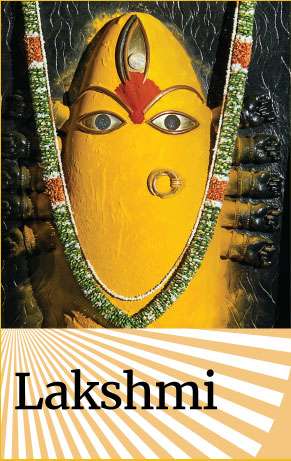 Bhairavi Vandana appeals to Linga Bhairavi for protection and liberation, as she is the one who nourishes and is endowed with all powers.
<•• VIEW LYRICS ••>
Shiva duti svarupena hata daitya mahabale
Ghora rupe maha rave Bhairavi namostute
Lakshmi lajje maha vidye shraddhe pushti svadhe dhruve
Maha ratri maha vidye Bhairavi namostute
Medhe vidya vare bhuti babhravi maha kali
Niyate tvam prasi deshe Bhairavi namostute
Sarva svarupe sarva shakti samanvite
Bhaye bhya strahi no Bhairavi namostute
Etat e mukham saumyam nayana traya bhushitam
Patu nah bhiti bhyah Bhairavi namostute
5) Devi Dasa Shloka Stuti
Devi Dasa Shloka Stuti was penned by Kalidasa, one of the greatest Sanskrit poets of India. In his characteristically beautiful poetry, he offers his obeisance to Devi and expresses his longing to be at her feet.
<•• VIEW LYRICS ••>
Cheti bhavan nikhila kheti kadambavana vatishu naka patali
Kotira charutara koti mani kirana koti karanjita pada
Patira gandhi kucha shati kavitva paripatim agadhipa suta
Ghoti khuri adadhika dhatim udara mukha viti rasena tanutam
Dvaipayana prabhriti shapayudha tridava sopana dhuli charana
Papapapa rasva manu japanulina jana tapapanoda nipuna
nipalaya surabhi dhupalaka duritakupad udamchayatu mam
rupadhika shikhari bhupala vamsha manidipayita bhagavati
Yalibhir apta tanurali lasat kriya kapalishu khelati bhava
Chuli nakulyasita chuli bhara charana dhuli lasan munigana
Yali bhrita shravasi tali dalam vahati yalika shobhi tilaka
Sali karotu mama kali manah svapada nalika sevana vidhau
Balamritamshu nibha phala manag aruna chela nitamba phalake
Kolahala kshapita kalamarakushala kilala shoshana ravi
Sthula kuche jalada nila kache kalita lila kadamba vipine
Shulayudha pranata shaila vidhatu hridi shailadhi raja tanaya
Kambavativa sa vidamba ganena nava tumbaga vina savidha
Bimbadhara vinata shambayudhadi nikurumba kadamba vipine
Amba kuranga mada jambala rochiriha lambalaka dishatu me
Shambahuleya shashi bimba abhirama mukhi sambadhita stana bhara
Pamkakare vapushi kamkala rakta pushi kamkadi pakshi vishaye
Tvam kamanam ayasi kim karanam hridaya pamkari me hi girijam
Shanka shila nishita tankayamana pada samkasamana sumano
Jhamkari bhringa tatim ankanupeta shashi samkasha vaktra kamalam
Dasayamana sumahasa kadambavana vasa kusumbha sumano
Vasa vipanchi krita rasa vidhuya madhu masaravinda madhura
Kasara suna tati bhasa abhirama tanur asara shita karuna
Nasa mani pravara bhasa shiva timiramasadayed uparatim
Jambhari kumbhi prithu kumbhapahasi kucha sambhavya hara ratika
Rambha karimdra kara dambhapahoru gati dimbha anuranjita pada
Shambha udara parirambhankurat pulaka dambhanuraga pishuna
Gham bhasura abharana gumpha sada dishatu shumbhasura praharana
Dakshayani danuja shiksha vidhau vitata diksha manohara guna
Bhikshalino natana viksha vinoda mukha dakshadhvara praharana
Viksham vidhehi mayi daksha svakiya jana paksha vipaksha vimukhi
Yakshesha sevita nirakshepa shakti jaya lakshmyavadhana kalana
6) Thunbam Illadha Nilaiye Shakti
Thunbam Illadha Nilaiye Shakti – Shakti is the personification of creative energy and is attributed to the Feminine. In this poem by Subramania Bharati, Shakti is praised as "the lap where life flourishes."
<•• VIEW LYRICS ••>
Thunbam illadha nilaye shakti
thookkam illa kan vizhipe shakti
anbu kanindha kanive shakti
aanmai niraindha niraive shakti
Inbam mudhirndha mudhirve shakti
ennthil nirkum neriye shakti
munbu nirkindra thozhile shakti
mukthi nilaiyin mudive shakti
Sombar kedukkum thunive shakti
sollil vilangum chudare shakti
thimpazham thannil suvaiye shakti
dheivathai ennum ninaive shakti
sambalai poosi malaimisai vazhum
Vaazhvu perukkum madhiye shakti
manilam kakkum valiye shakti
thazhvu thadukkum sathire shakti
sanchalam neekkum thavame Shakti
Veezhvu thadukkum virale shakti
vinnai alakkum virive shakti
uzhvinai neekkum uyarve shakti
ullatholirum vilakke shakti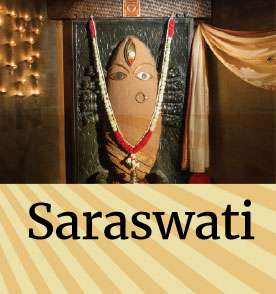 7) Prata Stuve Para Shivam Bhairavi
Prata Stuve Para Shivam Bhairavi praises Devi as the Goddess of words and language. This chant was written by Adi Shankara.
<•• VIEW LYRICS ••>
Prata stuve parashivam bhairavi bhavani
Traiyanta vedhya vibhavam karunana vadhyam
Vishwasya srishti vilaya sthiti hetu bhutam
Vidyeshwarim nigama vanga manasati duram
Pratar vadami bhairavi tava punya nama
Kameswariti, kamaleti maheswariti
Sri shambhaviti jagatam janani pareti
Vag devatetivachasa tripureshwariti
Jaago Bhairavi is an invocation of Linga Bhairavi. The devotee longs for Devi to awaken in her heart, to be taken across the ocean of life, and to surrender at Devi's feet.
<•• VIEW LYRICS ••>
Jaago Bhairavi, aaj antahkarana mein
Hiya mein sada raaj, jeevan maran mein
Karunamayi maat chhodo nahi haath
Rehe tu sada saath, nishi jaagaran mein
Bhava jaladhi ati ghor, maaya pavan jhor
Tu hi taruni ek, bhava santaran mein.
Hai naav manjhadhaar, ab to karo paar,
Hum tum kushal kaun, patit pavan hai
Mein deen agyaat, teri kusantaan,
Tujh ko janani jaan, aaya sharan mein,
Na bhakti na gyaan, kaise karu dhyaan,
Dena mujh ko sthaan, kripaya charan mein
Devi is extolled as the one who destroys the sorrow of those who surrender to her, who cures the darkness created by ignorance and who grants purity to our wisdom.
<•• VIEW LYRICS ••>
Namostute Saraswati trishula chakra dharini
Sitambaravruhe shubhe mrugendra peetha samsthite
Twameva vishwa dharini twameva vishwa karini
Twameva sarva karini namostute Saraswati
Suvarna bandhuradhare sudhalari siroruhe
Suvarna padma bhushite namostute maheshwari
Swa bhakta vatsale anaghe sadabha vargha bhogadhe
Daridra dukha harini triloka shankareshwari
Prapanna bhiti nashike prasanna malya kandhare
Dhiya stamo nivarike vishuddha bhuddhi karike
Namostute Bhairavi namostute Bhairavi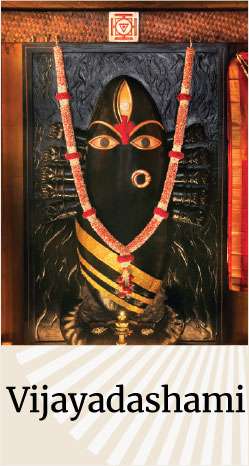 Chanted by Sadhguru, this powerful verse commemorates a sacred beginning and a new path into the world of knowledge and arts. An appeal to the Goddess Saraswati, it is often chanted on Vijayadashami, the day of victory over ignorance. At Linga Bhairavi, Vidyarambham is one of several rituals offered daily to assist a child's growth and wellbeing.
More Albums By Sounds of Isha