A Tryst with Devotion – Running 100kms for Isha Vidhya
Volunteer Priya Vaidyanathan runs 100 km in the Nilgiris to raise funds for Isha Vidhya. Read about her amazing experience!
Priya Vaidyanathan has been a longstanding volunteer at Isha Vidhya. She is a runner who combines that passion with her desire to contribute to the education of underprivileged children. She has been raising funds for Isha Vidhya while running in marathons across the world, even trekking to Everest Base Camp. Recently she ran the 100 km-long Ultramarathon in the Nilgiris and in the process raised $3,000. Here is the Ultramarathon experience, in her own words.
David McCullough Jr. famously said, "Climb the mountain so you can see the world, not so the world can see you." How was I to know I would learn that very lesson by running and walking a 100 km stretch of the Nilgiri Mountains in South India?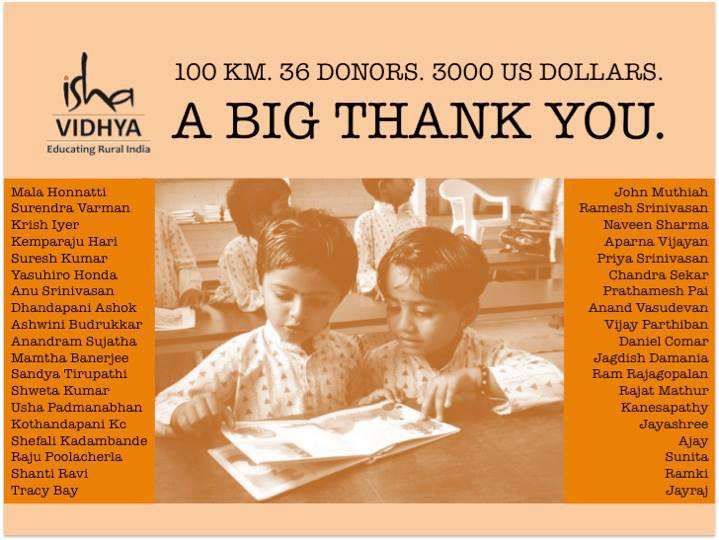 Like all of my previous endeavors, this time too, I set up a fundraiser for educating children at Isha Vidhya. More than 30 friends contributed over $3,000 to the fund, making it nearly impossible for me to even think about failing.
Six months of intense physical training included waking up at 4 a.m., running back-to-back long distances, speed runs, hills, tempo runs, whole body strength and logging close to 250 km every month from August onwards.
Finally, in December, the moment was upon us. I had a picture of the course imprinted in my head. From the starting point at Lovedale, Ooty, it was going to be 28 km mostly downhill followed by a 22 km steep uphill gradient with hairpin bends all the way to the Upper Bhavani Reservoir at 50 km, and then it was the same course backwards to the 100 km finish mark.
Get weekly updates on the latest blogs via newsletters right in your mailbox.
The race started sharp at midnight on the 22nd of December. Including me, four women were running the 100 km. I stuck to my race plan from the start, keeping slightly behind all of them. My first adventure of the race came up soon enough. My flashlight spotted a pair of golden eyes. I crossed it, and then realized that it was a huge bison. Thankfully, it did not charge at me, probably amused at all these runners in the middle of the night.
I was running solo, enjoying the cool breeze of the hills under the moonlight and star-studded sky. As I continued my run through tea gardens, I heard the notes of the morning suprabhatham from a nearby temple. I was in a trance.
At around 6.00 a.m., I suddenly realized that I was alone in a trail inside a forest. At the 48.3 km mark, I heard a growl. I looked up to see a leopard staring at me from a tree almost 30 meters in front of me. My first thought was: "You're going to be his breakfast, say your last prayers quickly." The cat did not budge and after a minute of standing still, I gently walked backwards for almost 400 meters. I advanced again. Probably because of the sounds, the leopard had disappeared when I came to the tree. I reached the 50 km mark completely shaken!
At the 70 km mark, the intense heat, an uphill gradient and hairpin bends were a killer combination. In spite of regular hydration, proper nutrition en route and a pacing schedule, my body was breaking up and my legs were getting harder and stiffer. It became a complete mind game here. One step at a time, one child to Isha Vidhya at a time, I told myself.
At the 85 km mark, I started sitting on the sidewalks due to heavy legs. The struggle was intense, but I was hanging in there. 13 km to the finish, a friend hopped out of her car and decided to walk and run with me. Reaching the 100 km felt impossible to accomplish. After a while, my body seemed to give up but I remembered the Isha Kriya meditation: "I am not the body, I am not even the mind."
It was taking considerable mental strength to just put one foot in front of the other and keep moving. The traffic told me that I was in the Lovedale city limits and closer to the finish point. Around the corner, I saw some runners from Ahmedabad waiting to run the last lap with me. They egged me on, screaming encouragement, and I felt like a winner returning home to victory drums.
And then, just like that, I crossed the finish line. I fell to the ground and did my namaskarams, tears of joy flowing down my cheeks. I had finished the journey in 19 hours and 20 minutes. Someone brought me an Isha Vidhya poster and I hugged it close. Sadhguru says, "Devotion simply means, your involvement with life is so absolute that even you don't matter anymore. Your involvement with what you have taken up is so absolute that who you are does not matter. Then you are a devotee."
Editor's Note: Isha Vidhya supporters run in various city marathons to raise funds. If you are interested in running for Isha Vidhya or to raise funds, please drop a mail to prabhu.loganathan@ishavidhya.org (India) or peggy.wolff@ishavidhya.org (outside India).