The Making of a Hata Yogi: Returning for More
The Isha Hata Yoga School recently conducted an upgrade session for its Hata Yoga teachers, who took the time after the program to share their experience of the session.
The Isha Hata Yoga School recently conducted an upgrade session for its Hata Yoga teachers, who took the time after the program to share their experience of the session.
The Isha Hata Yoga School recently graduated its second batch of Hata Yoga teachers in December 2013. But with Isha Hata, it's never goodbye for good. The school offers upgrade sessions every six months in India, the United States and Europe. Upgrade sessions include fine-tuning of the teachers' practices, new practices, and more modules that they can integrate into their program repertoire. A recent upgrade session at the Isha Yoga Center on February 1st and 2nd, brought 37 participants from both batches of the program. Many of the participants also combined the session with a longer stay that included Samyama, Yaksha and Mahashivratri.
The session was also a chance for the teachers to get together and exchange teaching experiences and new ideas to take Hata Yoga to more people. A few of the participants took the time to look back on their experience of being Hata Yoga teachers, and share it with us.
Jordan Funk, who teaches in San Francisco, California, completed the program in December 2012. Back after a year for the teacher upgrade session, Jordan reflects on what it feels like to step back into a consecrated space and soak in the energy. "I have to say it's fantastic to be back in this space after almost a year's time. We had a three-day program where we learnt a few additional practices that we can now offer, and also had the opportunity to correct our own practices. Each day, we'd start the day by going through the sadhana. All the things that we're teaching, we took the time to practice and correct them. Even having practiced now for a year's plus time, there's still so much you can learn just by looking at the practice in greater depth. It's been nice to be back in the Adiyogi Alayam to do the practices. All the practices seem to happen that much better. It feels like you're always learning when you're in this space.
We also met the new teachers from the second batch, sharing stories and supporting each other by understanding what's been working for some people, who they've been teaching, how they've been teaching, and what the response has been. One thing is for sure, everyone's very excited to be out there teaching and the response has been incredible. It seems like each teacher, no matter where they are, is as busy as they can possibly be and they're trying to figure out how to give more classes and support all of their students.
Get weekly updates on the latest blogs via newsletters right in your mailbox.
So, I'm very grateful that the Hata Yoga School takes the time out two times a year minimum, to help us, as teachers, continue to grow and push ourselves to be better hata yogis, and also to make sure that we have new things to offer our students. It's a great union that's happening here between the teachers and the school itself.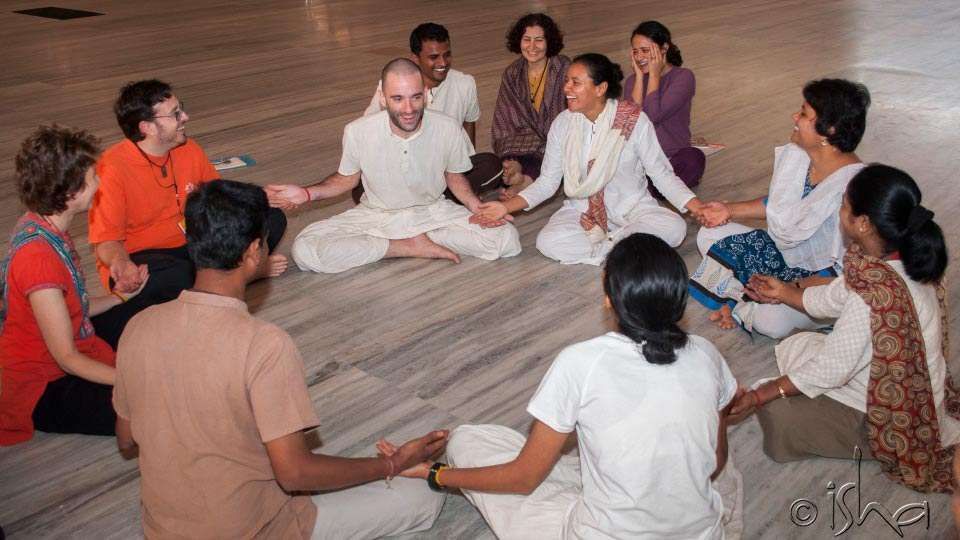 Christopher Jones also graduated from the first batch in 2012. A clinical director of a treatment program, he decided to take up the Hata Yoga teacher training because Isha Yoga broke his stereotype of what yoga was.
Christopher says, "When I used to hear the word 'yoga,' I would think of people in yoga pants, doing exercises at the gym, or something that Jane Fonda might have something to do with. But after Isha Yoga, I found that it is so much more than just exercise. Definitely the health benefits are there and I have experienced many of them, but looking at the dimensions of yoga in its classical forms that we are able to learn here in the Isha Hata Yoga teacher training program, frankly I wouldn't know where else to go to get that true depth and refinement that we have in the classical modes."
Christopher is aware of the difference Isha Hata Yoga makes from the teacher's side. "One of the things that I have noticed in the Isha Hata Yoga teacher training program is that it's not just a one shot, 'Here is the certificate, go out and do something. We are done with you.' Very much the converse, it's the supportive structure such that after the five-month initial training, there is immense support around it as well. The trainers are available whether by phone or e-mail. But not just that, they've actually scheduled and organized in such a way that we are invited and have the opportunity to come back and really reconnect with not just the training, but also our personal process and spiritual practices. It's really not just about being a better teacher, it's also about the process that exists here for helping to become a yogi in the truest sense of the word."
Editor's Note: The Isha Hata Yoga Teacher Training Program is an unparalleled opportunity to acquire a profound understanding of the yogic system and the proficiency to teach Hata Yoga. The next program will be conducted from 12th July to 6th December, 2014. For more information, visit www.ishahatayoga.com or mail info@ishahatayoga.com.