The Making of a Hata Yogi: Coming Back for More
In Week Twenty of our series "The Making of a Hata Yogi," we see participants from the previous batch come back to volunteer.
Week 20: The Isha Hata Yoga Teacher Training Program is an endeavor to bring back classical yoga in its purest form and to train teachers who can impart this phenomenally powerful science. In this series, we have been following the participants through their exciting 21-week journey.
At Week Twenty, we see participants from the previous batch come back to volunteer for the program.
The 21 weeks allotted to the Hata Yoga Teacher Training Program appear to have zipped by rapidly – in less than a week, the program will wind to a close. Earlier, when Sadhguru was asked what his vision was for the teachers who had completed this program, he had said, "We twisted them, turned them, tortured them… everything that you could do in 21 weeks. They are not picture-perfect Hata Yogis yet, but they have got the fundamentals. If they keep on the path, they will get there. We want to train thousands of teachers across the planet to teach yoga as it should be taught, in its classical form because this is not an exercise or about 'twist-and-turn,' this is a way of realigning your system.
I don't believe that in 21 weeks you can get everybody right up there. But 21 weeks is a substantial amount of time. I'm sure that as they practice and it starts yielding many things for them, they will come back for more. They can teach for 3-5 years and when they have made enough money – because these are professional teachers – they can come back, take a year off in the ashram just doing sadhana. That's what I'm expecting from them."
What Sadhguru imagined has already come to pass in a small way. The team of teachers and volunteers for the Hata Yoga School were heartened by the support of the participants of the last batch over the past few weeks – participants of the first batch of the program, who have come back to Isha Yoga Center to help others imbibe the wonderful precision of Hata Yoga. We bring you a few brief profiles of these Hata Yogis.
Rebekah
Hailing from Colorado, USA, Rebekah was a program assistant in a non-profit organization specializing in environmental facilitation and mediation. She and her husband used to operate a yoga studio in Montana. She left her job to take up the Hata Yoga Teacher Training Program and has been teaching Hata Yoga since she completed the program. She shares: "Last year, I just immersed myself in all the training had to offer and by the end, my heart and entire being were bursting with a kind of vibrancy I'd never experienced. After going home from the training, I had no plan about how I was going to start teaching or share what I had learned over the last 5½ months. The word about Surya Kriya, however, got out and there was quite a demand for Surya Kriya programs. It was truly amazing to see the transformation in the participants from the beginning of the program to the end."
"Now after a year has gone by, I am fortunate to have the opportunity to be back at the ashram with my two children. I am here to support my husband as he finishes the training and to volunteer my time in helping with whatever is needed for the program. It has been so wonderful to be back and experience this program from a different perspective. Being on the "other side" as a volunteer has given me an even deeper appreciation of everything that goes into making the training happen. The trainees are so inspiring as well! As small as my contribution may be, I am so grateful to be here and be a part of this phenomenal effort."
Melanie
Get weekly updates on the latest blogs via newsletters right in your mailbox.
Belonging to California, USA, Melanie was a student of international relations. Since she completed the program last year, she has returned to the San Francisco area where she is actively teaching Hata Yoga. About coming back to the ashram, she says, "Coming back to the Isha Yoga Center after one year was an exciting and moving prospect. Having just been out of my country for half a year, I once again dropped everything to return here. It was strange arriving in Coimbatore… getting close to the ashram, a sense of giddy excitement took over but the second the cab came to a stop and my feet hit the ground, an overwhelming sense of stillness came. The calmness enveloped me… it was the strongest sense of coming to ease."
"Volunteering for the final month of this year's program, I am still blown away by the way the teachers and volunteers give themselves. The level of commitment and sincerity that they demonstrate is what sets this program and this place apart. It is surreal to be on the other side of the training, not receiving corrections but offering them. It is incredibly rewarding to be able to offer a practitioner a correction in their asana, which immediately changes their practice and their experience in it. Many are going at it with such integrity and attention, I know they will make great teachers and I hope I have the opportunity to teach alongside them."
Ramya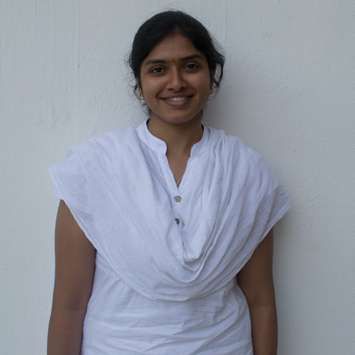 Ramya, who comes from Guntur, Andhra Pradesh in India, used to work in Hyderabad in the Information Technology sector. She says, "By the time I finished the Program last year, my body was more flexible, but when I came back to volunteer, my mind became flexible as well! When I go into the hall as a volunteer, one thing it has brought into me is doing what is needed for the situation. Just to keep yourself aside and doing what is required for the situation. I thank Sadhguru for giving me this opportunity to volunteer in the Hata Yoga School. I know it requires a certain level of integrity and a certain level of discipline to handle this kind of responsibility which is being given to me… this is very big for me."
Jay
Jay, who is from Malaysia, is a major in Actuarial Science and worked in the Actuarial Department in an insurance firm for almost seven years. He shares: "Coming back to volunteer for the program that we did last year was an eye opener. It gives a different perspective of how the Program is... so many details, so much planning being done, aspects we did not know when we were participants. It requires a different kind of intensity and focus. Also, I realize how supportive the space here is for one's sadhana and growth – it is so effortless to do our practices daily even when we were swamped with other activities. I am excited to see so many teachers being part of this amazing journey. I hope they will hold this above their lives, with utmost integrity and responsibility. For me, it is great to be able to do classes in my country. For the past year, it has been amazing to see how Hata Yoga can touch and transform so many lives – to be part of this is such a blessing and a truly rewarding experience for me."
For this year's participants, these "seniors" have been a source of "immense inspiration." Caroline says, "Seeing these people, who are now certified yoga teachers, come to volunteer during our training… seeing them so available, helpful and supportive has been tremendous. They are not "simple" yoga teachers, they seem to be real yogis! They have taken time off from wherever they live to help us for these last couple of months… they are so confident, so qualified after their training, it has given me confidence too! They shared what it was like for them – the learning, the intensity, the quality of the training… I can relate so well!"
Vasundhara says, "When I see last year's participants come to the program, I look up to them in many ways, how they support us in so many ways to make sure that our experience is even more beautiful, how they dedicate themselves... they have an experience of the world that we are yet to face. Following their example, I am sure I will be coming back as a volunteer for the next batch of Hata Yogis to try to make their experience as big and beautiful as possible."
The Making of a Hata Yogi is a 21 part series...
Editor's Note:
The Isha Hata Yoga Teacher Training Program is an unparalleled opportunity to acquire a profound understanding of the yogic system and the proficiency to teach Hata Yoga. The next program will be conducted from 12
th
July to 6
th
December, 2014. For more information, visit
www.ishahatayoga.com
or mail
info@ishahatayoga.com
.