Over 10,000 Participants Attend Guruvin Madiyil With Sadhguru
On January 18th and 19th, 10,092 participants attended the 2-day Tamil program, "Guruvin Madiyil," or, "In the Lap of the Master," with Sadhguru at the Isha Yoga Center.
January 18th and 19th were very busy days at the Isha Yoga Center, which was abuzz with the energy of devotees and meditators throughout the week. January 15th marked the first Pournami of Uttarayana and the initiation of close to 4,000 participants into the Shivanga sadhana for men. January 17th was Thaipusam, and 6142 women were at Linga Bhairavi to give their offerings and complete their 21-day Shivanga sadhana for women.
The 18th and 19th of January complemented the activity of the week as 10,092 people attended the 2-day Tamil program, "Guruvin Madiyil," or, "In the Lap of the Master," with Sadhguru. Like the English version of the program, "Guruvin Madiyil" took place in the Adiyogi Alayam and included group meditations, discourses by Sadhguru and a wide variety of cultural displays, from the daring Kalaripayattu performances by Isha Samskriti to the vibrant and upbeat songs of Sounds of Isha.
Discourses and Q&As – Day 1
As the event began on the morning of the 18th, Sadhguru explained the very purpose of such a program and covered how it is important for a spiritual seeker to grow in the lap of Grace. He also discussed the importance of sound, in particular the sounds we utter through speech. He elaborated that these sounds could have a powerful impact, both on our surroundings, and especially upon our own systems. He explained that maintaining Vak Shuddhi, i.e., uttering the right sounds, can create the right atmosphere within for the spiritual possibility to blossom.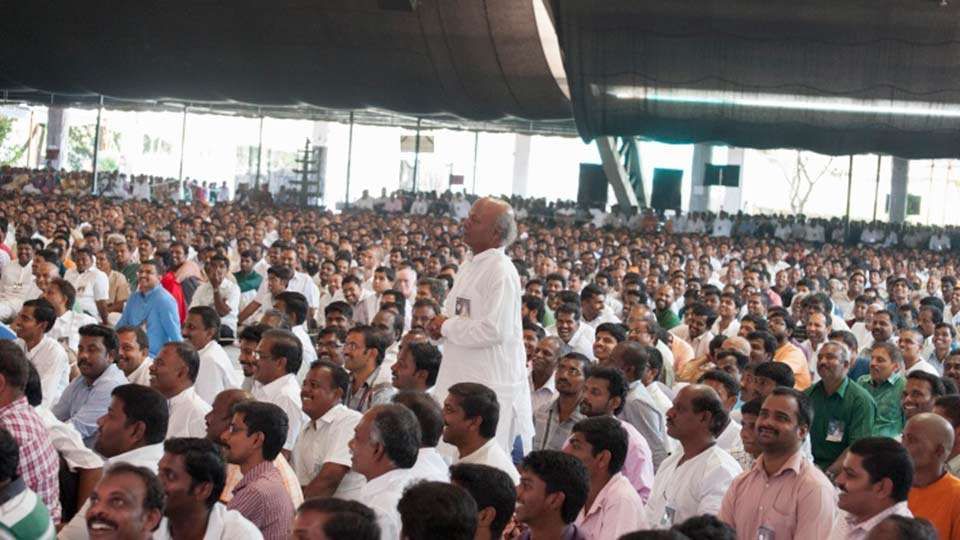 Get weekly updates on the latest blogs via newsletters right in your mailbox.
Sadhguru also spoke about atheism and theism, and how both atheists and theists are in the "same boat." He explained that both believe something they do not know. Rather than believing things, seeing "I do not know" can open the possibility to know. Sadhguru also answered several questions, for example, what is the role of a Guru. He explained that a Guru is not a person who gives a teaching or a philosophy. "Gu" means darkness and "ru" means dispeller, Sadhguru said, and Guru is one who dispels your darkness.
Indumathi, a participant from Chennai, expressed her perception of Sadhguru and what it meant to be in the Lap of the Master: "Even with my parents, they guide me regarding many things, but if I don't follow their advice, they scold me or eventually give up on me. But with my Guru, though I deviate from the path of truth so many times, he always brings me back. His compassion is truly limitless."
Day 2
On the second day of the program, Sadhguru spoke about creating a love affair with Shiva. Though it may begin as imagination, over a period of time, it becomes a reality. In a love affair of this nature, there is no question of failure. Sadhguru also spoke about the Adiyogi statues that would be coming up in various parts of India and the US. He emphasized the immense need to build many more Adiyogi Alayams so that they are accessible to all. Sadhguru explained that unless such powerful places come up to instill a culture of devotion, and where a lot of people can sit and meditate, an irreversible downtrend in society would set in within twenty years.
Volunteer Support
Around 1,000 volunteers were involved in making the program a success. From hall decorations to food and stay arrangements, the volunteers were there in the background, ensuring that the two days went off smoothly for all participants.