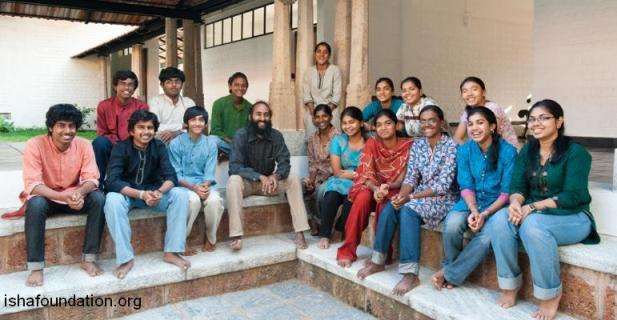 Since its inception in 2005, the Isha Home School has been nurturing students in their uniquely "home" like environment, sprinkled with fine arts, performing arts, Hindustani & Western music, and Bharatnatyam. This year, the students of class X, many of whom have been with the school from the start, turned in a sterling performance in the 2011 ICSE Class X examinations with a 100% pass result. The average aggregate of all the students from the school stands at an impressive 85%.
Sadhguru's message to the Isha Home School Teachers on this occasion.
Congratulations for what you have achieved and blessings for what you still have to achieve. It is a joy to see that in spite of extraordinary extra-curricular activities, the children have done well in their academics too! This is a manifestation of the commitment and dedication of our teachers and staff, and of the wonderful possibility that our children are. Though it is not our intention to measure our children by marks, it is a clear statement that Isha Home School is not only shaping beautiful human beings but is also capable of having them excel in the market place of marks, money and meanness. And there is no doubt they will do well in marriage or monkhood. My wishes and blessings to all those who participated in making this happen.
Love & Grace
Sekar, one of the teachers for the Class X students, shares: The results have vindicated the stand that academics can be done as an enjoyable segment of a larger gamut of education. As a Class teacher for Class X, I would say that the children put in a very good effort and responded well to the exam-preparation tools and tips that were made available to them. The second term was almost entirely in their hands to plan their time and the children planned and executed their preparation quite well, drawing on the teachers as well as their friends for support.
One of the students, Shruthi Subramanian, says: Coming to the tenth exams, there was no tension in any of the sixteen people who sat for the exams, including me. We were focused, concentrated and fully prepared, from the exam point of view. During the preparations, we helped each other if necessary and did group studying and we worked on our weaknesses with the help of the teachers. But it was not like we just sat there and did nothing but studying. We had lots of fun during our study holidays. We cycled, played games during breaks and caught up with our sleep. The sixteen of us were playful, enthusiastic and had fun all the time. As a reward for all the hard work that the teachers and we put together and with Sadhguru's blessings, I think all of us have done really well in the board exams and we have cleared it with flying colours!