Mumbai Restaurateur Helps Serve 70,000 Free Meals a Day
Recently featured in the top 50 initiatives in the world to fight hunger during the COVID-19 pandemic, Neeti Goel is part of the "Khaana Chahiye" initiative that brings together Mumbai Restaurateurs to serve meals for the hungry.
Neeti Goel: In one of the daily darshans right after the lockdown had begun, Sadhguru spoke about how starvation could turn out to be a massive problem for a large part of our population, especially the daily wage workers. He then urged people to take on the commitment of feeding at least two people around them who were in need so that as a generation we can ensure that no one has to suffer because of starvation. This touched me very deeply. 
It takes a certain sense of commitment & compassion to voluntarily step out to serve at this time. Congratulations Neeti Goel & team @khaanachahiye. Truly inspiring. –Sg #BeatTheVirus #FeedTheHungry https://t.co/t1dv84OlQs

— Sadhguru (@SadhguruJV) April 26, 2020
I am a restaurateur and even before the coronavirus epidemic began, we used to provide around 100 meals a day to the underprivileged communities around us. A couple of days after the lockdown started, five of us got together and decided to use our setup to prepare and distribute 1200 meals to those in need. This is when we had just started to hear about the migrant crisis but did n0t know enough about the extent of their distress. We drove up the western express highway and what I saw just broke my heart. There were thousands of people who had not eaten in days, and their children had been eating mud and crying out of hunger.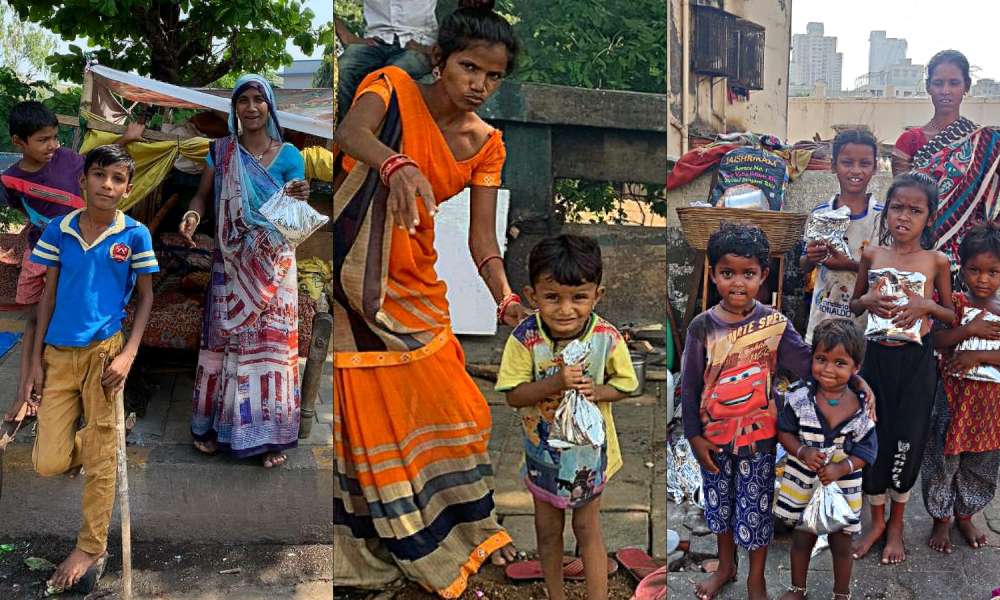 The next day we tried to prepare more food packets and distributed 3000 meals, but even that did not feel enough. Things got better as gradually funding started to come in and many volunteers stepped up to help us out. We were able to scale up to utilize all our restaurants to prepare these meals, and our distribution network also became more effective so that there was no time lag between preparing the meals and getting it out to those who need them.
At the time of writing this, we are able to distribute 70,000 meals a day. Even BMC and the Fire Department have been in touch with us so we can provide meals to the migrant workers as well as the COVID-19 warriors on the frontline who are working 24/7 to protect us without going home to eat or rest. 
Get weekly updates on the latest blogs via newsletters right in your mailbox.
Heart-breaking Stories
Some of the stories that our volunteers come back with are truly heart-breaking. We recently heard of around 70 migrant families that were stranded near Vashi because someone had cheated them for Rs. 50,000, promising them that a bus would be arranged for them to go back to their home in Odisha. By the time our volunteers reached there with the food packets, they were all very angry and aggressive, understandably so. Jobless and out of money, these families were starving and could not watch their children go hungry, which is why they kept saying that they do not care about the virus because they are afraid that they might die of hunger.
In another instance, we were contacted by government officials from another state saying that laborers from their district were stuck somewhere around Mumbai and whether we could provide them with some food. There were about 80-90 laborers who had called back home and informed their families about their situation. Their families then reported this to the local officials who then started working towards getting them food and shelter. 
What Keeps Us Going
There is also another touching story of a group of workers near the Bandra skywalk who, when approached with food packets, told the volunteers that they had eaten that morning and instead directed them to another group of people further away who needed the food more than them. Despite all the challenges, it is really heartening to see how everyone is coming together and working as one entity for the wellbeing of all.
This is why amidst all the chaos and fear caused by the coronavirus, to be able to provide and plan meals in such a way that it not only nourishes everyone but also gives them hope about their next meal is what keeps us going. The smiles on the children's faces when they open their food packets is worth all the effort. I could have never imagined that just a handful of people, when pushed beyond their limits, could do this much.
Editor's Note: If someone is moving towards starvation, and you are unable to offer help, please call the Isha helpline at 83000 83000 which will activate Isha volunteers in the local area to provide additional support. Join us in our mission to protect vulnerable groups. Donate at http://ishaoutreach.org/beatthevirus.