Know Your Nadi Veera: Sai Koundinya Goes from the Computer Screen to the River Bank
"Know Your Nadi Veera" is a monthly series about a Nadi Veera or a River Champion. Each month, we will take you through an incredible journey of one Nadi Veera and what led them to help save the rivers of India...
In the first of the series, "Know Your Nadi Veera," read how Sai Koundinya, who worked as a software consultant for an MNC, at the peak of a successful career, decided to change the course of his life...
A Change in Priority
Sai Koundinya: I was a consultant by profession, highly interested and motivated by the work I was doing. I was working in an MNC, quite successful, and proud of my position. I was getting applause from people whom I know, be it my parents, my friends, my teachers. People started talking in a nice way about me, as I was progressing faster than others my age.
As I was completing one year at my job in software consulting, I started thinking of the way ahead. How should I raise my position in society? How could I earn more? I started working even harder. The organization was also impressed. During this pursuit to ascend in my career, I lost my stable health condition. Although I gained my health back, after I began recovering, I noticed that there was a change within me.
That urge I had to make a lot of money disappeared. Now, I just wanted to work and enjoy whatever money I had. I realized quickly that with this attitude, I was holding back. I was not giving myself totally to the organization. I thought to myself that if I choose to do something in this life, I must not be living for a day off or a weekend break or a holiday trip. My feeling was that I needed to challenge myself.
A Touch of Spirituality
So then I started trekking in the Sahyadri mountain ranges. Trekking was fun, but it wasn't work. Then, one day, in the office I was searching for peaceful meditation music on Youtube. I came across a video called Isha Kriya. I played it; it was not music but some sort of meditation. I stopped my work to follow the instructions.
Within 18 minutes the video had finished, but I was still on my chair, no movement. I sat on my chair for 50 minutes without any movement, then I got up from my chair and burst into tears. I cried for 30 minutes. That is the point at which I felt that there is life beyond what I have seen or felt until then. From then onwards, I started exploring all I could about Isha Foundation.
In the next few days, I searched for any local Isha centers in Mumbai. I explored courses and registered for Inner Engineering. I did the course in May 2017. On the day of initiation, I experienced something similar to Isha Kriya, yet this was even more intense. From that moment, I acknowledge something inevitable becoming certain within me, which is that I was going to go to Isha. But how was it going to happen? This was my question.
Fast forward to a month later, and I was still a working professional who was being sent on a project to Abu Dhabi. The work over there involved very long hours. I used to sit for a stretch of 20 hours a day working, but by the end of the day, not even a glimpse of stress, anger, tiredness or anything was a part of my being. I owe this compelling fact to my practices.
The Turning Point
A turning point came on August 15th. It was Independence Day, and for the first time, I was not in my country to celebrate. I used to never miss the flag hoisting or the Prime Minister's speech at the Red Fort, but this time I did. In that moment I completely lost interest in my job. I never realized just how much Bharatiya I was, and still am. It was then I decided I must work for my nation, and do it somehow in the best way possible. But to work for the nation, I felt I needed to become better equipped. I looked to my practices as a way of uplifting my resolve. I put my focus on preparing to work for my country.
Get weekly updates on the latest blogs via newsletters right in your mailbox.
Exactly 17 days from August 15th, something that totally shook me started— Rally for Rivers. I saw a man, 60 plus years old, driving 9000 kilometers and engaging in nonstop, continuous events. This man, Sadhguru, shook me completely. I followed the whole event on Youtube as I was not in India to attend any event.
On September 23rd, Sadhguru was in Madhya Pradesh, standing next to the Chief Minister, Shivraj Singh Chauhan. Sadhguru said, "There was a time when Swami Vivekananda said, 'Give me 100 youth, who are committed, I will change the face of the nation.' I am giving a call for 100 youth from each state for 3 years and the only qualification is for these 3 years you must not have this one particular thought 'What about me?'"
The Nation Is Calling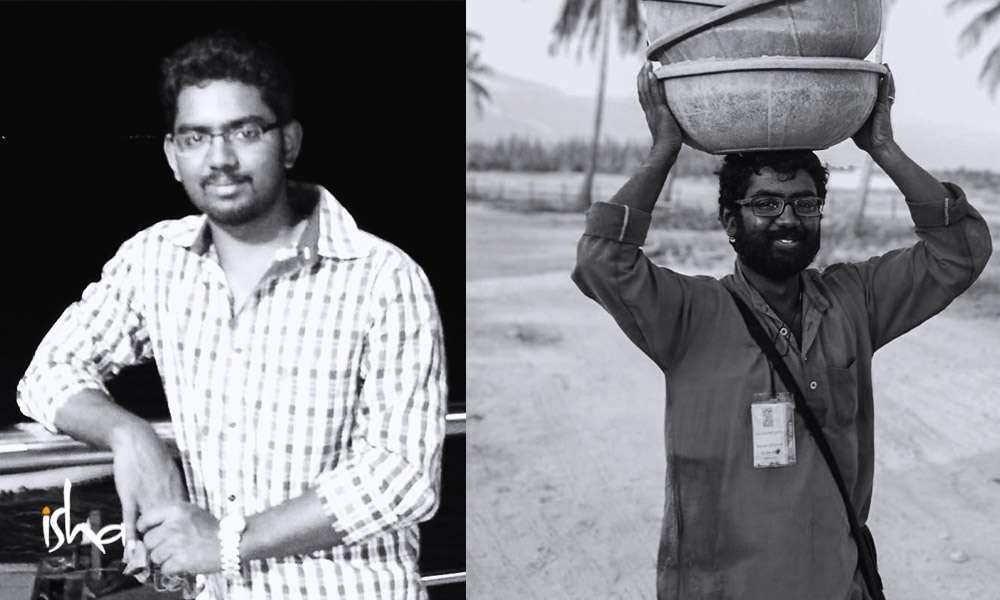 I felt like I had been called. After Sadhguru's message, I did not think even for a second. I just registered myself and within a few days resigned my job. I had wanted to first equip myself, and then work for the nation, but Sadhguru was offering me a chance to do both of them at the same time. What else could I ask for? I decided categorically that this is going to be my path ahead.
I registered myself from the state of Andhra Pradesh, as my mother tongue is Telugu. Deep within me, however, I always considered myself from Bharat. I have travelled to enough places and lived in enough places. In this nation, I feel that I belong to all these places. Each place I have been in the country had something for me to learn and imbibe.
Mumbai is one of my most special places, because Mumbai was the first place where I earned my living, and it is this city that gave me Isha, gave me Sadhguru, and it was he who made me realize what my life has to be about. What more could I have asked from this place?
My dream is to engage the nation's youth. To build this country into a strong economic power and a diverse ecological land. This nation should develop sustainably in all aspects, its people and its environment. I want to make it happen.
Post Script: One Year Later
As a Nadi Veera, I would say only the lucky ones have made it here. Never again, I think will I find another occupation where the work is so intense and demanding, physically and mentally, and yet so very joyful. We do really serious things here in a playful way, and this is a rare combination. Being among the youth, my vulnerability is as high as my energy, and Rally for Rivers has provided the best grounding and purpose for that, so that I'm spending this time of my life in the most supportive and appropriate way.
My life has changed 180°. I went from sitting in front of a system every day to engaging in activities of great variety. One day I'm reading the agriculture policy of the states, another day I'm sowing seeds in the field, and on another day, I might be in a village talking to and working with the villagers. Being a Nadi Veera kicked the arrogance totally out of me. I have constant exposure to socioeconomic realities and the sometimes harsh conditions of nature.
From the time of joining RFR, I have done nothing very complex, but I have done very simple things with utmost involvement. This involvement is making all the difference. I never know what to expect in my next assignment, but I do know that whatever comes, I'll give of myself 100%. This aspect is the best training I've received while being here. No matter what I do, I put 100% of myself into the process.
Editor's Note: Inspired to become a Nadi Veera? Find out more here.