Isha Vidhya Volunteers at the Mumbai Marathon 2014
On Jan 19th, early one cold Sunday morning in Mumbai, over 150 Isha volunteers assembled to run 6, 21 or 42 kms in the annual Mumbai marathon.
The annual Mumbai marathon has become a major event in Mumbai's city calendar. People not only prepare for running the 21km or 42 km challenge, but also work tirelessly for the cause they support to raise funds for it.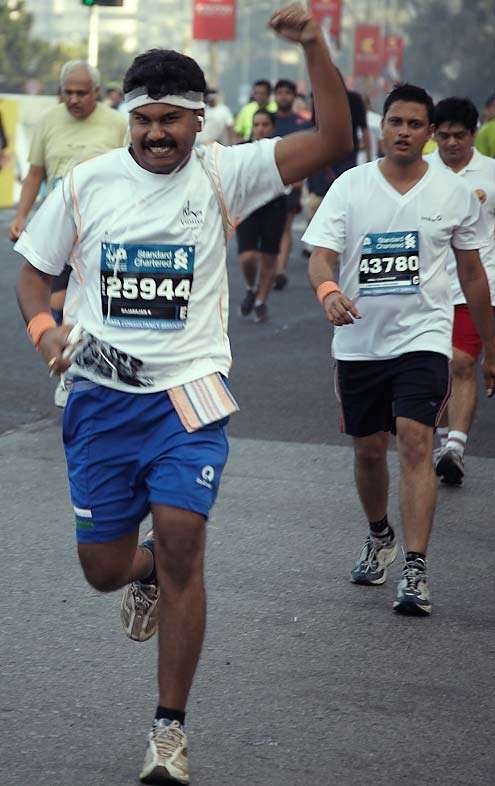 On Jan 19th, 2014, a cold Sunday early morning in Mumbai, over 150 Isha volunteers assembled for the Mumbai marathon. This was the fifth year Mumbai volunteers have been taking part in the Marathon. Everyone had one objective – to make a difference to the children of Isha Vidhya – by completing their target in running and fundraising.
Isha Mumbai volunteers participated in all the three categories of the run, 42 kms, 21 kms and 6 kms. Isha Mumbai also received some wonderful support from eight corporate teams, with participation from over 160 corporate employees.
The morning started with an invocation with all the volunteers gathered near the start point. The race began. Some just walked, some bettered their race timings, many volunteers cheered the runners on the way. It was effortless for some, miraculous for some others – all with the grace of Sadhguru. For all of them, it was much more than just completing their race. They had gone beyond their limitations to reach out to their friends and well-wishers to raise funds for Isha Vidhya children.

Get weekly updates on the latest blogs via newsletters right in your mailbox.
Some of the volunteers shared:
Meyyu: I ran in the Mumbai Marathon after two years. Though I participated in the Dream Run, the very fact that I was running for Isha Vidhya made a huge difference. Every one of my friends and colleagues who I approached to support me for this cause were open and willing. It is just that I took some time to ask them. I learnt this when I was hesitating to ask a colleague for a donation. I remembered the instances when I had felt that she was not co-operaive or believed that she wasn't the type to support causes. Then I decided to plunge ahead and ping her with a request. Immediately she donated INR 4000!
Most of the donors from my last run, gave again and sometimes more than the last time. No matter how much more I could have raised, I was happy to have contributed. Running itself is so joyful. Marathon is like a carnival by itself so when you do it for a cause it is more joyful.
Lipika: There were almost 12,000 people on the streets of Mumbai to run the half-marathon. The moon was still up in the sky, adding silvery light to the cool breeze while passing the Worli Sea link. Mumbaikars were out on the street cheering with "Run Mumbai Run" and distributing biscuits, chikkis, candies. It was an awesome experience.
They say you need two things to run – legs and mind. I knew I wasn't a runner and I feel blessed to have crossed the finishing line. It was such euphoria. Life seems worth living with a reiteration of Sadhguru's words that came the night before the race day: "Your every step is making a child's life. Your every pain is easing the pain of another life. Run joyfully – and make a life."
Editor's Note: Isha Vidhya supporters run in various city marathons to raise funds. If you are interested in running for Isha Vidhya or to raise funds, please drop a mail to prabhu.loganathan@ishavidhya.org (India) or peggy.wolff@ishavidhya.org (Worldwide).