Isha Home School Annual Sports Meet - Sep 09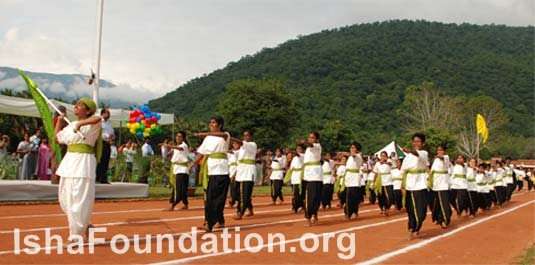 Isha Home School celebrated its fifth Annual Sports Meet with a two week sport extravaganza in the usual atmosphere of celebration and gaiety. As has been the culture since the school's inception, sport at Isha Home School is an opportunity for students, teachers and all those associated with the school to come together in the true spirit of sportsmanship.
This year the sports meet included team games like cricket, kho-kho, kabbadi and football to reflect the importance the school gives to both its home grown games as well as international events. The finale was on 16th September and it started with a unique march past. Each team, led by their team captain, walked past the Chief Guest, Mr Balamurugan, Regional Passport Officer in Coimbatore, in distinctive dance steps emulating the ancient martial art forms of India.
Get weekly updates on the latest blogs via newsletters right in your mailbox.
The day proceeded with a series of athletic events, including 100m, 200m, 400m sprints, where students of all ages pushed themselves to their limits, and at the same time cheered and encouraged their peers. The sports mood was so infectious that parents willingly participated in a grueling 200m sprint on a hot and humid afternoon.
The closing ceremonies included prize distribution by Mr P Balamurugan, an IAS officer, who is the CEO of Isha Outreach, IBPL and Isha Vidhya. He awarded outstanding athletes, Varun Seenevas of Class X and Sneha Ganesh of class IX with a prize. Isha Home School's Principal, Mrs. E. Maheswari, highlighted the various sporting achievements of the school over the last twelve months, and said that the Annual Sports Meet for Isha Home School, "is an opportunity to look back at how our sport performance has evolved and to look at what lies ahead."
The event concluded with a surprise telephone call from Sadhguru, who congratulated all for their enthusiastic and total participation in all of the events and urged everyone to 'let this way of playing a game also become our way of life.'